Renal Involvement in Polyarteritis Nodosa, Kawasaki Disease, Takayasu Arteritis, and Giant Cell Arteritis
J. Charles Jennette
Harsharan K. Singh
BACKGROUND
Nomenclature of Systemic Vasculitis
Vasculitis is vessel wall inflammation. Perivascular leukocyte infiltration alone is not vasculitis. Diapedesis of leukocytes through the walls of vessels, usually postcapillary venules, that does not cause pathologic vessel wall injury is not vasculitis. The chronic phase of vasculitis may be characterized by sclerosis without inflammation; thus, in this instance, a diagnosis of vasculitis is made based on evidence indicating that the sclerosis was preceded by inflammation. Nonspecific chronic inflammation with infiltration by predominantly lymphocytes in the setting of arteriosclerosis should not be considered vasculitis.
Vasculitis can affect any type of vessel in any organ and thus results in a broad range of clinical signs and symptoms. Because the kidneys have numerous and diverse vessels, they are a frequent target for many types of vasculitis, especially those that affect predominantly small vessels such as capillaries, venules, arterioles, and small arteries. The medullary vasa recta can be affected by small-vessel vasculitides. Renal veins are rarely if ever involved directly by noninfectious vasculitides.
Historical Background of Necrotizing Arteritis
In summary, evaluation of patients with necrotizing arteritis has revealed multiple clinically and pathologically distinctive entities, some that affect predominantly, if not exclusively, arteries (i.e., medium-vessel vasculitides) and others that affect not only arteries but also vessels smaller than arteries (i.e., small-vessel vasculitides). In fact, many patients with small-vessel vasculitis have involvement exclusively of vessels other than arteries, for example, glomerulonephritis, pulmonary alveolar capillaritis, and cutaneous dermal venulitis.
Historical Background of Large-Vessel Vasculitis
Large-vessel vasculitides affect the aorta and its major branches more often than does small-vessel vasculitis or medium-vessel vasculitis (see
Fig. 17.1
and
Table 17.1
) (
1
,
38
). Renal parenchymal involvement is less frequent with large-vessel vasculitis compared to medium- and small-vessel vasculitis. Nevertheless, large-vessel vasculitides can affect any type of artery in the kidney although the main renal arteries and their first- and second-order branches are affected most often. Takayasu arteritis and giant cell arteritis are the two major categories of large-vessel vasculitis. Both cause chronic inflammation in arteries that is characterized by mononuclear leukocyte infiltration with a predominance of monocytes, macrophages, and T lymphocytes (
11
,
38
). Often, but not always, the inflammation has a granulomatous character with numerous macrophages, sometimes with multinucleated giant cells. Advanced disease is characterized predominantly by sclerosis rather than by inflammation, a finding that may complicate pathologic diagnosis because it can be confused clinically and pathologically with
arteriosclerosis and atherosclerosis. The arterial inflammation and resultant scarring cause narrowing of lumina that, in turn, causes ischemic symptoms, for example, pulselessness, claudication, and renovascular hypertension.
A comprehensive clinical description of Takayasu arteritis was made by Savory in 1856 (
39
), although patients with pulseless disease had been reported in the medical literature since the mid-eighteenth century (
40
). The disease is named after Mikito Takayasu, a Japanese ophthalmologist who reported the ocular complications of this disease in 1908, even though he did not recognize the underlying vasculitic features (
41
). The reduced vascular perfusion caused by the narrowing of arteries initially led to the realization that this disease affects arteries and also is the basis for another designation for this disease, "pulseless disease."
The temporal artery involvement of GCA brought this disease to the attention of Hutchinson in 1890 (
42
). Over the next 50 years, the widespread aortic and arterial distribution and the granulomatous nature of this disease became apparent (
43
), and shortly thereafter, the association with polymyalgia rheumatica was recognized (
44
,
45
). The term
giant cell arteritis
is more appropriate than
temporal arteritis
for this category of vasculitis because not all patients with GCA have temporal artery involvement, and vasculitides other than GCA (e.g., PAN, MPA, GPA) can cause temporal artery inflammation (
2
,
46
). Glomerulonephritis is not a feature of GCA; thus, if a patient has clinical evidence of glomerulonephritis and temporal artery inflammation, the diagnosis is probably not GCA, but rather some form of small-vessel vasculitis with temporal artery involvement.
The subsequent sections of this chapter review the clinical and pathologic features of PAN, KD, Takayasu arteritis, and GCA, in this order, with an emphasis on the renal involvement. Various forms of immune complex small-vessel vasculitis are reviewed in multiple chapters, and ANCA small-vessel vasculitis is reviewed in Chapter 16.
POLYARTERITIS NODOSA
Pathologic Findings
Light Microscopy
The light microscopic features of PAN vary over time. Lesions of different ages may be observed simultaneously (
Fig. 17.3
). They begin with fibrinoid necrosis and acute inflammation, evolve through chronic inflammation and fibroplasia, and culminate in varying degrees of vascular sclerosis. Although published in 1930, the description of the pathologic changes in PAN made by Arkin (
5
) has stood the test of time. He described an acute phase, a healing phase, and a healed phase. The acute phase has fibrinoid necrosis and infiltration of predominantly neutrophils with varying numbers of admixed eosinophils (
Fig. 17.4
). The necrosis and inflammation are initially confined to the inner portion of the arterial wall but eventually may become transmural, with extension of the necrosis and inflammation
into the perivascular tissue. The inflammatory and necrotizing arterial lesions are segmental. Thus, they may be present in a specimen but missed in some planes of section. As illustrated in the diagram in
Figure 17.5
, the level of artery wall that appears to be involved by the necrotizing inflammation is affected by the plane of section. The necrosis and inflammation appear to spread out laterally along the artery wall once they penetrate the muscularis and extend into the adventitia. Thus, at some planes of section (e.g., level C in
Fig. 17.5
), the inflammation and necrosis appear to be perivascular rather than vascular. This may have been why Kussmaul and Maier (
13
) named the disease "periarteritis nodosa."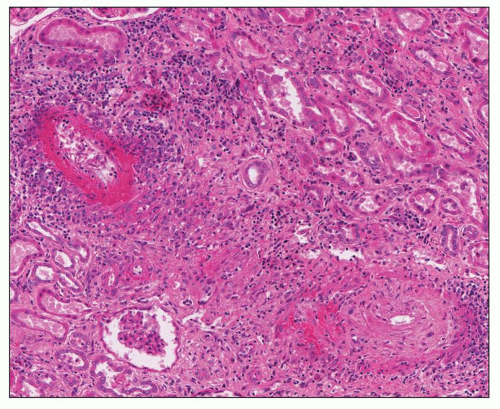 FIGURE 17.3 Postmortem kidney from a patient with polyarteritis nodosa showing involvement of two arteries with two different phases of necrotizing arteritis.
The artery in the upper left (which is shown at higher magnification in
Fig. 17.4
) has circumferential fibrinoid necrosis with marked perivascular inflammation, whereas the artery in the lower right has marked fibrosis of the intima and media surrounded by a lesser degree of residual fibrinoid necrosis and inflammation. Note also the simplification (flattening) of the proximal tubular epithelium in the lower left corner of the photomicrograph indicative of acute tubular epithelial injury. (H&E.)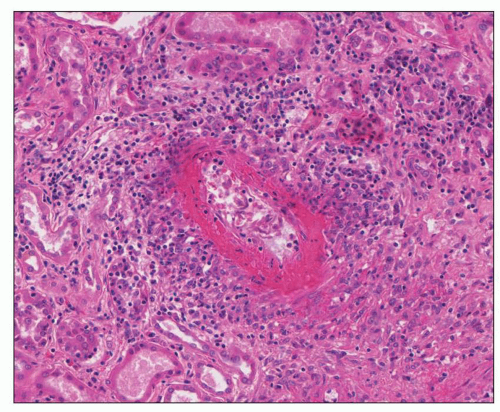 FIGURE 17.4 Higher magnification of the specimen illustrated in Figure 17.3 showing bright red ragged fibrinoid necrosis that has virtually replaced the destroyed muscularis.
The surrounding inflammatory infiltrate includes neutrophils, eosinophils, lymphocytes, monocytes, and macrophages. (H&E.)
This erosion of vascular and perivascular tissue by the necrotizing process is the basis for the "aneurysm" formation (see
Fig. 17.5
). These areas of luminal dilation thus are not true aneurysms with dilation of the vessel wall, but rather, they are pseudoaneurysms caused by destruction of the vessel wall. The lesions are segmental with intervening segments of normal artery walls; therefore, multiple levels of section may be required to identify the vasculitis when it is sparse. The fibrinoid necrosis is deeply acidophilic on hematoxylin and eosin-stained sections and fuchsinophilic (red) on trichrome-stained sections. The latter distinguishes fibrinoid material from the collagen that will replace it in the healed phase and will stain green or blue depending on the counterstain used in the Masson trichrome stain. Fibrinoid necrosis looks like fibrin because it has a high content of fibrin, as can be documented by immunohistologic examination using antifibrin antibodies
(
Fig. 17.6
). The fibrinoid material accumulates as a result of plasma constituents, including fibrinogen and the other coagulation proteins, spilling into the zones of necrosis, where the coagulation factors contact thrombogenic material resulting in fibrin formation (
11
). When this happens in the arterial lumen, it is designated thrombosis, and when it occurs within the zones of tissue necrosis, it is fibrinoid necrosis.
Full access? Get Clinical Tree
Get Clinical Tree app for offline access