Pyelonephritis and Other Direct Renal Infections, Reflux Nephropathy, Hydronephrosis, Hypercalcemia, and Nephrolithiasis
Helen Liapis
Joseph P. Gaut
John E. Tomaszewski
Lois J. Arend
PYELONEPHRITIS AND OTHER INFECTIONS
OTHER INFECTIONS
Renal infections are a major cause of morbidity and mortality particularly in immunocompromised patients such as AIDS and transplant recipients (
123
).
Mycobacterial Infections
After continued decline for three decades, pulmonary tuberculosis is again increasing. It is the leading cause of death worldwide from infectious disease (
124
). In Western countries, the prevalence of renal involvement among patients with tuberculosis is around 5% (
125
). In African countries, the prevalence of renal tuberculosis is probably higher. In Nigeria, the prevalence of renal tuberculosis among patients with pulmonary tuberculosis was found to be 9.5% if diagnosed using urine Ziehl-Neelsen stains, but the prevalence rate rose to 14% if a combination of urine stains, sterile pyuria, and tissue histology was used (
124
). Therefore, the diagnostic methods clearly influence the prevalence rate. Newer, more sensitive methods, including PCR, may improve diagnostic accuracy.
Immunosuppressed patients are more vulnerable to mycobacterial infections. Transplantation is a risk factor, particularly in developing countries (
126
). The human immunodeficiency virus (HIV) epidemic has had a significant impact on the spread of tuberculosis worldwide, particularly in Africa (
123
,
124
). Approximately 10% of tuberculosis cases worldwide were HIV related, but in regions of sub-Saharan Africa, the percentage was as high as 60%. There are two main types of renal tuberculosis: miliary and cavitary.
Miliary Tuberculosis of the Kidney (Disseminated Infection)
Renal involvement may result from hematogenous dissemination of a primary tuberculous infection, from an active pulmonary lesion, or from reactivation of a healed tuberculous lesion. Miliary tuberculosis of the kidneys is often clinically silent (
27
,
127
) and overshadowed by clinical manifestations of systemic infection. Grossly, the kidneys show white nodules (i.e., tubercles), which occur more often in the cortex than in the medulla, but they may occupy the entire kidney (
Fig. 24.27
). Microscopically, the early tubercle is a caseating granuloma consisting of epithelioid cells and neutrophils with central
caseous necrosis (
Fig. 24.28
). Organisms are usually found in such lesions. Often, a mononuclear infiltrate of lymphocytes, monocytes, and plasma cells is also present. The tubercle may be contained and heal, or the infection may expand. If the medulla is involved, the infection may reach the renal pelvis, allowing release of microorganisms into the urinary tract.
Cavitary Tuberculosis of the Kidney (Localized Urinary Tract Infection)
Mycobacterium leprae
Visceral involvement is more common in the lepromatous leprosy than in tuberculoid leprosy (
129
). Tuberculous (paucibacillary) leprosy is characterized by epithelioid granulomatous inflammation, whereas lepromatous leprosy (multibacillary) has a tendency toward diffuse infiltration of macrophages and foamy bacilli-laden cells. Renal injury is common in patients with erythema nodosum leprosum, a type of reaction typically associated with lepromatous leprosy (
129
).
Renal lesions are found in approximately 70% of autopsied patients with leprosy. The glomeruli, tubules, and interstitium may be involved causing glomerulonephritis, including amyloidosis and acute interstitial nephritis (
130
,
131
). Histologic examination may show endocapillary proliferation, mesangial proliferation, membranoproliferative glomerulonephritis (MPGN), and, less commonly, crescentic glomerulonephritis. In addition to glomerular pathology, chronic tubulointerstitial nephritis has also been observed in 3.8% to 54% of cases (
131
). Organisms are not detected in the kidney in such cases. The inflammatory infiltrate is mononuclear with associated interstitial fibrosis and tubular atrophy. Renal infection appears to occur in patients who have undergone prolonged chemotherapy for leprosy. Leproma caused by direct invasion of the renal parenchyma by
M. leprae
is rare. When present, bacteria can be identified in aggregations of macrophages or giant cells.
Pathogenesis
Granulomas are the hallmark of mycobacterial infection, but fungi, parasites, and even viruses cause granulomatous inflammation. The mycobacterial granuloma seems to be a host defense mechanism for walling off the bacilli, but microorganisms can survive within macrophages that compose the granulomas and persist in a latent form until immunosuppression and other triggers cause reactivation and dissemination. An understanding of the pathophysiology of granulomas is critical for the design of new drugs and vaccines. Animal models including mice, guinea pigs, rabbits, and monkeys, and in vitro systems were developed that reproduce granulomatous inflammation (
132
). In addition, the role of innate immunity was explored asking the question how mycobacteria manage to escape killing by immune cells. Master et al. (
133
) showed that
Mycobacterium tuberculosis
prevents inflammasome activation and IL-1β processing and that a functional
M. tuberculosis
zmp1 gene is required for this process. Experimentally induced infection of macrophages caused increased secretion of IL-1β and enhanced mycobacterial phagosome maturation into phagolysosomes, thus improving mycobacterial clearance by macrophages (
40
,
114
,
133
).
Fungal Infections
Primary fungal infections of the kidney are rare. The most common offending agents are
Candida albicans
and
Candida glabrata
. Such agents infect the lower urinary tract and may involve the kidneys through the ascending route. However, fungal infections of the kidney more commonly result from systemic fungemia, possibly of nosocomial origin and almost invariably occur in immunocompromised patients, particularly those undergoing cytostatic treatment for malignancies. In such cases, renal involvement is part of systemic fungal sepsis. Irrespective of the type of fungus infecting the kidney, the renal biopsy typically shows granulomatous inflammation. Therefore, when granulomatous inflammation is seen, a fungal infection should be considered in the differential diagnosis. Importantly, the PAS stain, excellent for detecting fungi, should be part of routine renal biopsy workup. Some fungi, for example, Aspergillus, tend to be angiocentric, as opposed to Candida, which tends to be glomerulocentric.
Candida glabrata
(
previously classified as Torulopsis glabrata
) (
140
) is an opportunistic yeast-like fungus present in the normal microflora of the oropharynx, gastrointestinal tract, skin, urethra, and vagina. Of low virulence,
C. glabrata
is the second most common fungal pathogen of the urinary tract. The kidneys are usually involved as part of disseminated infections, but they may be the site of a primary infection through the ascending route, particularly in diabetic patients.
Candida glabrata
is also an important cause of nosocomial infection. Presenting symptoms are comparable to those caused by infection with
C. albicans.
Inflammatory changes resemble those caused by
Candida albicans
infection.
Candida glabrata
organisms may be seen in tissue sections as 2- to 4-µm, budding, round to oval, nonencapsulated, yeast-like organisms (
Fig. 24.31
).
Cryptococcosis
Cryptococcus neoformans
, the agent of cryptococcosis, is a yeast-like fungus encountered in avian habitats, particularly those contaminated with pigeon dropping. The portal of entry to the host is the respiratory tract. Pulmonary infection is common, particularly in immunosuppressed and neutropenic patients. Hematogenous dissemination results in central nervous system and organ-based infection, including the kidneys. In renal transplant recipients, transmission may be donor derived (
144
). Renal involvement may be clinically silent or may manifest with costovertebral angle tenderness, pyuria, and gross hematuria. Yeast forms can be cultured from the urine and can be recognized in the urinary sediment by negative staining with India ink.
Renal involvement is found in about 50% of patients who die of disseminated cryptococcosis (
136
). Small parenchymal abscesses, or granulomas, with central necrosis involving the cortex and medulla have been described (
136
). The organism may elicit little inflammation despite extensive tubular destruction. Cryptococci can be identified in tissue sections as 4- to 20-µm-diameter spherical structures with a polysaccharide capsule (
Fig. 24.33
). The capsule is distinct, staining intensely with mucicarmine, Alcian blue, and PAS. Renal impairment has been described, but was attributed to coexistent disease.
Eliminating cryptococci from sites of infection involves growth inhibition, a process that depends on nitric oxide production by phagocytes, and phagocytosis by macrophages, a complement-dependent mechanism modulated by cytokines.
Histoplasmosis
Histoplasmosis, caused by
Histoplasma capsulatum
, is endemic in South and Central America and in the Ohio River and Mississippi River valleys in the United States (
136
). Infection is caused by inhalation of dust particles from soil contaminated with bird or bat droppings containing the fungus. The initial presentation resembles pulmonary tuberculosis. Disseminated histoplasmosis may result from a primary infection or from a reactivated, healed lesion during
immunosuppression. The disease is not contagious. Renal involvement is usually clinically silent, and compromise of renal function is uncommon.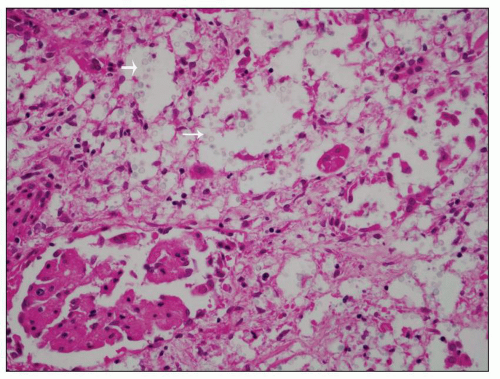 FIGURE 24.33 Renal involvement in systemic cryptococcosis.
Yeast within glomeruli and tubules are separated by clear halos corresponding to their thick capsule. (H&E; ×200.)
The kidneys are involved in about 40% of patients as a result of progressive disseminated histoplasmosis. Less commonly, infection may be acquired during graft implantation. Grossly, lesions range from one or more well-circumscribed nodules to diffuse inflammation and necrosis. Papillary necrosis has also been described. Microscopically, small aggregates of yeast-laden macrophages may be present in all renal compartments, usually associated with granulomas. Parasitized macrophages show large numbers of round to oval yeast measuring up to 5 µm in diameter, usually identifiable with Grocott methenamine silver stain (
Fig. 24.34
). The histologic diagnosis of histoplasmosis can be confirmed by immunofluorescence with antibodies to polysaccharide antigens of
H. capsulatum
(
136
).
Coccidioidomycosis
Coccidioidomycosis, caused by
Coccidioides immitis
, is endemic in the southwest and western United States. Sporadic cases of disseminated coccidioidomycosis have been reported in nonendemic areas. In nature, the fungus is in a mycelial form, but it produces arthroconidia, which is the infective form. Inhalation of arthrospores causes symptomatic infection in about 10% of patients. Progressive pulmonary infections are rare. Systemic dissemination occurs in <1% of cases. Of these cases, patients are typically immunosuppressed, diabetic, or pregnant. Although not contagious, coccidioidomycosis is transmissible during autopsy procedures, presumably through aerosolization of endospores (
145
).
The kidneys are involved in one third of patients who die of disseminated infection (
136
). Grossly, minute granulomas and abscesses are present. The granulomas show caseous or suppurative necrosis.
Coccidioides immitis
organisms are easily found in active lesions within macrophages or giant cells as thick-walled spherules, about 100 µm in diameter, containing endospores that are 5 to 30 µm in diameter (
136
). Disease progression has been equated with attenuation of cellular immunity from antigen overload, suppressor cells, immune complexes, and immunosuppressive factors released from the fungus. Containment of infection depends on cellular immunity that, through release of lymphokines, enhances phagosome-lysosome fusion and killing of the fungus as described above for other fungi.
Blastomycosis
North American blastomycosis, caused by
Blastomyces dermatitidis
, is endemic in the Ohio and Mississippi River valleys and the southeastern United States (
136
). The fungus is a saprophytic budding yeast found in soils. Infection results from inhalation of infectious forms. Blastomycosis is prevalent among immunosuppressed patients. It is found four times more frequently in males than in females. Infection typically occurs between the ages of 30 and 50 years (
136
). Primarily, a pulmonary infection disseminates through blood to various organs, including the kidneys. Renal involvement is usually clinically silent. In severe infections, fever, weight loss, chest pain, cough, costovertebral angle tenderness, flank pain, renal insufficiency, and chronic discharging sinuses or subcutaneous abscesses have been reported. The diagnosis can be established through culture or by identifying the organism in fluids or tissue sections. Blastomycosis is not a transmissible disease.
Renal blastomycosis is estimated to occur in 25% of systemic infections. Involvement is often bilateral and varies from small, circumscribed nodules to diffuse inflammation and necrosis (
136
). The cortex is more often affected than the medulla. Perinephric abscesses and discharging sinuses may result from extension of the infection through the capsule. In tissue sections, granulomatous and suppurative lesions are seen. Occasional microabscesses and epithelioid caseating granulomas form, resembling tuberculosis.
Blastomyces dermatitidis
can be detected in either type of lesion as yeast cells with a double-contoured appearance. The cells measure 8 to 15 µm in diameter and demonstrate broad-based budding. Although organisms can easily be seen in routine hematoxylin and eosin-stained sections, the Grocott methenamine silver stain facilitates their detection. Antibodies against the cell wall polysaccharide antigen of
B. dermatitidis
are available and can be used for organism identification (
136
).
Paracoccidioidomycosis
Paracoccidioidomycosis (i.e., South American blastomycosis), caused by
Paracoccidioides brasiliensis
, is a chronic pulmonary disease endemic to Mexico and South and Central America. Pulmonary infection caused by inhalation of spores from
P. brasiliensis
tends to be progressive and followed by dissemination to mucous membranes, lymph nodes, and various organs. Although the presenting symptoms are usually pulmonary, the disease is often manifested by dissemination.
The kidneys are involved in 10% to 15% of cases of disseminated infection. Grossly, the renal cortex and medulla contain miliary necrotizing granulomas measuring a few millimeters (
136
). Organisms are found at the periphery of necrotic granulomas and within giant cells, easily identified in sections stained with hematoxylin and eosin. The Grocott methenamine silver stain brings out greater detail. Nonbudding forms, about 10 µm in diameter, predominate. Multiple buds from a single cell, 10 to 60 µm in diameter, are diagnostic, but less common. These resemble the steering wheel of a ship (
136
).
Mucormycosis
Mucormycosis (i.e., zygomycosis) is an opportunistic infection of the lungs and upper respiratory tract caused by fungi of the order Mucorales, whose most common pathogen is
Rhizopus oryzae
. Infection is acquired by inhalation of airborne spores. Disseminated infection occurs in immunocompromised and diabetic patients. Rarely, mucormycosis may only involve the kidney.
Rhizopus oryzae
frequently invades blood vessels and disseminates through the blood. Morrison and Mcglave (
146
) reported mucormycosis in 13 of 1500 bone marrow transplant recipients (0.9%), with kidney involvement in a single patient. Involvement of the urinary tract may be clinically silent or show signs of renal infection, including flank pain, dysuria, gross hematuria, and acute renal failure (
136
).
Renal involvement occurs in 50% of patients dying of disseminated mucormycosis (
136
). Thrombosis may occur, resulting in segmental or subtotal renal infarction. Involvement can be unilateral or bilateral. Microscopically, there is suppurative, necrotizing inflammation with thrombosis of interlobar and arcuate arteries. Granulomatous inflammation, fibrosis, and Langerhans-type multinucleated giant cells are seen. Hyphae can be detected in areas of acute inflammation or infarction. In tissue sections, the fungus has broad, nonseptate hyphae with right-angle branching (
Fig. 24.35
). Organisms can be identified with Grocott methenamine silver stain or fluoresceinated antibodies (
136
).
Get Clinical Tree app for offline access