Glomerular Diseases With Organized Deposits
Samy S. Iskandar
Guillermo A. Herrera
INTRODUCTION AND HISTORICAL BACKGROUND
The term glomerular diseases with organized deposits has come into use in the medical literature relatively recently with the gradual increase in number of glomerular diseases defined by recognition at the ultrastructural level of deposits with distinguishing organized substructures.
In the 1970s, consultation of a recently published textbook of renal pathology (
1
) would have produced only two such entities: amyloidosis and cryoglobulinemia. With the reporting of cases that were initially described as showing Congo red—negative amyloid-like glomerular deposits (
2
) and later named fibrillary deposits (
3
), the entity recognized by most renal pathologists as fibrillary glomerulonephritis (FGN) (
4
) came into existence. About the same time, the much rarer entity of immunotactoid glomerulopathy (ITG) was described (
5
). This was followed by the description of hereditary collagenofibrotic glomerulopathy (
6
) and fibronectin glomerulopathy (
7
). With the increase of these entities arose the need to have an all-encompassing term—hence, the emergence of the term glomerular diseases with organized deposits. The term was first used in
Heptinstall's Pathology of the Kidney
in its fifth edition, although the expression "with organized deposits" had been introduced in the renal pathology literature as early as 1967. This chapter focuses primarily on FGN and immunotactoid
glomerulopathy and also discusses other glomerular diseases with organized deposits that are covered in more detail in other chapters (e.g., cryoglobulinemic glomerulonephritis and collagenofibrotic glomerulopathy). In addition, normal extracellular materials that can be confused with organized deposits (e.g., fibrillary collagen and fibrin tactoids) are described. The organized deposits discussed in this chapter are the ones that are seen most often in renal biopsy specimens (
8
,
9
,
10
); however, there are anecdotal reports of organized deposits that do not fit well into these recognized categories (
11
).
As is the case with most renal biopsies, achieving the correct diagnosis is critical for management and prognostic purposes, but this is particularly true in the case of the topic under discussion where the difference, for example, between AL amyloidosis and FGN means the difference between a condition that can potentially be treated by appropriate chemotherapy or, if necessary, bone marrow ablation and autologous stem cell transplantation and another that currently can only be treated for the most part by measures directed toward control of proteinuria and hypertension.
Because many of the entities listed above are covered more extensively in other chapters of this text, this chapter focuses on FGN, immunotactoid glomerulopathy, fibronectin glomerulopathy, and the accentuation of the mesangial matrix and deposition of precollagen in some sclerosing conditions that enter into the differential diagnosis of in particular FGN. Glomerular diseases with organized deposits can be categorized in a number of ways.
Although for classification purposes it is useful to divide the entities that are the subject of this chapter into those that are Congo red reactive and those that are not (
Table 23.1
), from the practical point of view, this approach would be helpful only if the Congo red stain was included in the battery of special stains used on a routine basis to evaluate every renal biopsy just like the periodic Schiff (PAS) and the periodic methenamine silver (PAMS/Jones) stains are. However, if that is not the case, then an alternative diagnostic algorithm is needed that is based on the stains that are used by the majority of renal pathologists. That is why we find the algorithm based on silver methenamine staining outlined in
Figure 23.1
helpful. An algorithmic approach is a useful first step in making a pathologic diagnosis, but the final diagnosis depends on considering multiple pathologic features that rule in or rule out a specific diagnosis (
Table 23.2
).
FIBRILLARY GLOMERULONEPHRITIS
IMMUNOTACTOID GLOMERULOPATHY
Clinical Presentation and Epidemiology
The origin of the term immunotactoid glomerulopathy goes back to 1980, when Schwartz and Lewis (
5
) described the case of a middle-aged man presenting with the nephrotic syndrome whose biopsy revealed mesangial and capillary wall deposits of IgG3-κ and ultrastructural examination showed mesangial and subepithelial microtubular deposits with a diameter of approximately 27 nm. The authors therefore speculated that the organized microtubules were the result of crystallization of
the immunoglobulins in a manner analogous to tactoid formation in the case of sickle cell disease.
Immunotactoid glomerulopathy is 10-fold rarer than FGN such that in most large referral biopsy centers, its frequency amounts to about 0.1% of native biopsies accessioned. Virtually all cases described have been in Caucasians, the gender distribution is equal, and the incidence is highest in the elderly with most cases reported in patients greater than 50 years of age. In one of the largest series (
20
), the age of incidence was significantly more advanced (62 years ± 2) compared to that of cases of FGN (50 years ± 2). Its clinical presentation is similar to that of FGN with one very important feature that, in addition to the ultrastructural appearance, justifies in the view of most pathologists and nephrologists the distinction between the two entities, which is its high association with a serum or urine paraprotein and/or an overt lymphoproliferative disorder, frequently a chronic lymphocytic leukemia (CLL) (
17
,
18
,
20
). As an example, 6 of the 14 cases in the series of Bridoux et al. (
17
) had CLL, 1 had a small lymphocytic B-cell lymphoma, and 3 had a monoclonal gammopathy of uncertain significance (MGUS).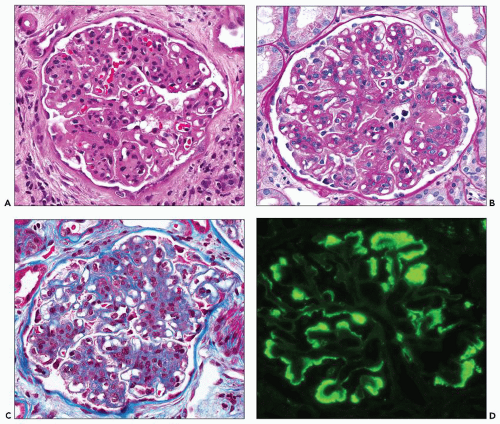 FIGURE 23.7
Monoclonal IgG lambda immunotactoid glomerulopathy with a membranoproliferative pattern with mesangial matrix expansion and hypercellularity, thick capillary walls, and slight lobulation
A:
H&E stain;
B:
PAS stain;
C:
Masson trichrome stain;
D:
Immunofluorescence microscopy showing capillary wall and mesangial staining for lambda light chains. Staining for IgG was similar, and staining for kappa light chains was negative. (400×.) (Courtesy of Carlos Andres Jimenez Guerrero and Adil Mohamed Hussein Gasim, Chapel Hill, NC.)
Pathologic Findings
Gross Findings
As in the case of FGN, there is no experience with autopsy examination of cases that have not been modified by dialysis or transplantation.
Light Microscopy
Most series describe cases with membranoproliferative-like features (
Fig. 23.7
) or features of atypical membranous glomerulopathy (
17
,
18
,
20
). Depending on the abundance of the
infiltrating microtubular material, the glomeruli may show focal segmental hyalinosis, and sometimes, intraluminal hyaline thrombi are present, representing aggregates of microtubules. None of the 6 cases reported by Fogo et al. (
20
) and Rosenstock et al. (
18
) demonstrated crescents, 2 of the 14 cases reported by Bridoux et al. (
17
) had crescents, and none of the 16 cases reported by the Mayo Clinic group had crescents (
41
). The trichrome-stained sections present an appearance similar to that described in connection with FGN. The sections stained with Jones stain are described as showing a moth-eaten appearance because of failure of the mesangium to pick up the silver stain. Of course, the stains for amyloid are negative.
Full access? Get Clinical Tree
Get Clinical Tree app for offline access