Jean L. Olson
Zoltan G. Laszik
DIABETIC NEPHROPATHY
Diabetes mellitus (DM) is recognized in two forms, classified as type 1 and type 2 DM (
1
). Type 1 DM includes those cases that are primarily due to pancreatic β-cell destruction. The form named type 2 DM includes the most prevalent form of the disease, which results from insulin resistance with an insulin secretory defect. Type 1 DM accounts for 5% to 10% of people with DM, and type 2 DM affects approximately 90% of those with the disease (
2
). The prevalence of DM world-wide was estimated to be 2.8% in 2000 and is projected to increase to 4.4% by 2030 (
3
). The natural history, pathologic features, and pathogenesis of diabetic nephropathy are remarkably similar but not identical in patients with type 1 and type 2 DM. Therefore, throughout the chapter, we comment on these variations, when appropriate.
Diabetic nephropathy is a clinical syndrome characterized by persistent albuminuria (greater than 300 mg/24 hours) (also referred to as macroalbuminuria or proteinuria), a steady decline in glomerular filtration rate (GFR), and elevated blood pressure (
4
). Two thirds of patients with diabetic nephropathy develop renal failure requiring either dialysis or renal transplantation. Diabetic nephropathy is the most common cause of chronic renal failure in the United States and accounts for 43.9% of patients enrolled in long-term dialysis programs (
5
). Patients with nephropathy frequently develop other complications, in particular cardiovascular disease, including hypertension and stroke, resulting in increased risk of early mortality (
6
,
7
). In patients with type 1 DM, 40 years after onset of the disease, the mortality rate is 90% for those patients with nephropathy but only 30% for those patients without renal disease (
7
). End-stage renal disease (ESRD) in type 1 diabetics results in a 13-fold increase in the risk of death (
8
). Thus, renal complications of DM are important, and glomerulosclerosis and vascular disease are the most important causes of renal failure in the diabetic patient.
Frequency and Risk Factors
Clinical Presentation
Clinical Stages
Mogensen et al. (
68
) described five clinical stages in the evolution of diabetic glomerulosclerosis in patients with type 1 DM. Stage I is characterized by the presence of both hyperfunction, as manifested by increased GFR, and hypertrophy, as recognized by enlargement of the kidneys affecting both glomeruli and tubules. Stage II develops silently over many years in some patients and is marked by the evolution of glomerular lesions in the absence of clinical evidence of renal disease. A correlation exists between elevation of glycosylated hemoglobin and increased GFR at this stage (
69
). Stage III marks incipient diabetic nephropathy. It is recognized by the occurrence of microalbuminuria, which is defined as ranging between 20 and 200 µg/min (30 to 300 mg/d) on repeated measurements (
68
). Renal function is preserved as determined by blood urea nitrogen (BUN) and serum creatinine. Increased blood pressure may be present at this stage, but it rarely occurs in patients with UAE less than 100 mg/d (
70
). Stage IV is characterized by the presence of overt diabetic nephropathy as clinically manifested by proteinuria greater than 300 mg/d and a declining GFR. Microscopic hematuria may be identified in 28% to 48% of patients with diabetic nephropathy (
69
). This stage is usually associated with rising systemic blood pressure and the presence of other diabetic complications. Development of overt nephropathy with albuminuria was once considered to be the "point of no return" with steady progression to ESRD. However, several studies in patients with type 1 DM have documented beneficial effects of glycemic control and antihypertensive treatment on the progression of diabetic nephropathy (
71
,
72
,
73
). Stage V is the appearance of ESRD in patients with diabetic nephropathy. More recent studies have demonstrated that the progression of renal disease through these stages may not be inexorable, but that microalbuminuria may regress as discussed in the next section (
74
). Some authors now suggest using the stages of CKD as defined by the National Kidney Foundation rather than the stages described above (
15
,
75
).
The clinical progression to diabetic glomerulosclerosis is not so clear-cut in type 2 DM, partly because of the difficulty of determination of the actual biologic onset of the diabetes itself. Stages I and II in patients with type 2 DM are similar to those seen in patients with type 1 DM (
76
). It is more difficult to determine the onset of stage III in a patient with type 2 DM. Microalbuminuria, the cardinal laboratory feature of stage III diabetic nephropathy, may be present at the time of diagnosis of DM in as many as 26% of patients (
77
); however, the microalbuminuria may reflect hypertension, nephrosclerosis, or other related conditions rather than diabetic renal disease.
Microalbuminuria and Risk for Diabetic Nephropathy
Approximately 70% of screened patients with type 1 and type 2 DM have normoalbuminuria (
78
). Microalbuminuria, defined as 30 to 299 mg/24 hours, a cutoff value adopted by the American Diabetes Association (
79
,
80
), has been widely regarded as the best available marker for risk of later development of diabetic nephropathy in both type 1 and type 2 diabetic patients (
81
,
82
,
83
,
84
). However, it is now well known that microalbuminuria does not indicate certain progression to diabetic nephropathy (
74
,
85
,
86
). Microalbuminuria is considered to be a promoter of renal functional deterioration, and a reduction of microalbuminuria or prevention of development of microalbuminuria is important in preserving renal function.
According to several studies, the prevalence of microalbuminuria is below 20% in patients with type 1 DM and, on average, slightly above 20% in patients with type 2 DM (
22
,
26
,
68
,
82
,
87
,
88
). The cumulative incidence of microalbuminuria in patients with type 1 DM was 12.6% over 7.3 years in the European Diabetes Prospective Complications Study Group (
89
) and approximately 33% in an 18-year follow-up study from Denmark (
90
). The rate of progression from microalbuminuria to proteinuria over 5 to 10 years in patients with type 1 DM is approximately 15% to 30% (
86
,
91
). The estimated incidence of progression from normoalbuminuria to microalbuminuria and subsequent proteinuria during a follow-up of 6 to 9 years in patients with type 2 DM is approximately 20% to 30% (
91
). A European study using data from greater than 5000 patients with type 2 DM found that progression from normoalbuminuria to microalbuminuria occurred at a rate of 2.0% per year and from microalbuminuria to proteinuria at 2.8% per year (
18
). It should be noted that such progression is not inevitable. Perkins et al. (
74
) studied 386 patients with type 1 DM and microalbuminuria persistent for 2 years with follow-up of 6 years. The cumulative incidence of increase to proteinuria was 19% over the 6 years of the study. Regression defined as halving of the microalbuminuria was frequent with a cumulative incidence of 59% (
74
). Independent predictors of regression included microalbuminuria for shorter interval, hemoglobin A1c less than 8%, systolic blood pressure less than 115 mm Hg, cholesterol less than 198 mg/dL, and triglyceride less than 145 mg/dL. The authors suggested that the microalbuminuria may indicate possible reversible forms of injury. Other investigators have also demonstrated the occurrence of regression of microalbuminuria. In a large European study, a regression rate of 50.6% has been demonstrated in type 1 diabetics with microalbuminuria after 7 years of follow-up (
86
). In the Steno-2 study, 46 (31%) out of 151 patients with type 2 DM and microalbuminuria reverted to normoalbuminuria during 7.8 years of follow-up (
85
). In the latter study, antihypertensive therapy and improved glycemic control were independent predictors for remission (
85
).
Additional studies examined other aspects of the relationship between microalbuminuria and the onset of diabetic nephropathy. In the first of these, Perkins et al. (
92
) studied 301 diabetic patients with normoalbuminuria and 267 patients with microalbuminuria over a period of 8 to 12 years. Using cystatin C as a measure of GFR, they defined early decline in renal function as a decrease of 3.3% per year. They found such decline in 9% of patients with normoalbuminuria, 16% of those with regression of microalbuminuria, 32% of those with stable microalbuminuria, and 68% of those with progression of microalbuminuria. Thus, microalbuminuria was associated with greater risk of renal decline. However, renal decline also occurred in the absence of microalbuminuria. The authors suggested that GFR should be followed in addition to albuminuria in patients with DM (
92
). This same group then examined 79 patients with type 1 DM with new onset of microalbuminuria over a period of 12 years (
93
). Twenty-three progressed to significant chronic renal disease (NKF stages 3, 4, or 5) during the interval of the study, but only 12 had proteinuria. The other 11 in this group had persistent microalbuminuria or even returned to normoalbuminuria. The risk of developing CKD was increased in the presence of proteinuria and elevated glycosylated hemoglobin, but proteinuria was not necessary. It should be noted that biopsies were not performed to determine the type of renal disease present. From this group of studies, the authors conclude that microalbuminuria does increase the risk of developing renal disease in diabetic patients, but it is insufficient to predict diabetic nephropathy or renal function decline. The latter may occur in the absence of proteinuria. Thus, they support the discovery of other biomarkers to aid in such prediction rather than continued reliance on microalbuminuria alone (
93
).
Biomarkers Other Than Microalbuminuria
Pathologic Findings
The possible association of specific glomerular lesions with DM was first recognized by Kimmelstiel and Wilson in 1936 (
99
). They described a series of eight patients who, at autopsy, had a striking formation of nodules. Seven of these patients had diabetes, whereas the remaining patient was moribund without available clinical history. Edema and heavy proteinuria were present, accompanied by high blood pressure in some patients. At the same time, Murakami (
100
) in Japan described a similar histologic picture in a single patient. Additional studies since that time have described the histologic alterations that are characteristic of diabetic glomerulosclerosis and are accompanied by a stereotypical clinical course.
Gross Appearance
The kidney of the diabetic patient may be increased, decreased, or normal in size. At early stages, it is invariably increased, particularly in patients with hyperfiltration (
68
). When diabetic glomerulosclerosis progresses with scarring and loss of nephrons, one sees a reduction in the size of the kidney, but the end-stage kidney of the diabetic patient is frequently larger than the end-stage kidney seen in other conditions (
Fig. 21.1
). On the cut surface, preservation of normal architecture is noted. With proper lighting, one may be able to detect hypertrophied glomeruli within the cortex. Frequently, the arteries at the corticomedullary junction are prominent because thickening of their walls resulting from arteriosclerosis prevents their retraction into the parenchyma. The main renal artery and its branches may show atherosclerosis.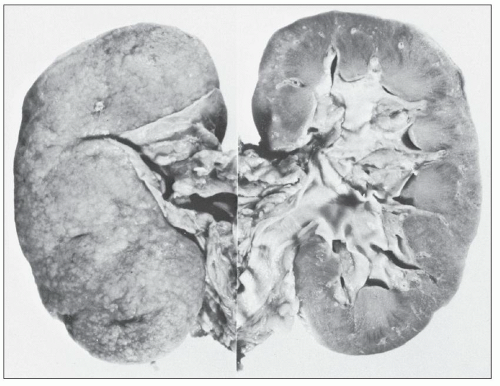 FIGURE 21.1 Kidney from a 48-year-old woman with diabetes of 13 years' duration.
Nodular glomerulosclerosis was diagnosed on biopsy after nephrotic syndrome 3 years before death from renal failure. Each kidney weighed 90 g. The subcapsular surface is granular, and the cut surface shows a slight reduction in cortical width.
Immunofluorescence Microscopy
Electron Microscopy
In the capillary wall, morphologic changes are present in all three layers, GBM, visceral epithelium, and the endothelium. These will be discussed in turn. Most authors agree that increase in the thickness of the GBM is the earliest change (
105
,
147
,
148
) (
Fig. 21.21
). Huang (
149
), using guanidine treatment, showed that the increase in basement membrane thickness was due to increased amounts of material from the epithelial rather than from the endothelial cells. The isolated finding of the thickened GBM is a possible manifestation of prediabetes as demonstrated in one study in 23 patients who presented with proteinuria greater than 0.5 g/d sometimes accompanied by hematuria but without clinical evidence of diabetes (
150
). Two years later, seven patients remained normoglycemic, six had fasting blood glucose between 110 and 125 mg/dL, three had impaired glucose tolerance, and seven had become diabetic (
150
). As duration of diabetes increases, greater variability in thickness of the GBM is observed (
151
,
152
), but interindividual variation and interglomerular variation contribute to the large standard deviations (
105
). Vogler et al. (
152
) studied 15 patients with type 1 diabetes and found areas of attenuation of the GBM in six patients. In part, this change is related to the thinner GBM in microaneurysms (
Fig. 21.22
). Østerby and Nyberg (
151
) observed similar basement membrane thinning in severely affected diabetic kidneys. In such cases, the GBM measured as little as 100 nm and comprised 1% to 5% of the total capillary length in individual glomerulus. Changes in the biochemical composition of the GBM have been reported by various investigators. Spiro (
153
) first recorded an increase in hydroxylation of lysine and in the number of disaccharide units. Additional work from his laboratory has shown decreased heparan sulfate and laminin (
154
). Other authors, using immunohistochemical localization techniques, detected a change in charge density resulting from alteration in the location of the heparan sulfate rather than an absolute decrease in the amount (
155
,
156
). Kim et al. (
157
) showed a change in the chains of collagen type IV in the GBM.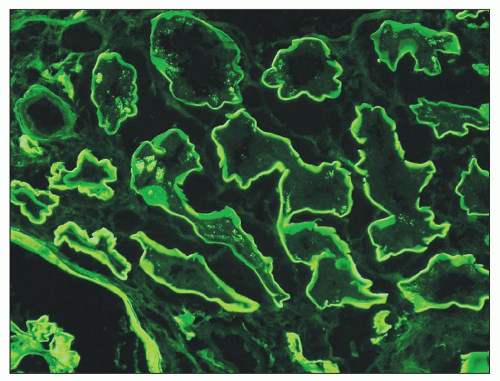 FIGURE 21.20
Immunofluorescence micrograph showing linear staining for albumin along the tubular basement membrane. (×400.)
Changes in the foot processes of visceral epithelial cells are variable. At times, they remain discrete, whereas other cases have differing degrees of effacement (
101
,
105
,
107
,
148
,
151
,
152
). Østerby et al. (
151
) measured a mean width of the foot process of 352 nm in diabetics as compared with a mean width of 224 nm in nondiabetic control patients. Widening of foot processes appears with the onset of microalbuminuria (
158
). Pagtalunan et al. (
117
) in a study of Pima Indians did not document widened foot processes until the stage of clinical nephropathy. Furthermore, these investigators were the first to note absolute loss in the number of visceral epithelial cells during clinical
nephropathy concurrent with mesangial expansion. Podocyte depletion has been confirmed in patients with either type 1 or type 2 DM by other investigators (
116
,
118
,
159
,
160
). Toyoda et al. (
161
) studied foot process detachment in patients with type 1 DM and found that 22% of GBM was not covered by intact foot processes in diabetic patients with proteinuria as compared to 11% in such patients with microalbuminuria and 4% of diabetics with normoalbuminuria. Weil et al. (
159
,
160
) using a more conservative technique found a smaller percentage of foot process detachment in type 2 diabetic patients, but the differences were significant between patients with proteinuria (1.48% detachment) and those with normoalbuminuria (0.41% detachment) or microalbuminuria (0.37% detachment). Such foot process detachment has been associated with glomerular sclerosis in a number of different glomerular lesions and may be important in the progression of diabetic nephropathy as well (
161
). Furthermore, the visceral epithelial cells play an important role in maintaining endothelial cells so that loss of podocytes may influence these cells as discussed below.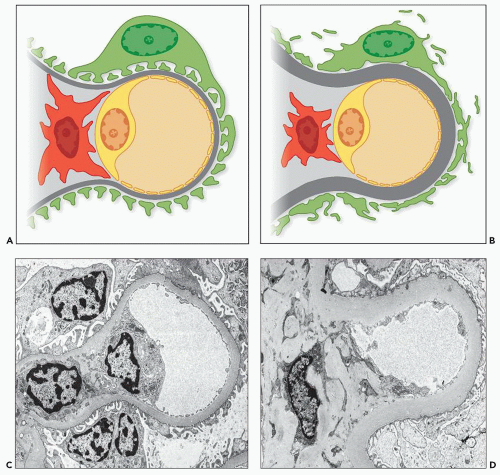 FIGURE 21.21 A:
Drawing of normal capillary.
B:
Drawing of capillary with diabetic changes.
C:
EM of normal capillary.
D:
EM of capillary with diabetic changes.
Endothelial cell changes have been largely overlooked in diabetic nephropathy until recently although endothelial dysfunction has been documented for years. Reduction in endothelial fenestration was first documented in the rat with alloxan-induced diabetes in 1980 (
162
). Similar studies were not undertaken in human patients with diabetes for more than
25 years. Toyoda et al. (
161
) in a study of patients with type 1 DM found that the fractional surface of fenestrated endothelium was reduced from 41% in controls to 25% in patients with proteinuria. Patients with normoalbuminuria or microalbuminuria showed 32% fractional surface of fenestrated endothelium. Weil et al. (
159
) found similar results in patients with type 2 DM. We now recognize that vascular endothelial growth factor (VEGF) secreted by the podocyte has an important role in control of endothelial structure (
163
). However, Weil's study did not find any difference in the degree of fenestration near areas of foot process detachment (
159
). Satchell suggests several possible explanations, including the finding that actual detachment of foot processes was quite rare (
164
). Furthermore, he suggests that other factors such as the endothelial glycocalyx may play a role in glomerular permeability in this setting (
164
,
165
).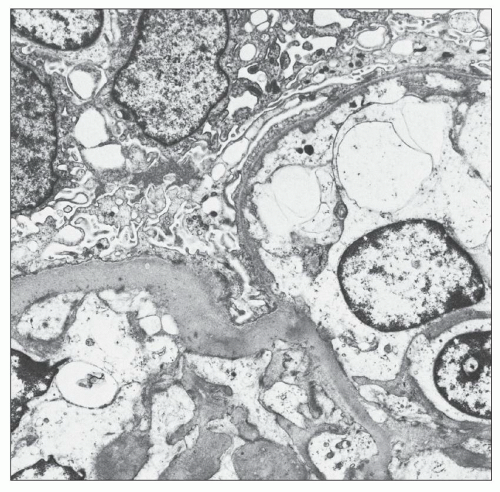 FIGURE 21.22 Electron micrograph of a portion of a glomerulus showing marked attenuation of the basement membrane in a loop to the right with an abrupt transition as it reflects over the mesangium.
This thinning of the GBM is associated with the formation of microaneurysms. (Uranyl acetate and lead citrate, ×9700.)
The hyalinosis lesion occurs within capillary loops and appears on electron microscopy as an accumulation of homogeneous electron-dense material between the endothelial cell and the GBM. As more material collects, it fills the capillary lumen (
Fig. 21.23
). In obsolescent glomeruli, remains of the hyalinosis lesions formed earlier persist as denser areas within increased matrix and the GBM. Similar material may also be present within the mesangium (
107
,
166
). One must distinguish such hyalinosis accumulations from immune deposits, although this distinction may be difficult. This material is identical to that seen in the subintima of arterioles with hyaline arteriolosclerosis. Furthermore, the capsular drop is made up of similar material lying between the Bowman capsule and the parietal epithelium.
Mesangial widening and nodules are due to increased synthesis of mesangial matrix (
149
) and decreased degradation secondary to cross-linking of glycosylated collagens (
167
,
168
) (
Fig. 21.24
). Additional factors are considered in the section
on pathogenesis. Dachs et al. (
169
) noted that the first change consisted of widening of the usually delicate strands of mesangial matrix with increase of the numbers of mesangial cells. The number of mesangial cells and cellular processes may be slightly increased within the expanded mesangial matrix. These observations have been confirmed by morphometric analysis. Steffes et al. (
170
) showed increase in volume fraction of mesangial matrix per glomerulus and in mesangial cells per glomerulus in patients with type 1 diabetes compared with controls. The volume fraction of mesangium increases over the duration of the diabetes (
147
). Cell debris manifested as small calcific deposits, remnants of cell membranes, and scattered organelles are often present (
166
). On occasion, dense collections of fibrils measuring between 10 and 25 nm are present in the mesangium (
171
,
172
) (
Fig. 21.25
). The presence of such diabetic fibrillosis does not affect the course or prognosis (
171
,
173
). The fibrils can be distinguished from amyloid by their lack of staining by Congo red (
172
). Mesangiolysis has been described in association with the formation of microaneurysms (
111
,
114
). Some nodules develop loosening of the matrix, resulting in detachment of endothelial cells and loss of the anchoring points of the GBM to the mesangium (
166
). These alterations are thought to precede the exaggerated mesangial expansion of the single large nodules with laminated texture that are associated with microaneurysms (
113
).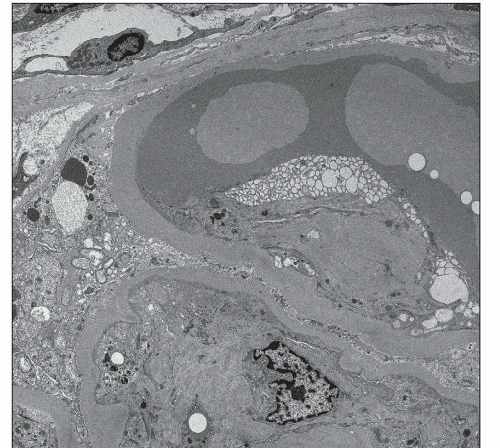 FIGURE 21.23
Electron micrograph of a portion of a glomerulus showing a hyalinosis lesion in a capillary loop and marked foot process effacement. (Uranyl acetate and lead citrate, ×4700.)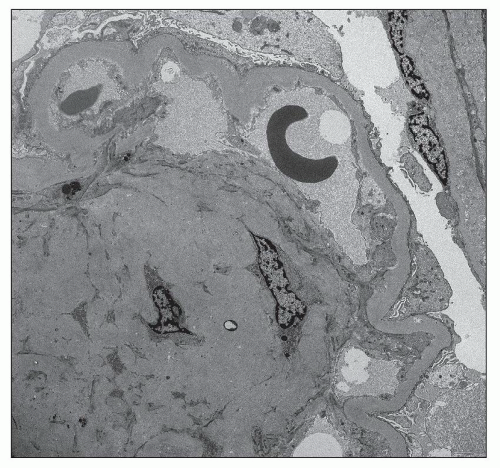 FIGURE 21.24
Electron micrograph of a Kimmelstiel-Wilson nodule showing increased matrix and relationship to capillary loops with thickened GBM and effacement of foot processes. (Uranyl acetate and lead citrate, ×3000.)
The major component of the increased matrix is type IV collagen (
155
,
156
,
174
). Other components that are increased include type V and VI collagen, laminin, and fibronectin (
175
). Suzuki et al. (
175
) examined glomerular and interstitial expression of the mRNAs of metalloproteinase-3, tissue inhibitor of metalloproteinase-1, and type IV collagen in diabetic nephropathy. Expression of integrins is increased in all cell types in diabetic patients with moderate increase in the mesangial matrix (
176
). As the mesangial matrix increases to severe degrees, the expression of integrins increases in parallel in mesangial cells, whereas it remains the same in epithelial cells with decreased expression in endothelial cells.
Diabetic Nephropathy in Type 2 Diabetes Mellitus
Classification
A classification scheme has been developed recently, which may be applied to diabetic nephropathy in both types 1 and 2 DM (
190
). This consensus classification uses only glomerular lesions in order to make it easy to use and reproducible. Four classes are defined, one of which is subdivided. Class I shows mild or nonspecific changes with GBM thickening proven by electron microscopy. GBM thickening is defined as greater than 395 nm in females and greater than 430 nm in males older than 9 years of age when directly measuring the GBM (
191
). The definition of thickened GBM is 471 nm for women and 521 nm for men using the orthogonal intercept method (
192
). Class II shows mesangial expansion defined as greater than the width of two mesangial nuclei in two lobules in greater than 25% of glomeruli. This class is further subdivided into mild (less than the diameter of a capillary lumen) and severe (greater than the diameter of a capillary lumen). Class III is defined by the presence of at least one Kimmelstiel-Wilson nodule and less than 50% globally sclerotic glomeruli. Class IV demonstrates global sclerosis in greater than 50% of glomeruli in combination with lesions from the other three classes.
This proposed classification requires validation and evaluation to determine its usefulness. Two studies have applied it to biopsies from patients with type 2 DM (
193
,
194
). Oh et al. (
193
) examined 126 renal biopsies from patients with type 2 DM and proteinuria greater than 1 g/d, renal involvement without retinopathy, renal involvement within 5 years of diagnosis, or unexplained hematuria or azotemia. They split the biopsies into three groups with pure diabetic nephropathy (
n
= 50), nondiabetic renal disease (
n
= 65), and mixed (
n
= 11) and further analyzed the pure diabetic nephropathy group using the classification described above (
190
). They also used semiquantitative assessment of glomerular size, mesangial proliferation, mesangial matrix, interstitial fibrosis, arteriolar hyalinosis, and arteriosclerosis. At the end of a 5-year follow-up period, ESRD was present in no patients with class I or IIA changes, in 41.7% with class IIB, in 44.4% with class III, and 61.7% with class IV (
193
). The classification did correlate to urine protein to creatinine ratio and eGFR at the time of biopsy; however, this was due to the strong correlation to class IV to these factors as no differences were present with classes II and III. In fact, class IIb and class III showed similar clinical and pathologic features. Okada et al. (
194
) studied 69 patients with pure diabetic nephropathy and a mean follow-up of 59 months (range 6 to 180 months). They used the classification described above (
190
) for glomerular lesions and also assessed interstitial fibrosis and tubular atrophy (IFTA), interstitial inflammation, arteriolar hyalinosis, and arteriosclerosis (
194
). Using multivariate analysis, these authors found that IFTA were the only significant predictor of renal survival and not classification by glomerular lesions (
194
). Furthermore, no difference was found in the renal prognosis in a comparison between class IIA and IIB with class III.
Fioretto and Mauer (
195
) suggest that this classification is not yet ready for clinical use but that it does represent a first step in developing a useful scheme. They point out that its use in type 2 diabetes may not be possible for all cases in view of the variety of glomerular lesions seen in the biopsies from this population. This idea is supported by the fact that the papers cited above used the classification in type 2 diabetics but only evaluated biopsies with pure diabetic nephropathy, avoiding the issue of mixed lesions (
193
,
194
). Fioretto and Mauer suggest that addition of an evaluation of arteriolar hyalinosis might be useful as a means of distinguishing global glomerulosclerosis due to diabetes from that due to other forms of renal diseases first described by Harris et al. (
196
). They are also concerned about the use of mild increases in GBM thickness as a
defining feature of diabetic nephropathy and the use of a single Kimmelstiel-Wilson nodule to indicate a more severe lesion as such nodules may be present in the absence of clinical evidence of renal disease (
195
).
Etiology and Pathogenesis
Hyperglycemia plays a central role in the pathogenesis of diabetic nephropathy by activating similar intracellular signaling events in all four compartments of the kidney. The initial manifestations of diabetic renal involvement can be ascribed to glomerular capillary dysfunction with hyperfiltration and microalbuminuria followed by development of further structural and functional abnormalities affecting the glomerular, tubulointerstitial, and vascular compartments. The cellular events induced by high glucose ambience include increased flux of polyols and hexoseamines, generation of AGEs and ROS, and activation of the PKC, transforming growth factor-β-Smadmitogenactivated protein kinase (TGF-β-Smad-MAPK), and Janus kinase-signal transducer and activator of transcription (JAK-STAT) pathways and of the G protein signaling pathway. These abnormalities along with aberrant expression of cyclin kinases, ECM proteins, metalloproteinases, and their inhibitors result in altered cell cycle and growth and subsequent accumulation of ECM proteins, a characteristic morphologic feature of diabetic nephropathy in humans. In addition to the biochemical events, mechanical injury mediated by increased glomerular intracapillary pressure due to impaired autoregulation of the local intrarenal renin-angiotensin-aldosterone system can further potentiate the injury. The following section integrates the foregoing physiologic and pathologic features of diabetic nephropathy with these factors to explain our current understanding of the pathogenesis more fully.
Hemodynamic Changes and Hyperfiltration
Full access? Get Clinical Tree
Get Clinical Tree app for offline access