C3 Glomerulopathies, Including Dense Deposit Disease
H. Terence Cook
Matthew C. Pickering
C3 glomerulopathy is a recently introduced term (
1
) that encompasses glomerular disease characterized by the accumulation in the glomeruli of C3 or its metabolites without significant deposition of the early components of the classical pathway of complement activation, C1q and C4, and with minimal or no immunoglobulin. On electron microscopy (EM), there are electron-dense deposits corresponding to the C3 deposits seen on immunohistochemistry. The deposition of C3 with little or no immunoglobulin and without classical pathway complement activation imply uncontrolled activation of the alternative pathway of complement. Recent work has elucidated the mechanism by which this occurs in many cases. C3 glomerulopathy, thus defined, is distinct from forms of thrombotic microangiopathy that may also be associated with alternative pathway activation because in those cases complement activation is on the renal endothelium and is not associated with well-defined deposits on EM. C3 glomerulopathy also is distinct from glomerulonephritis caused by immune complex accumulation in glomeruli that contain immunoglobulin as well as complement, often including classical pathway components such as C4 or C1q. As described in more detail in the following sections, the morphology seen by light microscopy is variable and includes mesangial proliferation, a membranoproliferative pattern, endocapillary proliferation, and crescentic glomerulonephritis.
It is possible to subclassify C3 glomerulopathy based on differences of morphology as seen by light microscopy and EM (
Table 9.1
) or by etiology; for example, some cases are caused by an underlying gene mutation and others by autoimmune processes. Perhaps, the simplest distinction in terms of morphology is on the basis of the appearance of the electron-dense deposits seen on EM. In some cases, these have a very dense osmiophilic appearance (
Fig. 9.1
) leading to the designation as dense deposit disease (DDD), whereas in other cases, the deposits do not show this appearance and are designated C3 glomerulonephritis (C3GN). We therefore discuss C3 glomerulopathy in terms of these two categories while recognizing that the distinction is not always clear cut and that there is overlap of pathogenesis.
DENSE DEPOSIT DISEASE
In 1963, Berger and Galle (
2
) described a type of glomerulonephritis with unique, extremely osmiophilic electron-dense deposits in the glomerular basement membranes (GBMs) as the major identifying characteristic (see
Fig. 9.1
). Since that time, many additional reports of DDD have appeared (
3
,
4
,
5
,
6
,
7
,
8
,
9
,
10
,
11
,
12
,
13
,
14
,
15
,
16
,
17
,
18
). Because DDD often has light microscopic features of a membranoproliferative glomerulonephritis (MPGN), it has also been referred to as MPGN type II. However, it is clear that many cases do not have an MPGN pattern on light microscopy, and therefore the name DDD is to be preferred. In some series, it has accounted for up to a third of cases of MPGN although the frequency compared to type I MPGN in most series is much lower. Appel et al. (
19
) published an excellent review on DDD in 2005.
Pathologic Findings
Light Microscopy
GLOMERULI
DDD is defined by the presence of dense osmiophilic transformation of the GBM on EM (see
Fig. 9.1
), and on light microscopy, the morphology is variable (see
Table 9.1
). Previous reports have emphasized the membranoproliferative form of the disease, designating this as MPGN type II, and this makes it difficult in older reports to assess the full range of histologic appearances. While it is clear that a membranoproliferative pattern of glomerular injury with increased lobulation, mesangial expansion, and capillary wall thickening with segmental double contours is common, a range of other patterns of glomerular involvement also occur (
Figs. 9.2
,
9.3
,
9.4
,
9.5
,
9.6
,
9.7
). At one end of the spectrum, the glomeruli may show only mesangial expansion and hypercellularity. In some cases, the glomeruli show prominent endocapillary hypercellularity with segmental neutrophil infiltration (sometimes called exudative pattern). In others, large numbers of crescents may be present, warranting the diagnosis of crescentic glomerulonephritis. Walker et al. (
34
) collected 69 cases of DDD from centers in North America, Europe, and Japan. They identified four distinct histologic patterns on light microscopy: membranoproliferative (25%), mesangial proliferative (45%), crescentic (18%), and acute proliferative and exudative (12%). Crescentic GN was defined as more than 50% crescents. Two of their cases could not be further classified. In the Columbia series of 32 cases (
16
), the frequencies were MPGN (44%), mesangial proliferative (28%), endocapillary proliferative (19%), and crescentic
GN (9%). These reports emphasize that fewer than 50% of cases of DDD have an MPGN morphology. Focal crescents are common in patients without full-blown crescentic GN (
16
,
34
).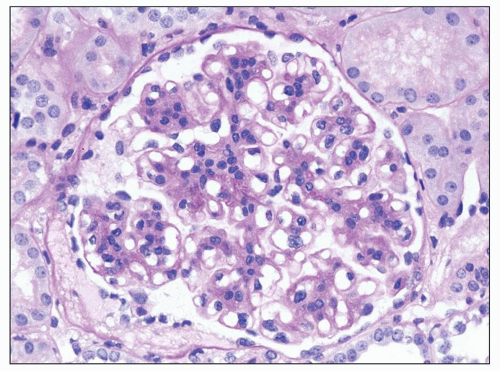 FIGURE 9.2
Glomerulus from a patient with DDD showing mesangial hypercellularity. (PAS.) (Courtesy of Dr. Patrick Walker.)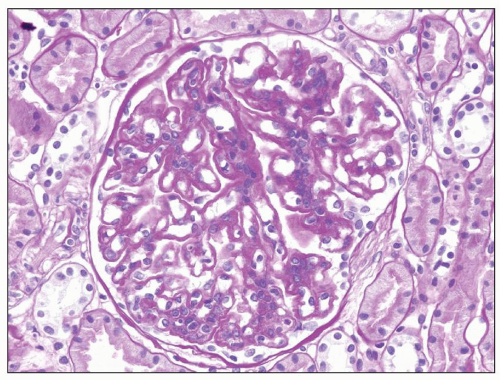 FIGURE 9.3
Glomerulus from a patient with DDD showing mesangial hypercellularity and a ribbon-like thickening of the glomerular capillary wall corresponding to the deposits seen by EM. (PAS.) (Courtesy of Dr. Patrick Walker.)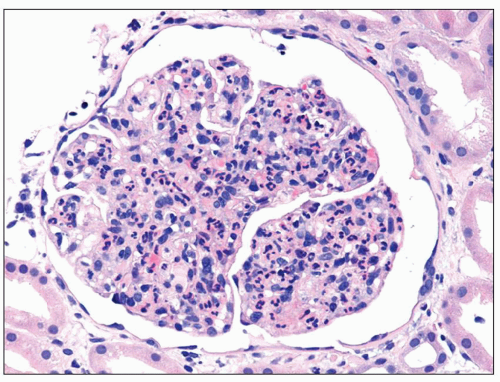 FIGURE 9.4
Glomerulus from a patient with DDD showing an endocapillary proliferative pattern with many neutrophils within capillary lumens. (H&E.) (Courtesy of Dr. Patrick Walker.)
The GBM dense deposits are recognized on light microscopy as thickening of the GBMs by ribbon-like glassy intramembranous deposits. They stain strongly with eosin and appear somewhat refractile (hyaline). They are intensely periodic acid-Schiff (PAS) positive (see
Fig. 9.3
), and the trichrome stain shows them to be fuchsinophilic (red) although this reactivity varies among specimens. These glomerular intramembranous deposits appear dark blue with toluidine blue in 0.5- or 1.0-µm plastic-embedded sections. With methenamine silver staining, the intramembranous deposits are not as argyrophilic as the GBM and are somewhat brownish (
6
,
35
). Thus, the intramembranous nonstaining deposit is often bordered on each side by a thin, silver-positive GBM (
36
). A double-contour appearance of the glomerular capillary wall is noted in approximately half of the patients. The glomerular intramembranous deposits may stain with the fluorochrome dye thioflavin T (
Fig. 9.8
) (
9
,
37
).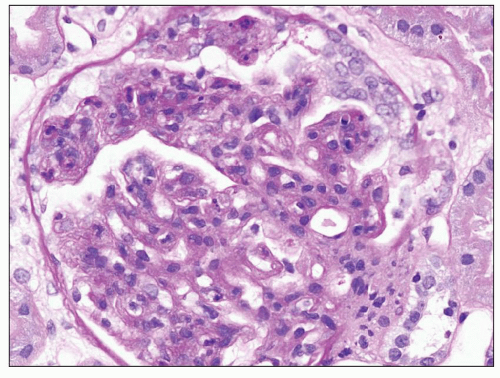 FIGURE 9.5
Glomerulus from a patient with DDD showing prominent segmental hypercellularity with endocapillary hypercellularity and a small cellular crescent. Some capillary walls show a double-contour appearance. (PAS.) (Courtesy of Dr. Patrick Walker.)
FIGURE 9.6
Glomerulus from a patient with DDD showing a cellular crescent. (PAS.) (Courtesy of Dr. Patrick Walker.)
The glomerular intramembranous deposits vary greatly in size and number, and it is this feature that determines the extent of the glomerular capillary wall thickening. In typical cases, diagnosis may be suspected by light microscopy although EM may be needed to establish the presence of diagnostic deposits with certainty. In some biopsies, PASand trichrome-positive mesangial deposits are evident. EM often reveals mesangial deposits that cannot be identified by light microscopy. Deposits are also noted in the basal lamina of the Bowman capsule and the tubular basement membranes
(TBMs) of both proximal and distal tubules (
Fig. 9.9
) (
38
); the extent of this extraglomerular involvement is quite variable.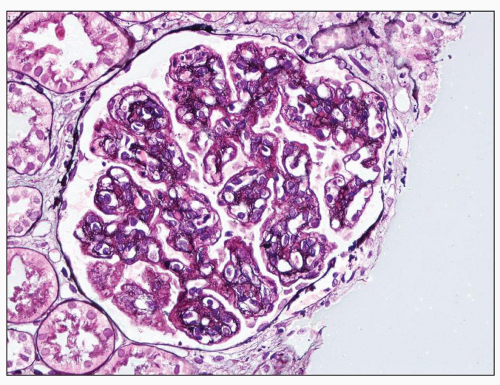 FIGURE 9.7 Glomerulus from a patient with DDD showing MPGN
patterns.
There are mesangial increase and capillary wall double contours. (Jones methenamine silver.)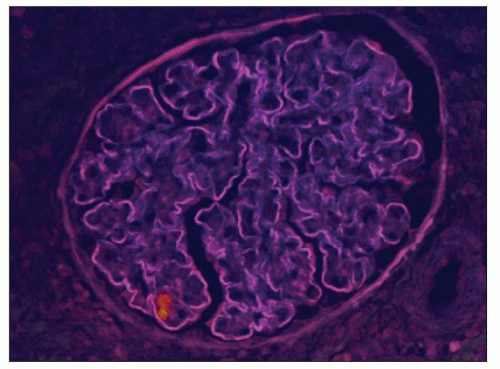 FIGURE 9.8
Glomerulus from a patient with DDD showing the staining of the capillary wall dense deposits with thioflavin T. (Thioflavin T stain.) (Courtesy of Dr. Patrick Walker.)
As renal disease progresses, the glomeruli undergo sclerosis, but even in advanced cases, it is usually possible to see the characteristic intramembranous dense deposits by EM. In the Columbia series, segmental glomerulosclerosis was significantly more common with the MPGN pattern of GN and also in adults compared with children (
16
).
TUBULES
The tubular epithelium may display either hyaline droplets (evidence of glomerular filtration of protein) or vacuolation. The same type of deposit noted in the GBM may be identified along the proximal and distal TBMs (
38
) (see
Fig. 9.9
). With progression of glomerular sclerosis, there are tubular atrophy and interstitial fibrosis.
INTERSTITIUM
Foam cells are sometimes present, indicative of the nephrotic syndrome with substantial hypercholesterolemia and lipiduria. Interstitial fibrosis appears as renal failure develops.
Electron Microscopy
EM led to the discovery of DDD, which is distinct from other forms of renal disease (
2
). The disease takes the name "dense deposit disease" from the characteristic ultrastructural appearance of the glomerular intramembranous deposits (
Figs. 9.1
and
9.11
). There have been many reports on the electron microscopic findings (
4
,
5
,
6
,
9
,
10
,
11
,
16
,
34
,
36
,
38
), and there is generally good agreement on the ultrastructural features. Confirmation of the diagnosis of DDD requires EM, although the diagnosis can be suspected with high confidence if the typical light microscopic and immunofluorescence microscopic features are observed.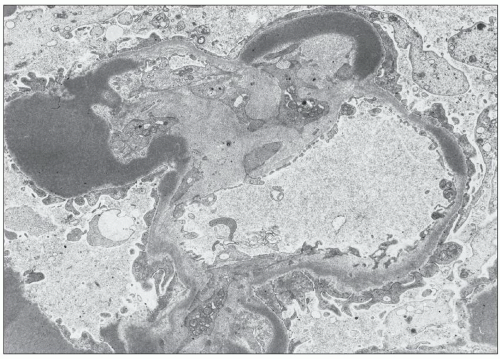 FIGURE 9.11 Dense deposits in the GBM.
They are of a much greater density than the lamina densa and are usually elongated, as in this photo. (×3200.) (Courtesy of Dr T. Antonovych.)
Full access? Get Clinical Tree
Get Clinical Tree app for offline access