Focal pyelonephritis
Renal abscess
Xanthogranulomatous pyelonephritis
Malakoplakia
Aspergillosis
Echinococcus
Upper tract fungal infection
Acquired cystic kidney disease
Polycystic kidney disease
Renal-adrenal fusion
Ectopic adrenal tissue
Splenorenal fusion
Extramedullary hematopoiesis
Inflammatory and Infectious Lesions
Cystic Lesions of the Kidney
In this section, we will discuss autosomal dominant and recessive forms of polycystic kidney disease, as well as acquired renal cystic disease. Renal dysplasia, which may demonstrate cyst formation, is discussed in Chap.
11
.
Autosomal Dominant Polycystic Kidney Disease (ADPKD)
Autosomal dominant polycystic kidney disease (ADPKD) has an incidence of 1/500–1000 persons in the general population and results from a germline mutation in the
PKD1
or
PKD2
genes [
43
]. It is the most common inherited disease of the kidney and accounts for ~5 % of cases of end-stage renal disease (ESRD) in the United States [
44
]. ADPKD is a systemic disorder with clinical manifestations in many locations including the liver, seminal vesicles, pancreas, and intracranial circulation. Due to the autosomal dominant pattern of inheritance, there is a 50 % probability that the child of an affected parent will inherit the disease. The progressive loss of nephrons as a result of cyst formation usually does not become clinically significant until the third or fourth decade of life [
45
]. While most patients are asymptomatic, some may present early with abdominal or flank pain, hematuria, or urinary tract infections. Pain is the most frequent symptom of ADPKD, while hypertension is the most common sign of the disease [
45
,
46
].
Patients with a family history of ADPKD should be screened after the age of 18 years; if ADPKD is diagnosed, the patient's first-degree relatives should be screened as well [
47
]. ADPKD is diagnosed on imaging (Fig.
3.9
) based on well-established criteria (Table
3.4
) [
48
,
50
]. Although CT and magnetic resonance imaging (MRI) are more sensitive for identification of renal cysts, ultrasound is the preferred imaging modality for screening as it is low cost and lacks radiation exposure. Genetic testing is not routinely recommended for ADPKD, but can be useful on a case-by-case basis [
49
].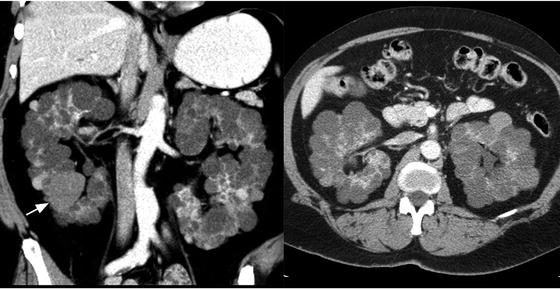 Fig. 3.9
Autosomal dominant polycystic kidney disease (ADPKD). Axial and coronal contrast-enhanced CT of the kidneys showing bilateral enlarged kidneys with the parenchyma replaced by multiple cysts, some that are hyperdense (
white arrow
)










Age (years)






Criteria








Ultrasonography

(

if 50

 %

risk of disease

)

Premium Wordpress Themes by UFO Themes

WordPress theme by UFO themes