Histologically, WT most commonly shows three distinct components that consist of blastemal, epithelial, and stromal elements (Fig.
11.2a
). Biphasic and monophasic patterns may also occur. The epithelial component is usually the most recognizable element in WT and can show a variety of differentiation patterns. Epithelial differentiation into tubular structures is the most common differentiation pattern and ranges from rudimentary, rosette-like tubular structures to mature tubules. Primitive glomeruli may also be seen (Fig.
11.2b
). Heterologous differentiation may occur and include mucinous or squamous epithelial, or neural, and neuroendocrine differentiation. The blastemal component shows either a sheetlike or nested architectural pattern and typically consists of small crowded blue cells with minimal cytoplasm, overlapping oval nuclei, and coarse chromatin (Fig.
11.2c
). Mitoses are frequently seen. In the setting of blastemal-predominant WT, the differential diagnosis includes other pediatric small round blue-cell tumors such as neuroblastoma, rhabdomyosarcoma, primitive neuroectodermal tumor (PNET) , and lymphoma. Preoperative chemotherapy has been associated with the presence of necrosis, fibrosis, and macrophage influx, as well as formation of mature skeletal muscle. The stromal component varies from lightly staining spindle cells occasionally to rhabdomyoblasts and cartilage or bone [
18
–
20
].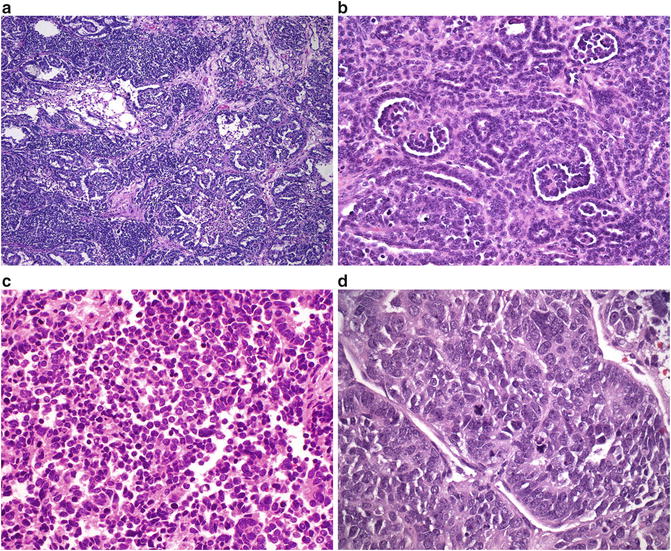 Fig. 11.2
(
a
) Wilms tumor: blastemal, epithelial, and stromal elements. (
b
) Wilms tumor: primitive glomerular structures. (
c
) Wilms tumor: blastemal component. (
d
) Wilms tumor showing anaplasia with hyperchromatic and enlarged nuclei and mitotic figures
Anaplasia occurs in approximately 5 % of WT and may be seen in the epithelial, stromal, or blastemal elements. It is more common in older children, reaching a peak at approximately 5 years of age [
20
]. Anaplasia is defined as hyperchromatic, markedly enlarged nuclei, and the presence of multipolar or polypoid mitotic figures (Fig.
11.2d
). Focal anaplasia is defined as one or a few limited foci of anaplastic cells within a WT, with these anaplastic regions surrounded by areas without anaplasia or nuclear unrest approaching anaplasia. In contrast, diffuse anaplasia denotes a lesion that otherwise does not fit the "focal" definition and is associated with more aggressive behavior [
21
,
22
].
Immunohistochemical analysis shows diffuse nuclear expression of WT1 in blastemal and epithelial cells, but not in stromal cells. In cases in which the stromal component is predominant, WT1 immunostain may not be a reliable indicator of the diagnosis [
11
,
23
]. Epithelial elements can show cytokeratin immunoreactivity and blastemal cells may be positive for CD56 and negative for actin, myogenin, and MYOD1 [
24
–
26
].
Various genetic alterations may be associated with WT. These include deletion of the
WT1
gene at 11p13, alterations of the
WT2
gene at 11p15, p53 mutations, CTNNB1 gene mutations, and WTX mutations [
27
].
Prognosis and Clinical Management
Management of WT has been advanced primarily by two large cooperative multinational trials: (1) the National Wilms Tumor Study Group (NWTSG) , merged with three other groups to form the Children's Oncology Group (COG), and (2) the International Society of Pediatric Oncology (SIOP) . SIOP and NWTSG differ in regard to risk stratification according to pathology. In SIOP, histological classification is divided into low-, intermediate-, and high-risk categories. Intermediate-risk tumors comprise 90 % of tumors and include epithelial-type WT, stromal-type WT, mixed-type WT, regressive-type WT and those with focal anaplasia. High-risk tumors, on the other hand, include blastemal-type WT and tumors with diffuse anaplasia. In NWTSG, histological classification is divided into two groups: favorable and unfavorable histology. Tumors with favorable histology include triphasic WT, epithelial-predominant WT, stromal-predominant WT, and blastemal-predominant WT. Tumors with unfavorable histology account for about 10 % of Wilms tumor and include tumors with either focal or diffuse anaplasia [
15
].
In SIOP and NWTSG, treatment protocols are based on stage and histology and involve various combinations of surgery, chemotherapy, and radiation. Whereas staging criteria are very similar between NWTSG and SIOP, there are fundamental differences between the two groups in regard to treatment of unilateral WT: primary surgery in NWTSG/COG versus initial or neoadjuvant chemotherapy in SIOP. In bilateral disease both NWTSG/COG and SIOP recommend preoperative chemotherapy. Radical nephrectomy is the mainstay of surgical therapy. Palpation of the renal vein before division is recommended to exclude the possibility of tumor thrombus. Intraoperative inspection of the liver and contralateral kidney is not required unless lesions were identified on preoperative imaging studies. Lymph node sampling is critically important, even in the setting of normal nodes on preoperative imaging. The role of partial nephrectomy has been suggested in cases of bilateral disease, as well as unilateral disease in the setting of syndromic conditions with increased risk of WT recurrence. Bilateral WT occurs in approximately 5 % of cases. Relapse occurs in about 15 % of children with favorable histology WT and 50 % of anaplastic histology WT. Most relapses occur early (within 2 years of diagnosis) and are found within the lungs (60 %) or abdomen (30 %). Currently survival is 90 % overall for children with Wilms tumor. Tumor histology and stage are the two most important prognostic factors [
28
,
29
].
Premalignant Neoplasms Associated with Wilms Tumor: Nephrogenic Rests and Nephroblastomatosis
Clear Cell Sarcoma of the Kidney (CCSK)
Rhabdoid Tumor of the Kidney
Desmoplastic Small round Cell Tumor of the Kidney
Anaplastic Sarcoma of the Kidney
Indolent Renal Lesions and Malformations
Hematologic Malignancies Involving the Pediatric Kidney
Renal Lymphoma and Leukemia
Introduction
Primary renal lymphoma and leukemia are exceedingly rare in children [
209
,
210
]. More often, renal involvement results from infiltration of the kidney by circulating malignant cells. Once within the kidneys, tumor infiltration is initially interstitial, with the nephrons, collecting ducts, and blood vessels acting as scaffolding for tumor growth. Further growth leads to destruction of the renal parenchyma scaffolding, resulting in an expansile growth pattern. Since only a fraction of these patients undergo CT imaging, the true incidence of renal leukemic involvement in children is unknown [
211
].
Clinical Presentation
Renal lymphoma may present with renal failure, abdominal pain and abdominal mass, anemia, or hematuria [
212
–
220
]. On imaging, kidneys may appear unilaterally or bilaterally enlarged, as a single lesion, or as multiple mostly cortical lesions [
221
–
223
]. Regional lymph node involvement is common at presentation, as are metastases to the lungs, liver, choroid plexus, tonsils, and bone marrow [
215
,
220
,
224
–
228
]. Lymphoma infiltration may affect the kidney either primarily or secondarily [
229
,
230
]. Secondary renal involvement as a part of systemic disease or contiguous infiltration from adjacent lymphoma is detected in only 3–8 % of all patients, most commonly through routine CT staging for lymphoma [
222
,
231
–
234
]. In autopsy series, however, estimates of renal involvement in patients with known lymphoma range from 30 to 60 % [
235
].
Nephromegaly, hematuria, and renal dysfunction may be seen [
209
,
210
,
224
,
236
–
239
]. However, renal leukemic involvement is usually an incidental finding. Unlike patients with lymphoma, children with leukemia do not generally require routine CT imaging for staging or follow-up. Instead, CT imaging in children with leukemia is typically utilized in the assessment of possible disease-related complications or for the evaluation of some other clinical problems. Renal leukemic involvement can present with a wide variety of contrast-enhanced CT imaging findings. The most common focal parenchymal abnormality is that of multiple bilateral renal low-attenuation masses. These may appear as small and large round low-attenuation masses, wedge-shaped and geographic low-attenuation masses, or ill-defined areas of low attenuation. Diagnosis involves core needle biopsy in association with hematologic findings [
211
].
Pathology
Lymphomas and leukemias involving the kidney may appear as either a focal lesion or as diffuse involvement of the kidney on gross examination. The cut surface appears firm and pale, often with a homogeneous appearance. Necrosis, hemorrhage, cystic change, calcifications, and tumor thrombi can occur. Microscopically, abnormal lymphoid cells are present infiltrating between background renal elements [
134
]. These lymphoid cells may be present in sheets, which is often associated with diffuse renal enlargement, or as discrete nodules. Malignant lymphoid cells may also be primarily present within vascular spaces (intravascular lymphoma).
Immunohistochemical, flow, and molecular analyses can help to identify the lymphoid lineage of the neoplastic cells [
134
,
209
,
211
,
239
].