Fig. 7.1
Computed tomography scan from a 34-year-old woman with (
a
) a tumor of the left kidney (T3aN2M1), (
b
) metastases to the paraaortal lymph nodes, (
c
) left pubic bone, and (
d
) liver. Biopsy confirmed Xp11.2 tRCC (
red arrows
depicting tumor involvement) (Reprinted with open access permission from Hora M, Urge T, Travnicek I, Ferda J, Chudacek Z, Vanecek T, Michal M, Petersson F, Kuroda N, Hes O. MiT Translocation renal cell carcinomas: two subgroups of tumors with translocations involving 6p21 [t(6;11)] and Xp11.2 [t(X;1 or X or 17)]. SpringerPlus. 2014; 3:245)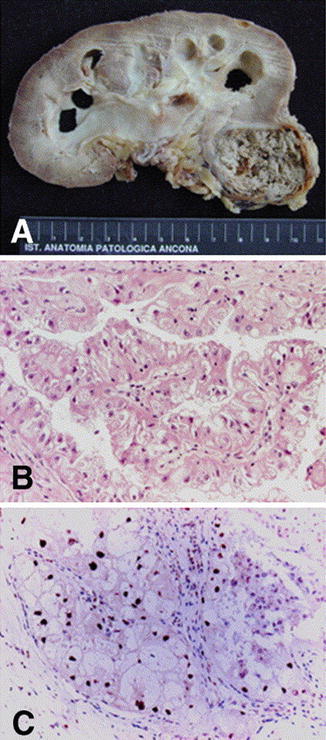 Fig. 7.2
Xp11 tRCC showing (
a
) gross and (
b
) histological features with papillary architecture. (
c
) Nuclear immunoreactivity for TFE-3 protein is characteristic (Reprinted with permission from Lopez-Beltran A, Scarpelli M, Montironi R, Kirkali Z. 2004 WHO classification of the renal tumors of the adults. Eur Urol. 2006; 49(5):798–805)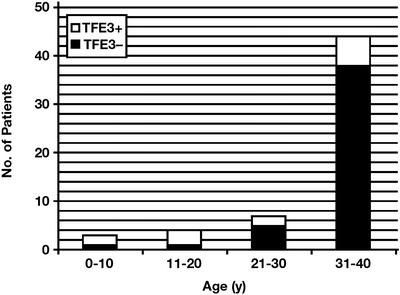 Fig. 7.3
Incidence of positive TFE3 immunostaining in renal cell carcinoma in age ranges of 0–10, 11–20, 21–30, and 31–40 years (Reprinted with permission from Klatte T, Streubel B, Wrba F, Remzi M, Krammer B, de Martino M, Waldert M, Marberger M, Susani M, Haitel A. Renal cell carcinoma associated with transcription factor E3 expression and Xp11.2 translocation. Am J Clin Pathol. 2012; 137(5):761–8)
Recent technologic and genetic analysis advances, including polymerase chain reaction (PCR) and FISH, have further improved the diagnosis of Xp11 tRCC (Fig.
7.4
). The goal is to more accurately identify tRCC by testing for specific biomarkers, gene mutations, polymorphisms, and gene split products [
14
]. Pfleuger et al. performed whole transcriptome sequencing in order to identify diagnostic molecular markers [
14
]. They identified two novel gene signatures within chimeric RNA molecules: eukaryotic translocation elongation factor 1 alpha 2 (EEF1A2) and Contactin 3 (CNTN3), both of which the clinical significance remains to be determined. Newer and more advanced technologies may allow for more accurate tRCC diagnoses, allowing for improved clinical correlation.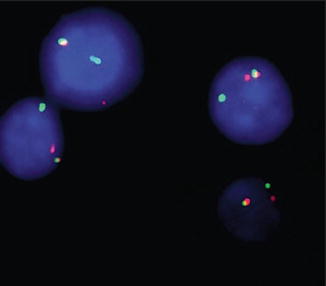 Fig. 7.4
Fluorescence in situ hybridization with probes flanking TFE3 shows
red-green fusion signal
representing the normal
TFE3
gene and
separate red and green signals
demonstrating a
TFE3
rearrangement in all tumor cells (Reprinted with permission from Klatte T, Streubel B, Wrba F, Remzi M, Krammer B, de Martino M, Waldert M, Marberger M, Susani M, Haitel A. Renal cell carcinoma associated with transcription factor E3 expression and Xp11.2 translocation. Am J Clin Pathol. 2012; 137(5):761–8)
In general, tRCC, t(6,11) has similar histopathologic features of other tRCCs, as well as clear cell RCC and epithelioid angiomyolipoma (Fig.
7.5
) [
19
,
20
]. Grossly, these tumors are not easily discernable from other RCCs, as they may appear gray, tan, circumscribed, or uncircumscribed, with and without necrosis [
19
,
20
]. The histopathological characteristics of t(6,11) include a biphasic epithelial cell morphology of large clear cells surrounding a second population of smaller cells with focal basement membrane material deposition, pseudorosette formation, and HMB-45 IHC reactivity [
17
,
20
,
37
,
38
]. In a case series of three patients with t(6,11) tRCC, Inamura et al. reported that the most efficacious way to identify t(6,11) tRCC was with histopathological nuclear staining for the TFEB protein [
19
]. This finding was corroborated by Rao et al. in their seven-patient case series; they found that all tumors displayed 100 % reactivity to TFEBS1 and TFEBS2 [
38
]. Petersson et al. described a case series of four patients with t(6;11) tRCC and concluded that HMB-45 and cathepsin K are the most consistent IHC reactivity finding. In contrast to Xp11, none of the t(6;11) tumors displayed reactivity to TFE3 [
20
]. These varying degrees of reactivity illustrate the variation within this disease process. Based on the available literature, a combination of HMB-45 reactivity and TFEB staining may be the IHC profile with the highest positive predictive value.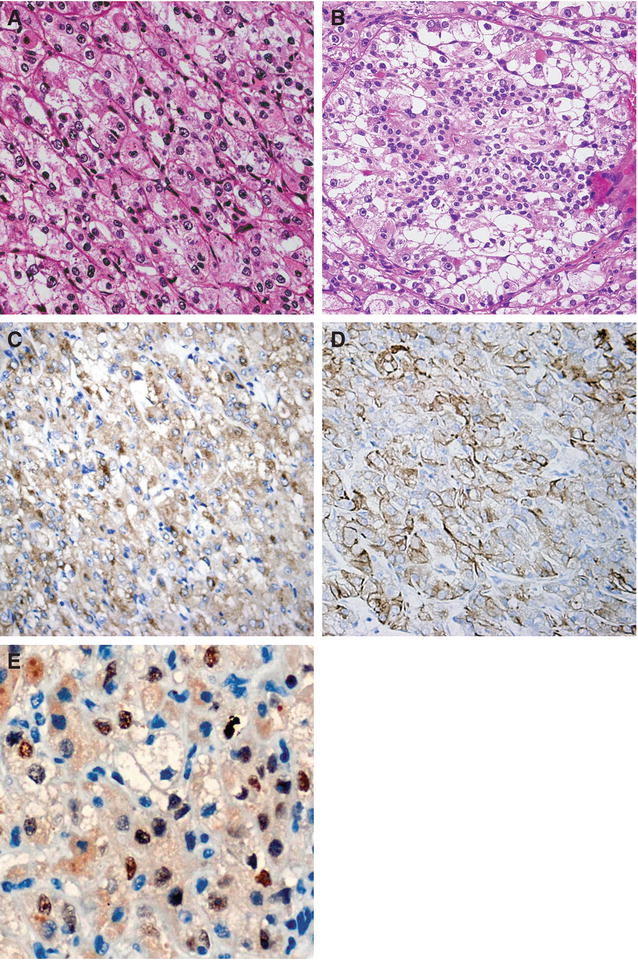 Fig. 7.5
t(6,11) tRCC. (
a
) The tumor consists of large and epithelioid cells arranged in a nested alveolar or acinar pattern and separated by thin capillaries. (
b
) The small cells have narrow eosinophilic cytoplasm, and dark nuclei are characteristically clustered around hyaline basement membrane material with large acini. (
c
,
d
) Tumor cells are diffusely positive for vimentin and Melan-A and widely stained with AE1/AE3, CK8, and Cam5.2 anticytokeratin antibodies. (
e
) Nuclear staining with TFEB antibody is present in the majority of tumor cells (Reprinted with permission from Zhan HQ, Wang CF, Zhu XZ, Xu XL. Renal cell carcinoma with t(6;11) translocation: a patient case with a novel alpha-TFEB fusion point. J Clin Oncol. 2010; 28(34):e709–13)
To date there is no consensus for identifying and diagnosing t(3;6) tRCC. Due to the paucity of available literature, most studies describe laboratory genetic identification through microarray and FISH as the most feasible means of diagnosis [
5
]. This is not dissimilar to VHL disease, which is diagnosed by DNA sequencing and/or Southern blot testing [
39
]. Sporadic clear cell RCC is caused by VHL inactivation in 60 % of patients, and Foster et al. hypothesize that there may be a non-VHL-dependent sporadic clear cell RCC pathway that is caused by chromosome 3 translocations [
5
,
40
,
41
]. It seems reasonable to test for t(3;6) tRCC and other tRCC subtypes when an absence of VHL inactivation has been confirmed.
Treatment
Surveillance
As with diagnosis and treatment, there is currently no proven, reliable, or effective surveillance algorithm for tRCC for patients after radical nephrectomy . However, in 2006, Chin et al. developed and proposed a novel staging system for RCC that incorporated the 1997 TNM classification with the Eastern Cooperative Oncology Group performance status and Fuhrman grade (UCLA Integrated Staging System) into a single prognostic algorithm [
61
]. They recommended treatment follow-up according to stratification into low-, intermediate-, or high-risk categories . Because Xp11 tRCC has an unpredictable and aggressive disease course, it is reasonable to stratify patients with Xp11 tRCC as high risk and place them into the proposed post-nephrectomy surveillance algorithm developed by Chin et al. Their protocol recommends (a) history, physical examinations, and laboratory tests every 6 months for 3 years and then yearly until 10 years; (b) chest computed tomography every 6 months for 3 years and then yearly until 10 years (chest computed tomography alternating with chest radiography after 3 years); and (c) abdominal computed tomography every 6 months for 2 years, yearly until 5 years, and then every 2 years until 10 years [
61
]. In addition to their recommendations, because Xp11 tRCC is often diagnosed in young adults, it may be reasonable to suggest lifelong surveillance with yearly history, physical examination, and laboratory tests and chest and/or abdominal imaging, as deemed clinically necessary, after completing the previously described 10-year surveillance regimen (Table
7.1
) [
62
]. The rarity of t(6;11) tRCC and chromosomal 3 tRCCs does not enable definitive recommendations regarding a surveillance protocol after treatment. At this point, it seems reasonable to recommend the same surveillance protocol as with Xp11 tRCC until further clinical outcomes are reported.
Table 7.1
Surveillance protocol after radical nephrectomy for Xp11 tRCC
At 6, 12, 18, and 24 months—history/physical/lab tests, chest CT, abdominal CT
At 2.5 years—history/physical/lab tests, chest CT
At 3, 4, and 5 years—history/physical/lab tests, chest CTa, abdominal CT
At 6 years—history/physical/labs tests, chest CTa
At 7 years—history/physical/labs tests, chest CTa, abdominal CT
At 8 years—history/physical/labs tests, chest CTa
At 9 years—history/physical/labs tests, chest CTa, abdominal CT
At 10 years—history/physical/labs tests, chest CTa
Yearly thereafter—history/physical/labs tests, imaging as deemed clinically relevant
Premium Wordpress Themes by UFO Themes
WordPress theme by UFO themes