Postural adjustments may involve the entire body or only the head. In general, changes in head and/or body posture are considered effective in reducing aspiration in various patient groups.2,3 Reported results suggest that change in posture has the potential to redirect the bolus and may change the speed of bolus flow, thus giving the patient more time to adjust the swallow. Generally, changes in body posture are considered compensatory and thus fall under the category of dysphagia management. In some clinical situations, notably in patients who have abnormal postures because of physical reasons, adjustments in body posture to facilitate safe swallowing may be long term. However, even in these situations, adjustments in body posture are considered compensations rather than attempts to change the dynamics of the abnormal swallow. Furthermore, Logemann4 appropriately notes that no single posture improves swallowing function in all patients. Thus, depending on the specific swallowing deficits presented by an individual patient, the treating clinician may use one or more compensatory postures to facilitate safer swallowing function. Beyond posture, clinicians may find it necessary to use additional compensations to facilitate safe swallowing function in some patients.5

Typically, body posture changes involve lying down and/or side-lying. Both changes are expected to reduce the impact of gravity either during the swallow or on post-swallow residue. The side-lying technique may be applied when a difference in pharyngeal function is noted between the right and left sides. In this situation, conventional wisdom suggests that the stronger side be the down side. This position uses gravity to direct the bolus (or residue) toward the stronger hemipharynx. The direct clinical impact of altering body posture on the swallow, specifically on airway protection, may be assessed during the instrumental swallowing examination. One physiologic result of lying down during swallowing may be increased hypopharyngeal pressure on the bolus, contributing to increased maximum opening of the pharyngoesophageal sphincter (PES) and reduced duration of sphincter opening during the swallow.6 These physiologic changes may be helpful in strengthening the swallow in some patients.

Postural adjustments may not be the ideal intervention for patients who are at risk for noncompliance due to physical or cognitive limitations. Also, change in body posture, specifically any variant of lying down, may affect esophageal motor functions.7,8 An additional functional consideration may be the impact of supine position on reflux episodes.9 Patients with severe reflux (even those being fed via tube) may benefit from maintaining an upright posture during and after feeding. The upright posture helps reduce or prevent reflux that may contribute to aspiration. In addition, nocturnal head of bed elevation has long been advocated for patients with nocturnal reflux. This simple postural adjustment is highly effective in promoting acid clearance from the esophagus.10 Thus clinicians should evaluate the impact of body posture variations on esophageal functions during the instrumental swallow examination. This guideline especially applies to patients with clinical symptoms or signs of esophageal deficit.




Alterations in liquid viscosity (specifically meaning "thickness") have been advocated in both the evaluation and treatment of patients with dysphagia.27–29 Two major foci seem to emerge in relation to the use of thickened liquids: (1) thicker liquids result in less aspiration among patients with dysphagia and (2) thicker liquids have a physiologic impact on the swallow mechanism. In a 2005 survey of speech-language pathologists experienced in dysphagia intervention,30 the most commonly reported reasons for the use of thickened liquids included delayed onset of swallowing and impaired oral control of thin liquids. Reduction of aspiration was not specifically reported among the most frequent reasons for use of thickened liquids. However, this lack of focus on aspiration seems to be the result of the survey questions, which did not include direct reference to aspiration reduction as a rationale for use of thickened liquids in adult patients with dysphagia. In this survey, the perception of patients' acceptance of thickened liquids was influenced by the degree of "thickness." Honey and spoon-thick liquids were considered less accepted (strong dislike) than nectar-thick liquids. Furthermore, these initial negative perceptions either worsened or remained the same with continued use over time. These patterns of patient acceptance also are reflected in the use patterns of thickened liquids among patients in skilled nursing facilities.31 Results of a national review of thickened-liquid application in skilled nursing facilities indicated that approximately 8% of all patients (from a total sample of 25,470) received thickened liquids—60% received nectar-thick liquids, 33% received honey-thick liquids, and 6% received pudding or spoon-thick liquids. Thus thickened liquids are used frequently in the management of adult dysphagia with the most frequent being nectar or syrup consistency.

The frequent use of thickened liquids seems to occur in the relative absence of strong evidence that they provide significant clinical benefit to adult patients with dysphagia. In the 2005 survey,30 nearly 85% of responding clinicians indicated that they believed thickening liquids was an effective management compared with only 5% who disagreed with this position. These opinions reflect clinicians' positive perception, but until recently, only scant empirical support existed for this clinical practice. Kuhlemeier, Palmer, and Rosenberg32 studied bolus factors that influenced aspiration rates among 190 patients with dysphagia and reported that thickness of liquid (thin, thick, ultrathick) and manner of presentation (spoon versus cup) had a direct impact on the rates of aspiration during the fluoroscopic swallowing examination. Ultrathick liquids presented by spoon resulted in the lowest aspiration rates, followed by thick liquids presented by spoon, then by cup with thin liquids resulting in the highest rates of aspiration during the fluoroscopic study. To date, the strongest evidence that liquid viscosity affects aspiration during the fluoroscopic swallowing examination comes from a large randomization trial of techniques to reduce liquid aspiration in patients with dementia or Parkinson's disease.20 The results of this study support those from the earlier report from Kuhlemeier, Palmer, and Rosenberg.32 Aspiration rates were lowest for honey-thickened liquids (thickest liquid evaluated) and greatest for thin liquids (accompanied by a chin-down posture). Aspiration rates for nectar-thickened liquids were between the two other viscosities and significantly different from both. Interestingly, the reported benefit from honey-thick liquids was not maintained when this viscosity was presented last among the materials examined. The investigators suggested that patient fatigue may have been a factor in this result. Certainly, clinicians should consider patient endurance (converse of fatigue) when interpreting the results of the swallowing evaluation and in making clinical recommendations based on any evaluation.

The study by Kuhlemeier, Palmer, and Rosenberg32 implied that manner of bolus presentation may influence the occurrence of aspiration in addition to viscosity. Other bolus characteristics also may affect aspiration rates. For example, in an unpublished study of aspiration and residue rates in adult patients evaluated in the acute care environment, we learned that bolus thickness and volume may interact. Table 14-1 summarizes the rates of aspiration and residue seen during fluoroscopic examination among 20 patients who swallowed 5 versus 10 mL of thin, nectar-thick, and pudding viscosities of barium sulfate contrast agent. Note that different clinical impressions result depending on both the thickness and the volume of the material swallowed. For example, the rates of aspiration and residue are the same for thin liquid across both volumes. However, although thickening material results in reduction or aspiration rates for 5 mL (20% to 5% to 5%), the benefit is not the same for 10 mL (20% to 15% to 20%). The rate of aspiration for 10 mL of pudding is as high as that for 5 or 10 mL of thin liquid. In addition, the rate of residue in the vallecullae increases more for the larger volume as the swallowed material is thickened. This type of pattern implicates the need to evaluate more than just thickness of swallowed material. Therapy and perhaps diet recommendations would differ based on the pattern presented by an individual patient.

TABLE 14-1

Potential Interaction Between Viscosity and Volume in Rates*






ASPIRATION



Amount


Thin


Nectar-Thick


Pudding




5 mL


20%


5%


5%



10 mL


20%


15%


20%






RESIDUE



Amount


Thin


Nectar-Thick


Pudding




5 mL


65%


70%


80%



10 mL


65%


80%


90%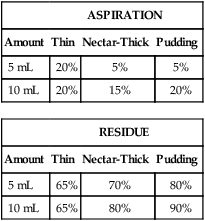 *Percent of aspiration and residue during the fluoroscopic swallowing examination.

Although studies such as those reviewed suggest that thickening liquids reduces aspiration rates in groups of patients, clinicians must remember that these are not treatment studies. These studies evaluate the immediate effect of thickening liquids during the fluoroscopic study and do not speak directly to the effectiveness of using thickened liquids as an intervention or longer-term management strategy. In fact, the single clinical trial22 to date indicated no significant differences in pneumonia rates across patients who used thickened liquids versus a chin-down posture to reduce aspiration over a 3-month period. Thus the clinical benefits, especially long-term benefits from continued use of thickened liquids as a management strategy, are unclear. Morever, continued use of thickened liquids may impose other health risks to adult patients with dysphagia. A primary concern is the risk of dehydration from reduced fluid intake. Elderly patients, especially those with dysphagia, are considered at increased risk for dehydration secondary to reduced fluid intake.33 Combining this potential risk with the results of surveys indicating a high rate of dislike of thickened liquids among adult patients with dysphagia suggests that reduced fluid intake, especially of thickened liquids, may further the risk of dehydration in this patient population. In one small randomized clinical trial,34 stroke patients with dysphagia were assigned to receive thickened liquids or thickened liquids plus water. Patients in the combination liquid condition (water plus thickened liquids) ingested less-thickened liquids and had greater daily fluid intake than those in the thickened-liquid–only condition. Neither group experienced significant respiratory complications. Related to this study are the clinical experiences of more than 20 years from the Frazier Rehabilitation Institute.35 The Frazier Water Protocol has never been objectively evaluated, but in more than 20 years of application, this single rehabilitation hospital has allowed patients with dysphagia, including those considered to aspirate thin liquids, access to water between meals. They have experienced impressive outcomes with few instances of dehydration (5/234 or 2.1%) or chest infection (2/234 or 0.9%) among a large sample of patients (N = 234) who followed this protocol over an 18-month period. Despite the absence of more rigorous scientific evaluation, these long-term experiences from the Frazier Rehabilitation Institute provide a compelling argument for clinicians to consider access to water for patients with dysphagia, even those who may aspirate thin liquids. A note of caution, however—the Frazier Water Protocol is more complex that just providing water to patients with dysphagia. Clinicians are advised to review thoroughly the complete protocol before implementing this strategy.

These clinical and research examples are consistent in describing a reduced rate of aspiration as thickness of swallowed material is increased. In addition, the mode of presentation, volume, and patient fatigue may modify any clinical benefit from thickening liquids. Also important is that many of these studies are not therapeutic studies. Many are immediate effect studies that indicate a reduction of aspiration rates during the fluoroscopic swallowing examination. Thus clinicians should continually monitor patient compliance, potential benefit, and potential complications in patients in whom thickened liquids are used as a therapeutic intervention.




The concept of exercises to stretch, strengthen, or otherwise improve the basic motor properties of muscles in the speech/swallow mechanism is not new.57 Logemann4 indicates that if the patient is aspirating significantly, oral motor exercises may be a better strategy than directly working on swallow function. The rationale for this position is logical. If a patient is continually aspirating, swallow attempts are not maximized (and the patient experiences continued failure). Logemann terms this approach to swallow rehabilitation indirect therapy and offers three foci: (1) exercises to improve oral motor control, (2) stimulation of the swallow reflex, and (3) exercises to increase adduction of tissues at the top of the airway (airway closure). Oral motor exercises include tongue range of motion, tongue resistance, and bolus control activities. Swallow reflex stimulation is advocated via cold thermal-tactile stimulation of the faucial pillars. Airway closure activities incorporate various phonation and "pushing" activities.

Thermal-tactile stimulation to elicit a swallow response has generally fallen out of favor (see later in this chapter). However, oral motor exercises represent a frequent therapy approach used by dysphagia clinicians. In an unpublished 2007 survey, Crary and Carnaby-Mann used case problem-solving scenarios to describe therapy strategies for adult patients with dysphagia after stroke. Sixty clinicians were surveyed. Oral motor exercises were recommended for all of the cases presented and were the most frequently recommended technique for each case even though each case depicted a different swallowing problem. The results of this survey suggested that dysphagia clinicians may not be selective in applying therapy strategies to different patients and that oral motor exercises were frequently used, possibly because they posed little aspiration risk. This interpretation is speculative but does raise questions on the decision-making process used in selecting any therapy for patients with dysphagia.

Some available evidence does support the value of oral motor exercises. Lazarus et al.58 demonstrated that tongue-pushing (resistance) exercises completed with either an Iowa Oral Performance Instrument (IOPI) or tongue blade produced strength increases in young healthy volunteers. Robbins et al.59 reported that a systematic program of lingual resistance exercise improved lingual isometric and swallow pressures (e.g., strength) in a group of 10 healthy older adults. Subsequently, these investigators60 demonstrated that a systematic program of lingual resistance exercise resulted in both increased lingual strength and swallowing ability in a group of 10 poststroke patients with dysphagia. Hagg and Anniko61 demonstrated that a program of resistive lip training improved lip strength and swallow ability in stroke patients with dysphagia. These studies represent evidence that oral motor exercises, specifically lingual and labial resistance exercises, have the potential to strengthen weak swallowing musculature and improve swallow function. To date, little or no evidence has emerged to support other aspects of oral motor exercise. However, as described later in this chapter, exercise principles are being increasingly applied to dysphagia therapy in a variety of approaches.