Anthony Atala, MD

Four medical firsts are described in the passage cited above: the use of anesthesia, surgery, cloning, and tissue engineering. Even three decades ago, the performance of two of these, tissue engineering and cloning, was not possible. The use of one body part for another or the exchange of parts from one person to another was mentioned in the medical literature even in antiquity and captured the imagination of many over time. The maintenance of organs in culture was a major area of inquiry in the early 1900s. Charles Lindbergh, the first pilot to successfully fly across the Atlantic in the 1920s, joined forces with Alexis Carrel, a Nobel Prize winner in the field of medicine, to investigate the potential of keeping organs alive ex vivo long-term (Carrel et al, 1935).
The field of urology was the earliest to gain from the advent of transplantation, with the kidney being the first entire organ to be replaced in a human, in 1955 (Guild et al, 1955). In the early 1960s, Joseph Murray, who later received the Nobel Prize for his work, performed a nonrelated kidney transplantation from a nongenetically identical patient into another. This transplant, which overcame the immunologic barrier, marked a new era in medical therapy and opened the door for use of transplantation as a means of therapy for different organ systems. However, lack of good immune suppression and the ability to monitor and control rejection, as well as a severe organ donor shortage, opened the door for other alternatives.
As times evolved, synthetic materials were introduced to replace or rebuild diseased tissues or parts in the human body. The advent of new manmade materials, such as tetrafluoroethylene (Teflon) and silicone, opened a new field that included a wide array of devices that could be applied for human use. Although these devices could provide for structural replacement, the functional component of the original tissue was not achieved.
Simultaneous with this development was an increased body of knowledge of the biologic sciences that included new techniques for cell harvesting, culture, and expansion. The areas of cell biology, molecular biology, and biochemistry were advancing rapidly. Studies of the extracellular matrix and its interaction with cells, and with growth factors and their ligands, led the way to a further understanding of cell and tissue growth and differentiation. The concept of cell transplantation took hold in the research arena, and culminated with the first human bone marrow cell transplant in the 1970s.
In the 1970s, a natural evolution occurred wherein researchers started to combine the field of devices and materials sciences with cell biology, in effect starting a new field called tissue engineering. As more scientists from different fields came together with the common goal of tissue replacement, the field of tissue engineering became more formally established. Tissue engineering was defined as "an interdisciplinary field which applies the principles of engineering and life sciences towards the development of biological substitutes that aim to maintain, restore or improve tissue function" (Atala et al, 2001). The first use of the term "tissue engineering" in the literature can be traced to a reference dealing with corneal tissue in 1985 (Wolter et al, 1985).
The field of stem cells also received a large boost with the discovery of mouse embryonic stem cells in the early 1980s (Martin, 1981). However, the field remained relatively dormant until the description of human embryonic stem cells in 1998 (Thomson et al, 1998). The description of these cells led to one of the most contested ongoing ethical debates in the field of medicine. Just a year later, in 1999, the world awoke to the startling media announcement of the creation of the first cloned mammal, a sheep named Dolly (Wilmut et al, 1997). Although cloning, or nuclear transfer, had been done in amphibians and other animal models for years, this accomplishment in a mammal showed once again that concepts believed to be scientifically prohibitive were indeed possible.
The fields of cell transplantation, tissue engineering, and nuclear transfer all had one unifying concept—the regeneration of living tissues and organs. Thus in 1999, William Haseltine, then the scientific founder and Chief Executive Officer of Human Genome Sciences, coined the term "regenerative medicine," in effect bringing all these areas under one defining field (Haseltine, 1999). Soon, the first online journal for the new field of tissue engineering, Regenerative Medicine, was formed, along with The Regenerative Medicine Society.
Organ transplantation remains a mainstay of treatment for patients with severely compromised organ function. Despite initiatives to increase the availability of transplant organs, however, the number of patients in need of treatment far exceeds the organ supply, and this shortfall is expected to worsen as the global population ages. One alternative treatment approach is regenerative medicine. In the last two decades, scientists have attempted to grow native and stem cells, engineer tissues, and design treatment modalities using regenerative medicine techniques for virtually every tissue of the human body. This chapter reviews some of the progress that has been achieved in the field of genitourinary regenerative medicine.
The cells used for regenerative medicine can be autologous or heterologous, and from either native or stem cell sources. In general, there are three broad categories of stem cells obtained from living tissue that are used for cell therapies. Embryonic stem cells are obtained through the aspiration of the inner cell mass of a blastocyst or, more recently, a single cell from this mass. Fetal and neonatal amniotic fluid and placenta may contain multipotent cells that may be useful in cell therapy applications. Adult stem cells, on the other hand, are usually isolated from organ or bone marrow biopsies. Stem cells are defined as having three important properties: the ability to self-renew, the ability to differentiate into a number of different cell types, and the ability to easily form clonal populations (populations of cells derived from a single stem cell). Many techniques for generating stem cells have been studied over the past few decades. Some of these techniques have yielded promising results, but others require further research. The main techniques are discussed in detail below, and their advantages and limitations are summarized in Table 19–1.




METHOD


ADVANTAGES


LIMITATIONS



Somatic cell nuclear transfer


Customized stem cells
Has been shown to work in nonhuman primates


Requires oocytes
Has not been shown to work in humans



Single cell embryo biopsy


Patient-specific to embryo
Does not destroy or create embryos
Has been done in humans


Allogeneic cell types
Is not known if single cells are totipotent
Requires coculturing with a previously established human embryonic stem cell line



Arrested embryos


Cells obtained from discarded embryos
Has been done in humans


Allogeneic cell types
Quality of cell lines might be questionable



Altered nuclear transfer


Customized stem cells


Ethical issues surround embryos with no potential
Modified genome
Has not been done with human cells



Reprogramming


Customized stem cells
No embryos or oocytes needed
Has been done with human cells


Retroviral transduction
Oncogenes
Synthetic materials have been used widely for urologic reconstruction. The most common type of synthetic prostheses for urologic applications is made of silicone. Silicone prostheses have been used for the treatment of urinary incontinence with the artificial urinary sphincter and detachable balloon system, for treatment of vesicoureteral reflux with silicone microparticles, and for impotence with penile prostheses (Atala et al, 1992a; Riehmann et al, 1993; Levesque et al, 1996; Buckley et al, 1997). There has also been a major effort directed toward the construction of artificial bladders made with silicone. In some disease states, such as urinary incontinence or vesicoureteral reflux, artificial agents (Teflon paste, glass microparticles) have been used as injectable bulking substances; however, these substances are not entirely biocompatible (Atala, 1994).
For regenerative medicine purposes, there are clear advantages in using degradable, biocompatible materials that can function as cell delivery vehicles, and/or provide the structural parameters needed for tissue replacement. Biomaterials in genitourinary regenerative medicine function as an artificial extracellular matrix (ECM) and elicit biologic and mechanical functions of native ECM found in tissues in the body. Native ECM brings cells together into tissue, controls the tissue structure, and regulates the cell phenotype (Alberts et al, 1994). Biomaterials facilitate the localization and delivery of cells and/or bioactive factors (e.g., cell adhesion peptides, growth factors) to desired sites in the body; define a three-dimensional space for the formation of new tissues with appropriate structure; and guide the development of new tissues with appropriate function (Kim et al, 1998). Direct injection of cell suspensions without biomaterial matrices has been used in some cases (Ponder et al, 1991; Brittberg et al, 1994), but it is difficult to control the localization of transplanted cells. In addition, the majority of mammalian cell types is anchorage-dependent and will die if not provided with a cell-adhesion substrate.
The design and selection of the biomaterial is critical in the development of engineered genitourinary tissues. The biomaterial must be capable of controlling the structure and function of the engineered tissue in a predesigned manner by interacting with transplanted cells and/or host cells. Generally, the ideal biomaterial should be biocompatible, promote cellular interaction and tissue development, and possess proper mechanical and physical properties.
The selected biomaterial should be biodegradable and bioresorbable to support the reconstruction of a completely normal tissue without inflammation. Such behavior of the biomaterials avoids the risk of inflammatory or foreign-body responses that may be associated with the permanent presence of a foreign material in the body. The degradation rate and the concentration of degradation products in the tissues surrounding the implant must be at a tolerable level (Bergsma et al, 1995).
The biomaterials should provide an appropriate regulation of cell behavior (e.g., adhesion, proliferation, migration, differentiation) to promote the development of functional new tissue. Cell behavior in engineered tissues is regulated by multiple interactions with the microenvironment, including interactions with cell-adhesion ligands (Hynes, 1992) and with soluble growth factors (Deuel, 1997). Cell adhesion–promoting factors (e.g., arg-gly-asp [RGD]) can be presented by the biomaterial itself or incorporated into the biomaterial to control cell behavior through ligand-induced cell receptor signaling processes (Barrera et al, 1993; Cook et al, 1997). The biomaterials provide temporary mechanical support sufficient to withstand in vivo forces exerted by the surrounding tissue and maintain a potential space for tissue development. The mechanical support of the biomaterials should be maintained until the engineered tissue has sufficient mechanical integrity to support itself (Atala, 2007). This potentially can be achieved by an appropriate choice of mechanical and degradative properties of the biomaterials (Kim et al, 1998).
The biomaterials need to be processed into specific configurations. A large ratio of surface area to volume is often desirable to allow the delivery of a high density of cells. A high-porosity, interconnected pore structure with specific pore sizes promotes tissue ingrowth from the surrounding host tissue. Several techniques, such as electrospinning, have been developed that readily control porosity, pore size, and pore structure (Lee et al, 2007; Yoo et al, 2007; Choi et al, 2008; Lee et al, 2008a, 2008b, 2008c).
Various strategies have been proposed over the years for the regeneration of urethral tissue. Woven meshes of PGA without cells (Bazeed et al, 1983; Olsen et al, 1992) or with cells (Atala et al, 1992b) were used to regenerate urethras in various animal models. Naturally derived collagen-based materials, such as bladder-derived acellular submucosa (Chen et al, 1999), and an acellular urethral submucosa (Sievert et al, 2000), have also been tried experimentally in various animal models for urethral reconstruction.
The bladder submucosa matrix (Chen et al, 1999), proved to be a suitable graft for repair of urethral defects in rabbits. The neourethras demonstrated a normal urothelial luminal lining and organized muscle bundles. These results were confirmed clinically in a series of patients with a history of failed hypospadias reconstruction wherein the urethral defects were repaired with human bladder acellular collagen matrices (Atala et al, 1999). The neourethras were created by anastomosing the matrix in an onlay fashion to the urethral plate. The size of the created neourethra ranged from 5 to 15 cm. After a 3-year follow-up, three of the four patients had a successful outcome in regard to cosmetic appearance and function (Fig. 19–5). One patient who had a 15-cm neourethra created developed a subglanular fistula. The acellular collagen-based matrix eliminated the necessity of performing additional surgical procedures for graft harvesting, and both operative time and the potential morbidity from the harvest procedure were decreased. Similar results were obtained in pediatric and adult patients with primary urethral stricture disease using the same collagen matrices (El-Kassaby et al, 2003). Another study in 30 patients with recurrent stricture disease showed that a healthy urethral bed (two or fewer prior urethral surgeries) was needed for successful urethral reconstruction using the acellular collage-based grafts (El Kassaby et al, 2008). More than 200 pediatric and adult patients with urethral disease have been successfully treated in an onlay manner with a bladder-derived collagen-based matrix. One of its advantages over nongenital tissue grafts used for urethroplasty is that the material is "off the shelf." This eliminates the necessity of additional surgical procedures for graft harvesting, which may decrease operative time as well as the potential morbidity due to the harvest procedure.
The above techniques, using nonseeded acellular matrices, were applied experimentally and clinically in a successful manner for onlay urethral repairs. However, when tubularized urethral repairs were attempted experimentally, adequate urethral tissue regeneration was not achieved, and complications ensued, such as graft contracture and stricture formation (De Filippo et al, 2002). Autologous rabbit bladder epithelial and smooth muscle cells were grown and seeded onto preconfigured tubular matrices. Entire urethra segments were resected and urethroplasties were performed with tubularized collagen matrices, either seeded with cells or without cells. The tubularized collagen matrices seeded with autologous cells formed new tissue that was histologically similar to native urethra. The tubularized collagen matrices without cells led to poor tissue development, fibrosis, and stricture formation. These findings were confirmed clinically. A clinical trial using tubularized nonseeded small intestinal submucosa (SIS) for urethral stricture repair was performed with eight evaluable patients. Two patients with short inflammatory strictures maintained urethral patency. Stricture recurrence developed in the other six patients within 3 months of surgery (le Roux, 2005). Other cell types have also been tried experimentally in acellular bladder collagen matrices, including foreskin epidermal cells and oral keratinocytes (Fu et al, 2007; Li et al, 2008). Vascular endothelial growth factor gene–modified urothelial cells have also been used experimentally for urethral reconstruction (Guan et al, 2008).
The normal wound-healing response to injury has been studied extensively, and this knowledge has been helpful in maximizing success for the engineering of tissues. At the time of tissue injury, cell ingrowth is initiated from the wound edges to cover the tissue defect. The cells from the edges of the native tissue are able to traverse short distances without any detrimental effects. If the wound is large, more than a few millimeters in distance or depth, increased collagen deposition, fibrosis, and scar formation ensue. Matrices implanted in wound beds are able to lengthen the distances that cells can traverse without initiating an adverse fibrotic response. However, these distances are also limited. The maximum distance that adjacent cells from the wound edge have to travel to create normal tissue over a biologic matrix is approximately 1 cm (Dorin et al, 2008). Tissue defects greater than 1 cm, which are treated with a matrix alone (without cells), usually have increased collagen deposition, increased fibrosis, and scar formation. Cell-seeded matrices implanted in wound beds are able to further lengthen the distance for normal tissue formation without initiating an adverse fibrotic response. Studies in the field of regenerative medicine have shown that very large defects (>30 cm), can be successfully treated using cell-seeded scaffolds. This explains the described experimental and clinical results noted with urethral repair. Nonseeded matrices are able to replace urethral segments when used in an onlay fashion, because of the short distances required for tissue ingrowth. However, if a tubularized urethral repair is needed, the matrices need to be seeded with autologous cells in order to avoid the risk of stricture formation and poor tissue development.
Currently, gastrointestinal segments are commonly used as tissues for bladder replacement or repair. However, gastrointestinal tissues are designed to absorb specific solutes, whereas bladder tissue is designed for the excretion of solutes. When gastrointestinal tissue is in contact with the urinary tract, multiple complications may ensue, such as infection, metabolic disturbances, urolithiasis, perforation, increased mucus production, and malignancy (McDougal, 1992; Atala et al, 1993a; Kaefer et al, 1997, 1998). Because of the problems encountered with the use of gastrointestinal segments, numerous investigators have attempted alternative reconstructive procedures for bladder replacement or repair. These include autoaugmentation (Cartwright et al, 1989a, 1989b) (Fig. 19–6) and ureterocystoplasty (Bellinger, 1993; Churchill et al, 1993; Adams et al, 1998). In addition, alternative methods for bladder reconstruction have been explored, such as the use of tissue expansion and regenerative medicine with cell transplantation.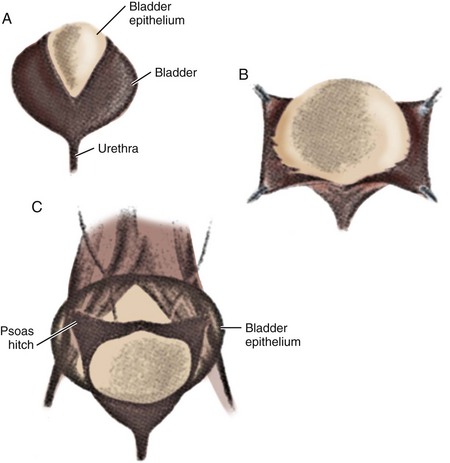 Figure 19–6 Autoaugmentation is performed by incising the detrusor (A) and stripping it from intact bladder epithelium (B), which allows the urothelial layer to bulge with bladder filling (C).
(From Cartwright PC, Snow BW. Bladder autoaugmentation: early clinical experience. J Urol 1989;142:505.)