Fig. 28.1
Classification and incidence of the hepatic artery anatomy: type1, 71 %; type2a, 6 %; type2b, 6 %; type3a, 3 %; type3b, 10 %; type4a, 0 %; type4b, 2 %; type5, 1 %.
AO
aorta,
CA
celiac axis,
CHA
common hepatic artery,
GDA
gastroduodenal artery,
LGA
left gastric artery,
LHA
left hepatic artery,
PHA
proper hepatic artery,
RHA
right hepatic artery,
SA
splenic artery,
SMA
superior mesenteric artery
The dominant artery of segment IV (quadrate lobe) is also the vital screening content for LDLT using right lobe. It may arise from left hepatic artery, right hepatic artery, proper hepatic artery, even at the same time from left and right hepatic artery. If the artery of segment IV is from right hepatic artery, the distance between it and right hepatic artery origin should be determined, and the transection plane should avoid affecting its blood supply for segment IV.
28.5.2

Portal Venous Anatomy

Anomalous branching pattern of the portal vein (PV) at the hepatic hilum is less frequent than those of the hepatic arteries, hepatic veins, and biliary ducts [

41

]. And their incidence has been reported about 30 % in previous publications [

42

,

43

]. The normal PV anatomy is defined as a division of the main portal vein into two branches: the left (supplying segments II, III, and IV) and right portal veins. The right portal vein divides secondarily into two branches: the right anterior portal vein feeding segments V and VIII and the right posterior vein feeding segments VI and VII. Any deviation from this anatomy is considered an anatomical variant. The anatomical variations of the portal vein are shown in Fig.

28.2

according to Chen et al. [

44

] and Covey et al. [

45

] classifications. Presurgical awareness of portal vein anatomy is utmost important for operation strategy. For example, RP form main and trifurcation, the two portal veins of right graft should be reconstructed during transplantation.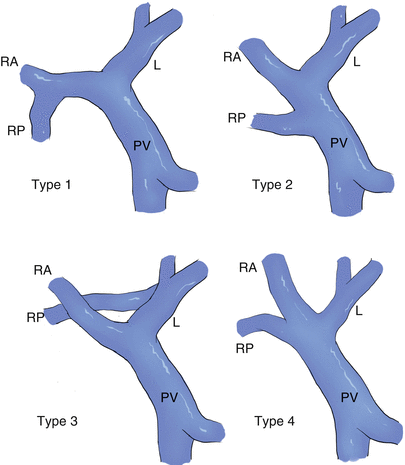 Fig. 28.2
Schematic guide for assignment of categories of conventional and variant portal venous anatomies: type1, 81 %; type2, 11 %; type3, 2 %; type4, 4 %; others, 2 %.
RA
right anterior branch,
RP
right posterior branch,
L
left branch,
PV
portal vein
28.5.3

Biliary Anatomy

Variations in biliary anatomy are not uncommon, with the classical branching pattern present only in about 60 % of the normal population; right hepatic duct drains from the right anterior or posterior sectoral duct [

46

]. The anomalies of right hepatic duct result in multiple graft bile duct openings and require more complicated biliary anastomosis in the recipient. Information regarding their biliary anatomy can guide appropriate surgical strategies or help in the selection of the optimal donor when multiple donor candidates are available. The anatomical variations of the biliary anatomy were described according to Choi et al. [

47

] and Varotti (Fig.

28.3

) classifications.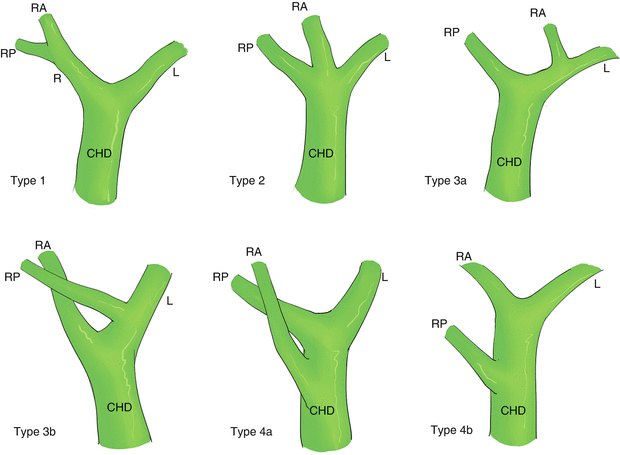 Fig. 28.3
Classification and incidence of the biliary tree anatomy: type1, 56 %; type2, 14 %; type3a, 5 %; type3b, 16 %; type4a, 3 %; type4b, 7 %.
CHD
common hepatic duct,
L
left hepatic duct,
R
right hepatic duct,
RA
right anterior hepatic duct,
RP
right posterior hepatic duct
28.5.4

Hepatic Vein Anatomy

Generally, the middle and left hepatic veins converging a common trunk, which open into the inferior vena cava, account for majority. The middle and right hepatic veins sharing the common trunk are not fit for right-lobe LDLT. Based on the presence or absence of significant segment V and VIII accessory hepatic veins and one or more accessory short hepatic veins, Varotti proposed four anatomic patterns [

38

] (Fig.

28.4

). Inferior right hepatic veins and the tributaries of middle hepatic vein with diameter >5 mm should be kept for reconstruction during transplantation in case of severe congestion.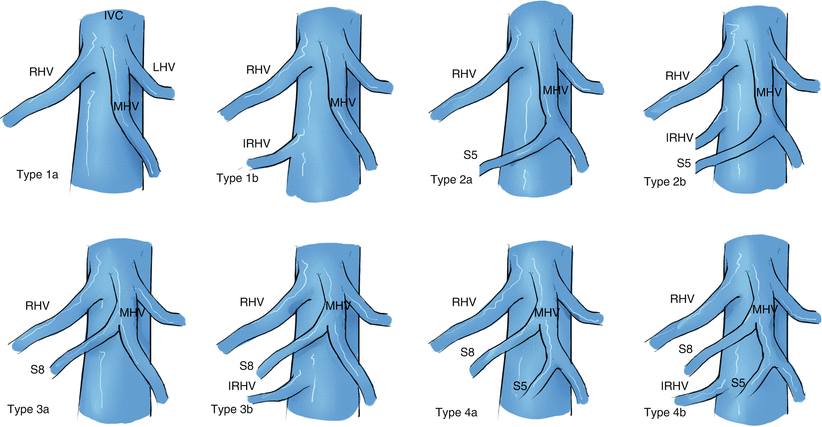 Fig. 28.4
Classification and incidence of the right liver hepatic venous anatomy.
Type1
: Absence of S5 and S8; absence of IRHV (type1a, 14 %), or presence of IRHV (type1b, 8 %). Type2: Presence of S5; absence of IRHV (type2a, 20 %), or presence of IRHV (type2b, 9 %). Type3: Presence of S8; absence of IRHV (type3a, 17 %), or presence of IRHV (type3b, 19 %). Type4: Presence of both S5 and S8; absence of IRHV (type4a, 11 %), or presence of IRHV (type4b, 3 %).
IRHV
inferior right hepatic vein,
IVC
inferior vena cava,
LHV
left hepatic vein,
MHV
middle hepatic vein,
RHV
right hepatic vein
28.6

Preoperative Preparation





Under the guidance of doctors, the donors are on liquid food the day before the planned transplantation and fast after midnight. The bowel preparation is also undergone the night before the planned transplantation. All these should keep the donor at his/her best without any health problems.






At the operative day, the transplant surgeon and the anesthesiologist review the donor data for the last time just before the operation. And the donors should receive an epidural patient-controlled analgesia for postoperative pain management.






To prevent deep venous thrombosis, the compressing equipment around lower extremities is applied immediately before general anesthesia with endotracheal intubation. After general anesthesia, urethral catheterization with Foley catheter and nasogastric tube drainage are performed. Antibiotic prophylaxis, the central venous pressure, and arterial blood gas analysis are usually necessary.






Preoperative autologous blood donation or intraoperative salvaged autotransfusion sometimes would be considered for special situations.
Premium Wordpress Themes by UFO Themes
WordPress theme by UFO themes