Fig. 1
A 30-year-old patient, 22 weeks pregnant, with right lower quadrant pain, vomiting, and elevated white blood cell count due to appendicitis, as demonstrated on magnetic resonance imaging (MRI).
a
Axial T1-weighted gradient-recalled-echo (GRE) image through the lower abdomen shows an 11-mm appendix extending posteriorly from the cecum, with inflammatory changes surrounding the more distal appendix, including fascial thickening.
b
Axial T2-weighted GRE image at the same level demonstrates the same finding. The appendix was correctly identified as being perforated on the prospective interpretation of this MRI examination, as proven at subsequent emergency surgery
Acute Pain in an Abdominal Quadrant
The differential diagnosis in a patient with an acute abdomen is influenced greatly by the nature and location of the pain. Therefore, imaging strategies localized to each of the four abdominal quadrants is discussed first, followed by diffuse or localized pain to the flank or the epigastric region.
Gynecologic Disorders
US is the primary imaging examination in women with suspected gynecologic pathology. Human chorionic gonadotropin (HCG) level should be checked emergently in all patients with acute, nontraumatic abdominal and pelvic pain to exclude ectopic or incidental pregnancy. MRI is used increasingly as a problem-solving examination after pelvic US and for follow-up. However, because women with acute gynecologic disorders often present with nonspecific signs and symptoms, CT is ordered frequently to evaluate their abdominal pain. Therefore, radiologists interpreting CT of the acute abdomen and pelvis must be familiar with the findings of a wide variety of gynecologic disorders that may present emergently. CT can also be used selectively as a problem-solving tool in patients with known or suspected gynecologic disorders.
Ovarian Torsion
If ovarian torsion is suspected prospectively, pelvic US is performed emergently. However, CT and MRI findings are also characteristic, are similar to US findings, and may complement US if the sonographic examination is initially equivocal. Radiologists must maintain a high index of suspicion for ovarian torsion, as the clinical presentation is variable; the possibility of torsion should be suspected if imaging findings suggest or strongly indicate this diagnosis. Cross-sectional imaging findings include an enlarged, edematous ovary with or without an associated cyst or mass (most commonly a teratoma), deviation of adnexal structures to the contralateral side, deviation of the uterus to the side of torsion, twisting of the adnexal/vascular structures, decreased ovarian vascularity, multiple peripheral ovarian follicles, inflammation of the adjacent fat, and ascites.
Ovarian Cysts
Ovarian cysts are very common and may be complicated by hemorrhage. Associated hemoperitoneum, if present, is usually self-limited. The differential diagnosis of a hemorrhagic ovarian cyst is endometrioma. It is particularly critical to check the HCG level in a woman with otherwise unexplained hemoperitoneum to ensure that a ruptured ectopic pregnancy is not present.
Pelvic Inflammatory Disease
Pelvic inflammatory disease (PID) is also common and has a broad spectrum of findings and presentations. If PID is known or suspected, US is done first. However, CT may initially be performed if the diagnosis is not known and the clinical presentation is nonspecific (
Fig. 9
). The most common causative organisms are
Gonococcus
and
Chlamydia
. Because PID most commonly results from ascending infection, it usually involves both adnexa. In the earlier stages of PID, there may be no or only subtle findings on cross-sectional imaging. There may be swelling of the ovaries and/or fallopian tubes, abnormal enhancement of the adnexal structures, and mild adjacent edema. In later stages, tubo-ovarian abscesses and/or hydrosalpinx/pyosalpinx may be identified, and adjacent organs may also be involved in complicated cases. Imaging findings include thickening and increased enhancement of the dilated, tortuous fallopian tube(s), a septated mass in the ovary or ovaries, and adjacent edema. Other presentations of PID include endometritis, cervicitis, and Fitz-Hugh-Curtis syndrome in which perihepatitis leads to increased enhancement of the liver edge.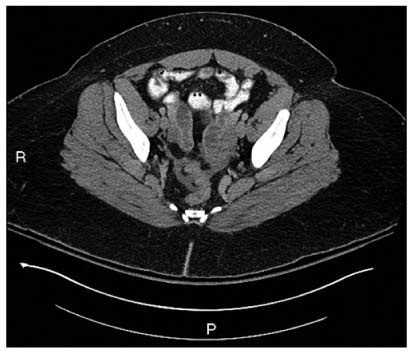 Fig. 9
A 32-year-old woman with lower abdominal pain and previously unknown pelvic inflammatory disease. Axial computed tomography (CT) image with contrast orally and IV reveals dilated, tortuous, bilateral, fluid-filled fallopian tubes containing a small amount of ascites
Other Acute Gynecologic Disorders
Other acute gynecologic disorders that can be identified on cross-sectional imaging examinations include less common forms of PID (e.g., actinomycosis), endometritis, ovarian vein thrombosis (typically following cesarean section), uterine rupture following delivery, gynecologic tumors, and complicated uterine leiomyomas (e.g., hemorrhage/ degeneration, torsion, and acute prolapse).
Acute Abdomen with Diffuse Pain
Any disorder that involves a large portion of the gastro-intestinal tract or irritates the peritoneum can cause diffuse abdominal pain. The most common disorder is gastroenteritis, in which CT findings often are normal or may show mild bowel wall thickening and increased intraluminal fluid. Patients with colitis have varying degrees of colonic wall thickening/edema, with inflammation of the adjacent fat. Other important disorders that present with diffuse abdominal pain include bowel obstruction and ischemia.
Bowel Obstruction
Bowel obstruction is a very frequent cause of abdominal pain in the emergency setting. Small-bowel obstruction (SBO) is usually due to adhesions — more commonly in patients with previous surgery but occasionally seen in patients without prior surgery and less commonly due to hernias (external or internal), obstructing tumors, perforated appendicitis, inflammatory bowel disease, and complicated diverticulitis. Less common etiologies include gallstone ileus, intussusception, intramural small-bowel hematoma, and radiation enteritis. Large-bowel obstruction (LBO) is most commonly due to colorectal carcinoma, but diverticulitis and sigmoid or cecal volvulus are also important etiologies.
Bowel obstruction is usually diagnosed on clinical grounds and then confirmed and further evaluated as needed by imaging, typically with CT, with or without initial plain radiographs. However, frequently, the diagnosis of bowel obstruction is not clear or clinically recognized, and obstruction is established on the basis of imaging. CT reveals the presence or absence of obstruction, as well as site, level, and cause of obstruction, and permits identification of associated ischemia (
Fig. 10
). In SBO, the radiologist should search for the transition zone between the dilated proximal small bowel and the collapsed distal small bowel. There is often a segment of small bowel containing feces-like material just proximal to the transition zone. Review of multiplanar CT reformations is important to help identify the site of transition, which may be difficult to find conclusively on review of transaxial images alone. In a minority of cases, CT reveals a closed-loop SBO, which usually requires emergency surgery. In this situation, two points along the course of the small bowel are obstructed at a single site, usually associated with an adhesive band or hernia. Less commonly, closed-loop SBO may be due to volvulus of the small bowel.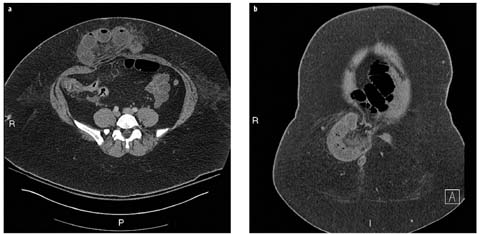 Fig. 10 a,b
A 41-year-old woman with acute abdominal pain and gastric bypass surgery.
a
Axial computed tomography (CT) image with IV contrast and
b
coronal reformation show an anterior abdominal wall hernia containing dilated loops of small bowel, with associated mesenteric edema and thickening of the small bowel loops, representing obstruction with associated strangulation. The patient required emergency surgery
SBO needs to be differentiated from LBO and from ileus and motility disorders involving the small and/or large bowel. Ileus of the small and/or large bowel is common after abdominal surgery and has multiple etiologies. In LBO, CT demonstrates distension of the large bowel to the point of obstruction, with collapse of the distal large bowel. The small bowel may demonstrate varying degrees of associated dilation. Colonic volvulus should be readily identified (
Fig. 11
), particularly on review of multiplanar reformations. A variety of CT signs are reported, and volvulus may be complicated by ischemia and subsequent perforation. Marked dilation of most or all of the colon may be seen in toxic megacolon from a variety of etiologies, as well as in pseudo-obstruction, the latter of which can also lead to subsequent volvulus. A very common cause of abdominal pain in emergency department patients is constipation, which may be of varying degrees of severity, usually without an associated focal obstructing lesion. Other motility disorders, such as scleroderma and administration of anticholinergic or opioid medications, also may lead to the need for CT in patients presenting with acute abdominal pain.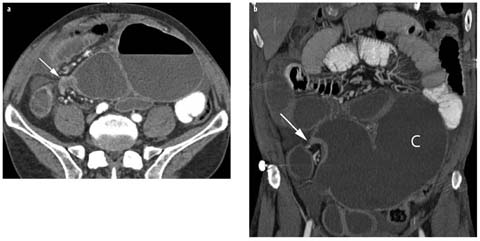 Fig. 11 a, b
Cecal volvulus.
a
Transverse computed tomography (CT) image and
b
coronal CT reformation demonstrate a markedly dilated cecum (
C
) located in the midline and left lower abdomen and upper pelvis. The
arrows
point to the area of colonic twisting. Note the dilated small-bowel loops due to the proximal colonic obstruction
Bowel Ischemia
Bowel ischemia has a variety of etiologies, including arterial thrombosis or embolism, venous thrombosis, hypo perfusion, and vasculitis. Occlusive disease involves the mesenteric arteries, most commonly the superior mesenteric artery, whereas bowel ischemia secondary to venous thrombosis is much less common. The only direct CT (or MRI) sign of vascular impairment of the bowel is diminished wall enhancement, whereas increased bowel wall enhancement is seen in a wide variety of disorders, including in a subset of patients with bowel ischemia due to reactive hyperemia, loss of autoregulation, or compromised venous outflow. Other cross-sectional imaging findings include direct visualization of embolus or thrombus in the mesenteric arterial circulation or thrombus in the mesenteric venous circulation. Bowel distension and wall edema are nonspecific findings that may be identified in ischemia but also may be present in various infectious, inflammatory, or immunologic conditions and in primary bowel obstruction. Nonocclusive acute mesenteric ischemia is usually due to hypoperfusion secondary to severe cardiac disease; generalized decreased caliber of the arterial circulation is present.
Bowel ischemia may also be secondary to bowel obstruction, particularly a closed-loop SBO, but may also be identified secondary to large-bowel obstruction or volvulus. Focal or regional bowel wall thickening due to edema and hemorrhage may be seen on CT, with decreased bowel wall enhancement and edema adjacent to the affected bowel. With frank infarction, pneumatosis, portal/mesenteric venous gas, peritonitis/ascites, and free gas can be found.
Bowel Perforation
Gastrointestinal perforation usually causes localized pain initially, which becomes more diffuse if peritonitis develops. Perforation due to peptic ulcer disease or a necrotic neoplasm have become less frequent due to earlier diagnosis and improved therapy (
Fig. 12a
). However, the incidence of perforation resulting from endoscopic procedures has increased. Perforation of the small bowel is relatively uncommon but may be secondary to a foreign body, diverticulitis, or trauma, among other possibilities. Perforation of the colon is more frequent and can occur when the colon becomes markedly dilated proximal to an obstructing lesion (e.g., tumor, volvulus) or when the colonic wall is friable (e.g., diverticulitis, ischemia, ulcerative colitis, tumor) (
Fig. 12b–c
).