Fig. 1 a–d
a
Crohn's patient with ileitis (not shown) and normal feathery jejunal folds (
arrow
).
b
Crohn's patient with jejunal inflammation manifested by asymmetric mural stratification, wall thickening, and hyperenhancement (
arrows
).
c, d
Celiac disease manifested by longsegment intramural fat in the duodenum and jejunum (
c
,
white arrows
), jejunal-fold atrophy (
d
,
white arrow
), and increased number of ileal folds (
c, d
black arrows
)
Imaging of Inflammation
Obscure GI Bleeding
Obscure GI bleeding (OGIB) is recurrent or persistent GI bleeding in which the small bowel is the likely source of GI blood loss because of prior negative upper and lower endoscopy. OGIB is characterized as "overt" when there is visible evidence of bleeding, such as melena, hematemesis, or hematochezia, or as "occult," such as in the setting of iron-deficiency anemia or positive fecal occult blood test (FOBT). Multiphase CT enterography is an outpatient test that distends the small bowel lumen and requires a multiphase technique to evaluate for small amounts of active small bowel bleeding and identify and characterize bleeding masses, with imaging findings often suggesting the etiology of small bowel blood loss (vascular mass, tumor, inflammation, other).
Multiphase CT enterography is not used to search for acute, massive GI bleeding in the ER setting. No enteric contrast is used, and the goal of the examination is to identify the presence and site of active bleeding for treatment, or for selecting appropriate angiographic or endoscopic therapy [
22
]. Imaging in massive GI hemorrhage is not designed to identify or suggest bleeding etiology.
Whereas capsule endoscopy is now the first imaging test performed at many institutions in patients with OGIB, there is increasing recognition for the role of multiphase CT enterography in this challenging group of patients. CT enterography was included in the 2011 American Society for Gastrointestinal Endoscopy (ASGE) guidelines for OGIB [
23
], the principal reason being to identify mass lesions, which can be difficult at capsule endoscopy, as many small bowel tumors arise within the gut wall rather than the mucosa. Compared with balloonassisted endoscopy and CT enterography, capsule endoscopy identifies about one third of such tumors. In one prospective trial, significantly more small bowel bleeding sources were identified at multiphase CT enterography than at capsule endoscopy, principally owing to the identification of small bowel masses [
7
]. Studies suggest that the principal benefit of CT enterography is in patients with overt-type OGIB and those with nondiagnostic capsule endoscopy findings. The diagnostic yield of CT enterography in occult obscure GI bleeding is low. Whereas many capsule endoscopy studies focused on diagnostic yield, there is a large overlap in the prevalence of angioectasias, ulcers, and erosions in patients with OGIB and healthy volunteers.
Interpretation of multiphase CT enterography (MpCTE) data sets can be challenging owing to the large number of images with multiple phases and planes, and with inconsistent quality in the preceding endoscopic examinations. Colorectal neoplasia and vascular malformations are commonly missed at colonoscopy. Cecal and rectal arteriovenous malformations (AVMs) and varices are commonly detected at MpCTE. On this basis, interpretation is normally begun with identifying the right colic artery and vein, which is followed to the cecum, examining for enlargement and contrast within the right colic vein that may indicate a cecal AVM. To make the diagnosis of cecal AVM, this vascular shunting must be accompanied by focal (usually serpiginous), vascular wall enhancement that represents the AVM itself (
Fig. 2
). In a similar fashion, the superior hemorrhoidal artery is visually followed to the paired rectal vessels and rectum, where rectal vascular malformations are also detected. Colorectal masses are often best appreciated on entericphase images. Unsuspected cirrhosis leading to rectal or small bowel varices is frequently encountered as the cause of OGIB in this initial assessment. Thereafter, a systematic interrogation of the small bowel is performed on each imaging phase beginning with the arterial phase and ending with the delayed phase. Visual inspection is performed to identify high attenuation structures, which can signify debris, neoplasm, vascular lesions, or active bleeding. Active bleeding is characterized by the progressive accumulation of intraluminal contrast, so identifying high-attenuation structures should immediately prompt comparison between phases to look for accumulation of intraluminal contrast, in addition to 2D and 3D morphologic assessment. Sometimes, jets of extravagated contrast will be identified at the site of active bleeding. Intraluminal debris will be unchanged between phases and often possesses sharp edges, and some movement of debris may occur between phases due to peristalsis. Similarly, intraluminal filling defects and focal bowel wall thickening are compared between phases and generally represent polyps, neoplasia, or Crohn's disease; they are described subsequently. Three-dimensional interpretation using maximum intensity projection (MIP) images and interactive volume renderings (VR) is particularly helpful in the arterial phase, which will assist with identifying dilated feeding arteries and early draining veins.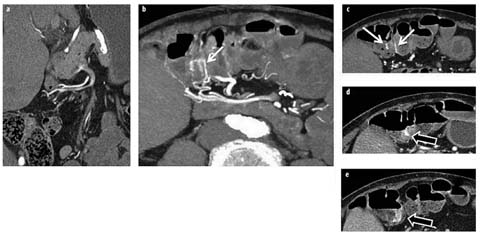 Full access? Get Clinical Tree