Fig. 5.1
Representative light microscopy showing thickened glomerular basement membranes with spikes and pinholes (
arrows
) on higher power. (
a
) PAS stain, 40×; (
b
) PAS 60×; (
c
) Silver stain 60×; (
d
) Trichrome stain 60×

Fig. 5.2
Immunofluorescence microscopy showing (
a
) granular IgG, (
b
) C3, (
c
) kappa light chains, and (
d
) lambda light chains along the capillary walls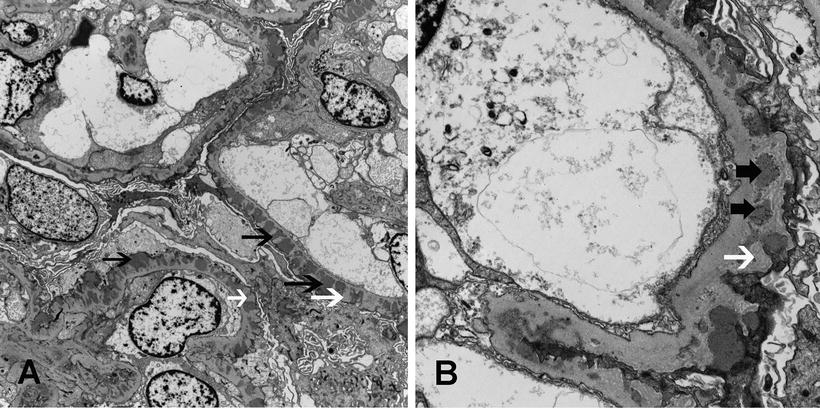 Fig. 5.3
Electron microscopy showing subepithelial electron dense deposits (
black arrows
) and basement membrane spikes (
white arrows
) separating the deposits. (
a
) Membranous nephropathy stage II, with spikes separating the deposits (×4730), and (
b
) Membranous nephropathy, stage III, with intramembranous deposits (
thick black arrows
) (×15100)
From the pathology standpoint, it is important to determine whether the membranous glomerulopathy may be due to a secondary cause such as an autoimmune disease, neoplasia, infection, or drugs. Although it is often difficult to determine whether the MN is primary or secondary, there are some features that are helpful in identifying a secondary cause. Features in favor of an secondary cause, in particular an autoimmune disease, include (1) proliferative features—mesangial or endocapillary, (2) full-house pattern of Ig staining including staining for C1q on immunofluorescence microscopy, (3) electron dense deposits in the subendothelial location of the capillary wall and mesangium or along the tubular basement membrane and vessel walls, and (4) endothelial tubuloreticular inclusions on electron microscopy [
47
]. Electron microscopy showing only few superficial scattered subepithelial deposits may suggest a drug-associated secondary MN. Furthermore, the location of the subepithelial deposits, i.e., subepithelial (homogenous) with subgroups superficial and deep versus subepithelial and intramembranous (heterogenous) deposits should be mentioned since the homogenous group with superficial deposits in one study has been shown to have a better prognosis than the homogenous group with deep deposits and the heterogenous group [
48
].
Finally, there is also diagnostic value in staining for IgG subclasses in MN that helps differentiate between primary MN and secondary MN due to lupus. IgG1, IgG2, and IgG3 tend to be highly expressed in lupus MN, while IgG1 and IgG4 tend to be highly expressed in primary MN [
49
].
Natural History
The progression of the disease is usually slow. However, in few cases, a rapid change in either the degree of proteinuria or in the rate of loss of renal function may occur. This event should raise the possibility of a superimposed condition, e.g., acute renal vein thrombosis, acute interstitial nephritis, or superimposed crescentic glomerulonephritis (ANCA-associated vasculitis or anti-GBM disease).
Therapy
Symptomatic Treatment
Initial therapy should be supportive and involves restricting dietary protein intake, controlling blood pressure, hyperlipidemia, and edema. In the Modification of Diet in Renal Disease (MDRD) study, patients with proteinuria >1 g/day had a significantly better outcome if their blood pressure was reduced to 125/75 mmHg [
73
]. Thus, in patients with proteinuric renal disease, the current target for blood pressure control is ≤125/75 mmHg. Reducing protein intake to about 0.6–0.8 g/kg ideal body weight per day also decreases nephrotic range proteinuria [
74
]. ACEi and/or ARBs are effective antihypertensive agents that can reduce proteinuria and slow progression of renal disease in both diabetic and nondiabetic chronic nephropathy patients, and for these reasons they are the preferred agents to treat hypertension in proteinuric renal diseases. However, evidence that such therapy is beneficial in MN is weak and largely inferential, and the following issues need to be considered: (1) the degree of renal protection is related to the degree of proteinuria reduction and if proteinuria is not lowered, the benefit is substantially attenuated [
75
,
76
]. In the RENAAL trial the renal protective effect of angiotensin II blockade in patients with diabetic nephropathy was nearly fully explained by its anti-proteinuric effect [
77
]. (2) In patients with MN, the anti-proteinuric effect is modest (<30 % decrease) and is more significant in patients with lower levels of proteinuria [
78
–
80
]. (3) Thus, in contrast to diabetic renal diseases, ACEi may not offer the same degree of renal protection to patients with MN [
81
]. In fact, studies by du Buf-Vereijken et al. [
82
] and in a review by Troyanov et al. [
71
], the use of ACEi or ARBs by multivariate analysis did not show an independent value in determining the prognosis of patients with MN. Similarly, Praga et al. showed additional evidence that in patients with nephrotic syndrome (the majority with MN), ACEi were ineffective in reducing proteinuria and that this response in MN patients was associated with a poor renal function outcome [
83
,
84
]. It is also difficult to handle hypercholesterolemia in patients with nephrotic syndrome. Dietary restriction is of little benefit and use of statins can usually obtain a reduction of 25–45 % from baseline values of serum cholesterol.
At any rate, although it is difficult to obtain a good reduction of proteinuria and normalization of hypercholesterolemia even with huge doses of ACE inhibitors, angiotensin receptor blockers, and statins, the current practice is to maximize the doses of these drugs in nephrotic patients. Loop diuretics are usually effective in solving the edema. In difficult cases a thiazide may be added to increase the diuretic activity. Anticoagulation is recommended in patients with severe hypoalbuminemia (<2 g/dl) and in those who already experienced thrombotic events and in bedridden or obese patients [
85
].
As discussed, the prognosis of patients with non-nephrotic proteinuria is usually excellent, and the conservative symptomatic approach described above should suffice. Obviously these patients should be monitored to ensure that the disease is not worsening since a significant number of patients who present with sub-nephrotic range proteinuria will progress to full nephrotic syndrome within 1–2 years from presentation.
Specific Treatments of Patients with Normal Renal Function
Intravenous Immunoglobulins
The mechanism of therapeutic effects of intravenous immunoglobulin (IVIg) in MN is not well established. It has been speculated that IVIg afford its immunomodulatory effects through several possible Fc- and F(ab)-mediated mechanisms [
136
,
137
]. There is also evidence that IVIg interferes with complement-mediated immune damage by binding to C3b and C4b. Such an effect would reduce complement-mediated glomerular injury. This mechanism may be involved in MN as suggested by a study in passive Heymann nephritis in which treatment with systemic immunoglobulin obtained a decrease in proteinuria, associated with a decreased glomerular deposition of C3c and C5b-9, without changes in the amount, size, or distribution of the subepithelial immune complexes [
138
].
Kida et al. first reported the results of two regimens of IVIg therapy in patients with MN [
139
]. Four patients received a single bolus of 0.5 g/kg repeated for 6 days, and 19 patients were given a single dose of 1 g/kg. Only one of the four patients treated with the first regimen obtained a remission, while 14 out of the 19 patients given 1 g/kg developed remission within 1 year. Palla et al. treated nine patients with MN (five with normal and four with moderate renal insufficiency) with pulse doses of IgG (0.4 g/kg body weight) for 3 consecutive days, repeated three times at 21-day intervals for 10 months [
140
]. Complete or partial remission of proteinuria was obtained in all of the five patients with normal renal function and in three of four patients with mild renal insufficiency. Interestingly, a second renal biopsy in five responders showed the disappearance of glomerular deposits of IgG and C3 at immunofluorescence, a regression from stage II to stage I in two patients and a complete recovery of the glomerular lesions in three patients. No information about the long-term outcome of these patients was provided. Another retrospective study compared the outcome of 30 patients treated with IVIg, plus corticosteroids and/or alkylating agents in five patients, with the outcome of 56 control patients who received either no treatment (30 %) or treatment with corticosteroids alone or in combination with alkylating agents [
141
]. The IVIg regimen consisted of 1–3 courses of 5–10 g/day for 6 consecutive days. At 6 months, patients treated with IVIg obtained a statistically significant higher rate of complete remission (57 % vs. 10 %). However, the difference disappeared later. At 12, 24, or 60 months of follow-up, the rate of remission was similar between the two groups. Moreover, the benefits of IVIg were limited to a subgroup of patients with a homogenous (synchronous) pattern of immune deposits.
Although usually well tolerated, treatment with IVIg has potential complications such as acute renal failure, vascular thrombosis, contamination with infective agents, and respiratory distress. Moreover, the cost of intravenous immunoglobulin is elevated.
Mycophenolate Mofetil
The effectiveness of mycophenolate mofetil (MMF) in some animal models has encouraged its evaluation in the treatment of human glomerular disease, including MN. Penny et al. showed that MMF can prevent the induction of active Heymann nephritis in rats treated at the beginning of the disease course, while it did not have a beneficial effect when given later in the course of the disease [
142
]. In another study, rats given MMF before the induction of active Heymann nephritis developed less proteinuria than untreated rats and showed an attenuated antibody response persisting after cessation of treatment [
143
].
Some authors have evaluated in small uncontrolled studies the efficacy of MMF in human MN. Obviously, in contrast with the experimental model, human clinical studies examined the response to MMF among patients with established MN. In a study by Miller et al., 16 patients with resistant MN were treated, for a mean of 8 months, with MMF (0.5–2.0 g/day), plus prednisolone in 5 of them [
144
]. At 6 months, six patients experienced a halving of proteinuria, but only two patients developed a partial remission, and none obtained a complete remission of the nephrotic syndrome. There were not significant changes in the serum creatinine during the study. Eighteen percent of treated patients developed relevant side effects. In another retrospective study, 17 patients received MMF for 6–25 months, at a dosage ranging between 0.5 and 1.5 g twice a day [
145
]. At the end of treatment, mean proteinuria significantly decreased in all patients. Among the 15 nephrotic patients, 2 achieved a complete remission and 8 a partial remission. In addition, 14 of 15 patients with either corticosteroid or cyclosporine dependency were able to successfully withdraw either agent. However, MMF dependency developed in four patients and three patients had to stop therapy because of severe side effects. However, the efficacy of MMF treatment was difficult to evaluate, since only three patients received MMF monotherapy, whereas most patients were also given variable doses of steroids, cyclosporine, or cytotoxic agents. In another small study, eight nephrotic patients with stage III–IV MN were treated with 2 g/day of MMF for 9 months [
146
]. After 3 and 9 months of treatment with MMF, proteinuria significantly decreased from the basal value of 4.4 g/day to 2.0, and 1.9 g/day, respectively. Renal function did not change significantly.
Branten et al. compared treatment with IV methylprednisolone 1 g for 3 consecutive days at the beginning of months 1, 3, and 5 followed by alternate-day prednisone, 0.5 mg/k/48 h, for 6 months plus MMF 2 g/day for 12 months (32 patients) or cyclophosphamide 1.5 mg/kg/day for 12 months (32 historical controls) [
147
]. There were no significant differences in remission of proteinuria at 12 months or in adverse events between the two groups. However, 75 % of the patients treated with MMF relapsed within 2 years after the end of treatment. Similarly, Senthil Nayagam et al. reported that a 6-month course of combined corticosteroids with MMF is as effective as alternating monthly cycles of steroids and cyclophosphamide for 6 months for primary treatment of MN in the short term [
148
]. On the other hand, Dussol et al. randomized 36 patients with MN and nephrotic syndrome to receive conservative therapy plus MMF (2 g/d) (
n
 = 19) or conservative therapy alone (
n
 = 17) for 12 months and found that the probability of complete or partial remission did not differ between the two groups [
149
].
In summary, looking at these studies, the impression is that in contrast with the results obtained in the experimental model, treatment with MMF in clinical MN had moderate efficacy, but better results might be obtained by combining MMF with steroids.
Rituximab
Get Clinical Tree app for offline access