Authors
Publication year
Surgical approach
N
Leak rate(%)
1999
a
262
0.8
2001
Three field
342
8
2003
Three field
41
2.4
2003
MIE
222
11.7
2007
Transhiatal
944
9
2012
Transhiatal
36
31
2013
Transhiatal
1050
11.6
Three field
519
14.3
MIE
168
10.1
2013
a
163
21
2001
Ivor-Lewis
220
0.9
2003
Ivor-Lewis
42
0
2005
Ivor-Lewis
761
6.3
2009
Ivor-Lewis
240
8.3
2012
Ivor-Lewis
36
11
2013
Ivor-Lewis
1174
9.3
Thoracoabdominal
105
5.7
MIE
280
10.7
2013
b
269
5.9
Risk Factors for Anastomotic Leak
Of equal importance, though often less emphasized, is preservation of venous drainage through careful dissection and preservation of the pars flaccida. The gastrohepatic ligament should be divided at its filmy attachments up toward the hiatus. The left gastric vein is identified and divided close to its origin, as is the left gastric artery. All adjacent lymph nodes and venous drainage along the lesser curve should be swept toward the stomach. Once ready to divide the stomach, the lesser curve should be divided at the level of the second vascular arcade, thereby preserving some of the venous drainage. The stomach should continue to be divided toward the gastric fundus while progressively stretching the stomach cephalad and straightening the gastric tube. Upon completion of the conduit, the stomach should be carefully inspected while still in the abdomen to ensure that it remains pink and perfused and to confirm a palpable pulse in the right gastroepiploic artery.
Presentation and Identification of a Leak
Clinical presentation of anastomotic leaks can be quite variable and can range from asymptomatic to severe sepsis. The severity of presentation is largely secondary to the size and location of the leak. Urschel et al. proposed a frequently cited four-category classification in 1995: clinically silent leak, early fulminant leak, clinically apparent thoracic leak, and clinically apparent cervical leak [
26
]. This classification system provides a convenient framework to discuss the presentation and identification of post-esophagectomy anastomotic leaks.
Clinically silent leaks are those found on imaging studies alone. Routine gastrograffin/barium esophagram is often pursued one week after esophagectomy by many surgeons, ourselves included. These imaging studies will occasionally show extraluminal extravasation of contrast material into a contained collection (Fig.
3.1
). Other methods of detection include careful physical examination, chest radiograph showing new right pleural effusions in transthoracic esophagectomy, and CT scan. These leaks are typically the result of a small defect in the anastomosis itself. As a result, patients with clinically silent leaks will often remain asymptomatic, or only have subtle clinical findings missed at first glance, such as low-grade fevers and mild tachycardia. Left untreated, these leaks will continue to progress and can lead to significant morbidity. Esophageal surgeons must therefore maintain a high index of suspicion in order to not miss these often imperceptible findings.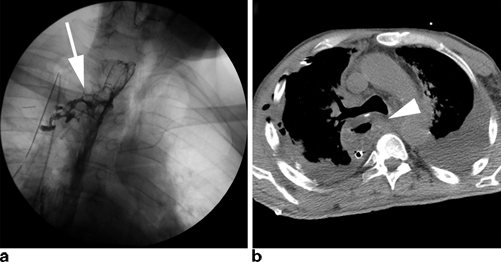 Fig. 3.1
Commonly used imaging studies to evaluate for an anastomotic leak include contrast esophagram (
a
) and CT scans (
b
). Esophagrams may show contrast extravasation freely into the chest or into a contained leak (
arrow
). CT scans may have a number of findings including worsening pleural effusions, esophageal thickening (
arrowhead
), or possible contrast extravasation
Early fulminant leaks are the most life-threatening manifestations of anastomotic leaks. They are typically the result of complete or near-complete necrosis of the neoesophagus, usually due to compromised arterial blood supply or venous drainage. Careful preparation of the gastric conduit is of paramount importance in order to avoid this dread complication. These patients will typically present in profound vasodilatory shock within 48–72 h of esophagectomy. Prompt recognition, resuscitation, and operative intervention are required in order to avoid significant morbidity and/or death.
Clinically apparent thoracic leaks in patients undergoing Ivor-Lewis esophagectomy can be a source of significant morbidity. Presentation can vary considerably. Possible signs include changes in character or quantity of chest tube drainage, new pleural effusions or pneumonias, worsening chest pain, fever, tachycardia, new onset atrial fibrillation, and worsening leukocytosis. Any change in clinical status must therefore be assumed to be the result of an anastomotic leak until proven otherwise. Late leaks may present as a fistula to the trachea or right main stem bronchus with recurrent pneumonias and aspiration of gastric contents (Fig.
3.2
). Lastly, clinically apparent cervical leak after transhiatial or three-hole esophagectomy will typically present with low grade fevers, new-onset atrial fibrillation, neck erythema and cellulitis, severe halitosis, and possibly purulent drainage. Prompt recognition on physical exam is again of utmost importance.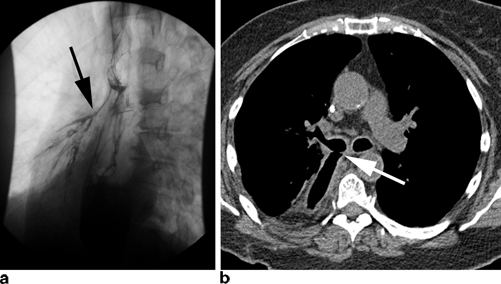 Fig. 3.2
Chronic leaks can fistulize to adjacent organs including the tracheobronchial tree as seen here on esophagram (
black arrow
) (
a
) and CT scan (
white arrow
) (
b
)
Regardless of classification, identification of an anastomotic leak requires a high index of suspicion in order to recognize the subtle early clinical findings mentioned previously. Several imaging studies can help confirm the diagnosis of a leak. The most commonly used study is a contrast esophagram with gastrograffin followed by barium in order to improve sensitivity (Fig.
3.1a
). Unfortunately, the sensitivity of contrast swallow studies for routine identification of a leak has been reported as low as 45− 80 %, and as many as 40 % of leaks may be missed [
27
,
28
]. For this reason, many centers no longer obtain routine esophagrams. Our practice continues to be obtaining an esophagram on the seventh postoperative day to evaluate gastric emptying as well as to evaluate for anastomotic leakage. CT scans may reveal any number of findings consistent with a leak such as a new pleural effusion, esophageal thickening, or possible contrast extravasation (Fig.
3.1b
). As a result, however, the specificity of these findings for a leak is significantly lower than esophagram. Nevertheless, one study has shown that the addition of a CT scan to a contrast swallow can increase sensitivity and negative predictive value for the identification of a leak to 100 % [
28
]. Other useful imaging tests include upper endoscopy, which allows for direct visualization of the degree of mucosal involvement and quantification of amount of healthy conduit remaining (Fig.
3.3
). Additionally, it has the added advantage of allowing for possible therapeutic interventions such as stenting and dilation as will be discussed later in this chapter.

< div class='tao-gold-member'>