Fig. 14.1
Renal biopsy showing a large cell with CMV inclusions and surrounding interstitial inflammation (H&E, 60×)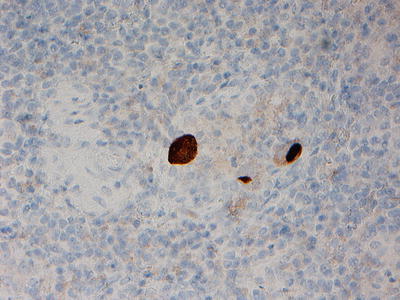 Fig. 14.2
Immunohistochemistry (immunoperoxidase staining) showing CMV-infected cells
Other Immunocompromised Hosts
Besides renal transplant recipients, CMV-associated tubulointerstitial nephritis has been reported in an allogeneic stem cell transplant patients. These patients typically present with fever and hematuria, and kidney biopsy usually reveals focal necrosis of the tubules, with acute and chronic inflammatory infiltrates around the tubules. Intracellular inclusions can be seen in the tubular cells, and immunofluorescent staining for CMV antigens is frequently positive in the degenerating tubular epithelium [
21
] (Figs.
14.1
and
14.2
). However, the frequency of CMV nephritis in stem cell transplant recipients, even in the setting of active CMV infection, is unlikely to be high [
18
]. In an autopsy series of 33 immunocompromised patients with manifest CMV infection at the time of death [
19
], CMV was detected in the kidney in only eight patients. Moreover, characteristic "owl's eyes" cells were present in three cases only. All the patients in this study had evidence of CMV involvement of other organs aside from the kidney.
Treatment and Outcomes
The prognosis of CMV nephritis depends on multiple factors, including but not limited to the immune competence of the host, the presence of preexisting kidney disease, concomitant CMV disease involving other organs, and whether the infection is in a native kidney or renal allograft. It is well known that CMV disease, even if outside of the kidney in renal transplant recipients, is associated with an increased risk of allograft rejection. Moreover, active CMV disease is associated with increased risk of other opportunistic infections. Some renal transplant recipients with CMV-infected allografts may eventually lose all allograft function. Besides, CMV infection of the renal allograft may be accompanied by allograft vasculopathy.
Based on above considerations, we believe it is prudent to treat CMV infection of the kidney similar to other end-organ CMV disease in the immunocompromised hosts. The cornerstone of CMV treatment is antiviral agents with good anti-CMV activity, including ganciclovir, valganciclovir (the valyl ester prodrug of ganciclovir), cidofovir, and foscarnet [
22
]. However, drug-induced bone marrow suppression and nephrotoxicity are major limiting factors in using these antiviral agents in CMV disease. Therefore, CMV nephritis is best managed in consultation with an infectious diseases specialist.
Treatment benefit of CMV therapy in immunocompetent hosts is questionable. In the few reported cases of CMV-associated interstitial nephritis in immunocompetent hosts, the renal dysfunction is usually self-limited. Therefore, antiviral agents are usually not prescribed and are unlikely to be beneficial in the majority of these cases.
BK Virus
BK is a small (30–45 mm), nonenveloped, double-stranded DNA polyomavirus belonging to Papovaviridae virus family. BK virus was first isolated from the urine of a kidney transplant recipient in 1971 [
23
]. Polyomaviruses are ubiquitous and primary infection is usually acquired in the early childhood or adolescence via oral or respiratory exposure. Majority of the primary infections are asymptomatic in children. However, mild upper respiratory tract infection symptoms have been reported in up to 30 % of the immunocompetent patients with primary BK virus infection. By adulthood, 60–80 % of the population in the USA is seropositive for BK virus. However, BK virus can remain latent in lymphoid cells, renal tubular cells, and epithelial cells and can reactivate in immunocompromised host to cause symptomatic disease.
BK virus has tropism for urinary epithelium and has been implicated in three distinct genitourinary diseases in immunocompromised patients [
24
]. These include tubulointerstitial nephritis, ureteral stenosis, and hemorrhagic cystitis. While tubulointerstitial nephritis and ureteral stenosis are mostly seen in renal transplant recipients, hemorrhagic cystitis is typically described in bone marrow transplant patients. Non-renal infections attributed to BK virus in immunocompromised hosts include rare cases of hepatitis, pneumonitis, meningitis, vasculitis, and retinitis [
25
].
Risk of BK virus reactivation and symptomatic disease depends on degree of immunosuppression [
26
]. Patients with allogenic stem cell transplant are higher risk of reactivation disease and hemorrhagic cystitis compared to patients with autologous stem cell transplant (50 % vs. 15 %). Reported rate of BK nephritis in kidney transplant patients ranges from 1 to 10 % [
27
]. Infection of native kidneys in patients with other organ transplants, such as liver or lung, is rare.
Risk factors for BK virus nephropathy [
28
] are summarized in Table
14.1
.
Table 14.1
Risk factors for BK virus nephropathy
Age (young children or elderly)
Male gender
White ethnicity
Diabetes mellitus
Degree of immunosuppression (allogenic stem cell transplant recipients are at higher risk compare to patients with autologous bone marrow transplant. Similarly, patients with kidney transplant who are receiving combination therapy with multiple agents such as mycophenolate mofetil, tacrolimus, cyclosporine, or azathioprine are at higher risk)
Ureteral trauma
Organ donor with BK virus seropositivity
Absence of HLA-C7 in donor and recipient
JC virus, another DNA polyomavirus belonging to Papovaviridae virus family, can cause a similar illness in immunocompromised patients [
29
]. However, chronic inflammation and fibrosis are more pronounced in renal disease due to JC virus [
30
].
Clinical Manifestations
The clinical presentation of BK virus reactivation disease involving kidneys is nonspecific. Typically patients with BK allograft infection present 10–13 months after transplant (range 6 days to 5 years) [
31
]. Asymptomatic viruria and viremia usually precede symptomatic BK nephropathy. Patients usually present with fever and subacute renal failure due to interstitial nephritis. BK virus is clinically indistinguishable from allograft rejection. BK virus related hemorrhagic cystitis in bone marrow transplant patients usually presents with fever and microscopic or macroscopic hematuria.
Diagnosis
Differentiating BK virus nephropathy from allograft rejection in kidney transplant patients can be quite difficult. While ureteral stenosis can be identified on ultrasound or computed tomography (CT) imaging, the diagnosis of interstitial nephritis requires a combination of urinalysis, molecular testing, and frequently renal biopsy.
Treatment
Hantavirus
Hantavirus is an enveloped, negative-sense, RNA virus that belongs to the Bunyaviridae family of viruses. Twenty species of hantavirus exist in nature and 11 have been reported to cause disease in humans. Among these, most human infections are cause by Hantaan, Puumala, Seoul, Dobrava, Sin Nombre, and Andes viruses.
Hantaviruses have worldwide distribution. Humans usually acquire hantavirus infection by inhalation or contact with secretions, urine or feces, of infected rodents [
56
]. Activities that may predispose to such exposures include farming, forestry, animal trapping, military activity, crisis conditions, and camping. Mice and rats are the most commonly implicated rodents in human cases. In the USA, most cases are reported from the southwestern states including New Mexico, California, Washington, and Texas and are due to Sin Nombre virus, which is usually associated with cardiopulmonary disease [
57
]. However, cases of hemorrhagic fever with renal syndrome have also been reported in the USA [
58
]. Epidemics of hantavirus infection from laboratory exposure have also been reported.
Clinical Manifestations
Differential diagnosis for hantavirus-related renal disease is broad and includes leptospirosis, renal failure to nonsteroidal anti-inflammatory drugs (NSAIDs), and vasculitis (Wegener's granulomatosis, Goodpasture's disease, etc.).
Diagnosis
Treatment
Treatment for hantavirus infection is mostly supportive care. Platelet transfusion may be necessary in severe hemorrhagic shock. Also, patients with several renal failure may require hemodialysis. NSAIDs should be avoided as they can exacerbate the renal injury. Patient should be closely monitored in critical care for electrolyte imbalance, heart failure, and risk of cardiac arrhythmias. With improvements in supportive care, mortality in HFRS has reduced from 15 % in 1960s to <5 % in developed countries.
There is no proven, effective, and specific antiviral therapy for hantavirus infection. Although intravenous ribavirin use has been studied in the clinical trials, results have been variable and are not considered the standard of care at present [
79
].
Prognosis
The severity of hantavirus-related illness at initial presentation does not predict long-term sequelae [
80
]. The majority of the patients who survive the acute phase recover completely, and renal function returns to the baseline over time [
61
]. Acute infection is frequently followed by a diuretic phase that may last for 10–14 days. Thereafter, convalescent period may last for several weeks. However, a minority of patients may develop chronic renal insufficiency [
81
].
Adenovirus
Adenoviruses are medium-sized (90–100 nm), nonenveloped viruses that belong to family Adenoviridae. Adenoviruses were first isolated in 1953 from human adenoids (hence the name). These viruses contain a linear, non-segmented, double-stranded DNA genome.