Fig. 4.1
Room monitors. (
a
) Demonstrated the assistant on the patient's right-hand side with a monitor directly across from their position to prevent neck and trunk torque during the case. These monitors are on mobile booms anchored from the ceiling. Certainly, large monitors can be anchored to the wall. (
b
) Demonstrates that other monitors are available on both sides of the bed to allow surgical techs and assistants to view the intra-abdominal events
Patient Positioning
Instruments
Intuitive Surgical Corporation (Sunnyvale, CA, USA) offers numerous surgical instruments for their three generations of robotic systems. Most of the instruments are equipped with Intuitive Corporation's patented Endowrist
®
technology. Endowrist technology allows for 7 degrees of freedom, 90° of articulation, motion scaling, and tremor reduction [
11
]. The company divides their operative instrument selection into five categories—energy, forceps, needle drivers, retractors, and specialized instruments.
Energy instruments include monopolar and bipolar cautery instruments (electrical energy), Harmonic ACE™ (mechanical energy), PK™ dissecting forceps (advanced bipolar), and laser [
12
].
Standard needle drivers are available as well as devices that have internal suture cutting blades. Forceps include devices for grabbing tissue in an atraumatic fashion. Retractors are devices used to retract tissue. These instruments are usually used in the third robotic arm. Specialized instruments would include hemostatic clip appliers.
Despite the plethora of robotic instruments available, our selection is relatively simple for RARC. The cystectomy portion is almost entirely performed with monopolar scissors in the right hand and bipolar dissecting forceps in the left hand. The third robotic assistant arm usually has large Prograsp
®
forceps present. These instruments are seldom exchanged during cystectomy. The Cobra
®
grasper may be helpful when used in the third robotic arm to retract the bladder as it becomes more mobile during the operation (Fig.
4.6
) The Cobra teeth are very strong and can be traumatic. We only use this device on tissue that will be removed. This device should never be used to retract bowel. The dorsal vein is sutured with standard needle drivers, although the drivers with internal suture cutting would suffice.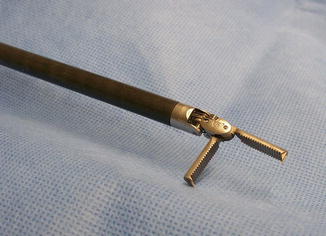 Fig. 4.6
Cobra grasper demonstrates the Cobra grasper used to manipulate the bladder to one side or another once it is mobile. This grasper is used almost exclusively in the third robotic arm. The tips can be very traumatic and we only use this on tissue that will be removed. This instrument should not be used to retract bowel
Premium Wordpress Themes by UFO Themes
WordPress theme by UFO themes