RENAL HANDLING OF SODIUM AND CHLORIDE (Continued)
Because of this system, an increase or decrease in total body sodium will lead, by necessity, to expansion or contraction of the ECF volume. Free water intake, in contrast, does not affect ECF volume. First, free water distributes into both the intracellular and extracellular fluids. Second, dilution of the ECF after fluid intake suppresses ADH release, causing dilute urine to be produced until normal plasma osmolality is restored.
Because total body sodium is thus the primary determinant of ECF volume, the mechanisms that control ECF volume directly modulate the rate of sodium excretion in urine.
In the setting of ECF depletion, for example, several mechanisms increase the renal retention of sodium. Activation of baroreceptors in the aortic arch and carotid bodies, for example, causes an increase in sympathetic tone. Norepinephrine constricts afferent and efferent arterioles, which reduces the glomerular filtration rate, and it also stimulates NHE-3 transporters and Na+/K+ ATPases in the proximal tubule, which promotes sodium reabsorption. Meanwhile, renin release occurs secondary to multiple factors, including sympathetic input, decreased stretching of afferent arterioles, and decreased tubular flow rates. Renin catalyzes the synthesis of angiotensin II (AII), which has many effects that promote sodium retention. First, AII stimulates apical NHE-3 transporters and basolateral Na+/K+ ATPases in the proximal tubule. Second, AII promotes the release of aldosterone, which increases sodium reabsorption from the distal nephron by upregulating ENaC and NCC transporters. Third, AII promotes the release of ADH, which up-regulates sodium and water reabsorption from the collecting duct (by up-regulating ENaC and aquaporin channels) and the thick ascending limb (by upregulating NKCC2 transporters). Finally, AII constricts the efferent arteriole, which lowers hydrostatic pressure in the peritubular capillaries and, moreover, increases the filtration fraction, raising osmotic pressure in the peritubular capillaries. These altered forces both favor reabsorption from the proximal tubules.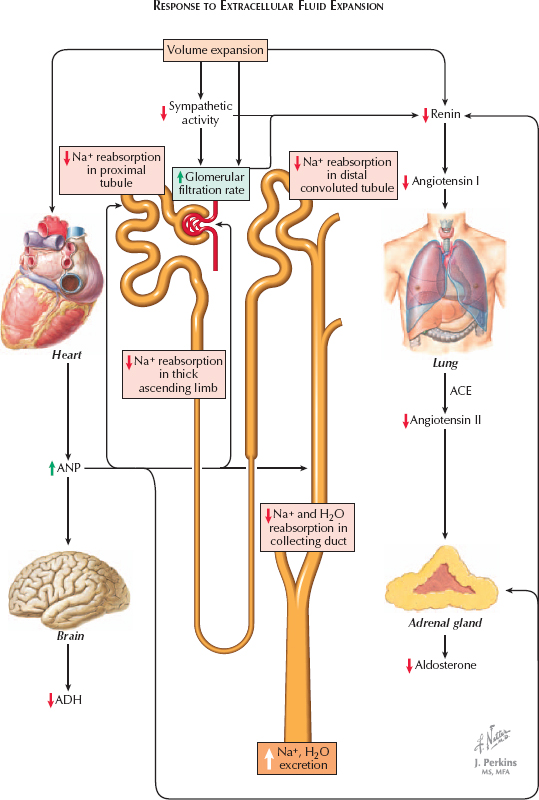 In the setting of ECF overload, these various mechanisms are inactivated, promoting renal excretion of sodium. The effect is amplified by the release of atrial natriuretic peptide (ANP), which occurs in response to stretching of the cardiac atria. ANP dilates the afferent arteriole and constricts the efferent arteriole, which raises the glomerular filtration rate. In addition, it blocks sodium reabsorption from the proximal and distal tubules, as well as water reabsorption from the collecting duct. Finally, it suppresses the release of renin, aldosterone, and ADH.


< div class='tao-gold-member'>