Interpretation of Ileal Biopsies
Ileal biopsies are commonly taken when patients undergo colonoscopy. As a result, pathologists often have the opportunity
to examine changes that may be present in the ileal mucosa. The most common changes include acute inflammation and evidence of chronic disease. Additionally, there may be changes in the Peyer patches. One common mistake that we see is overinterpretation of increased numbers of intraepithelial lymphocytes that are normally present in the follicle-associated epithelium as either lymphocytic enteritis or, worse yet, as evidence of a lymphoma.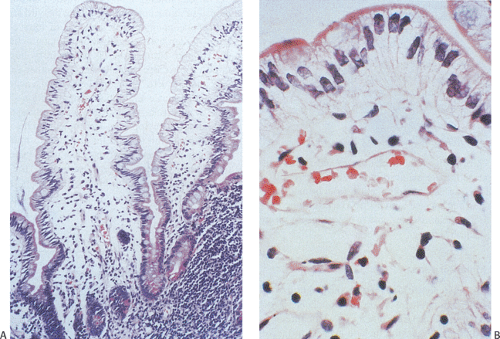 FIG. 6.204.
Abetalipoproteinemia.
A:
Moderate-power photograph demonstrating the presence of an essentially intact architecture with normal villous and crypt length. The epithelium appears clear due to the presence of marked lipid accumulations within the epithelium.
B:
Higher magnification showing the displacement of the nuclei upward and the clear nature of the cytoplasm.
Premium Wordpress Themes by UFO Themes
WordPress theme by UFO themes