Inflammatory Bowel Disease
Chronic idiopathic inflammatory bowel disease (IBD) includes two chronic gastrointestinal disorders of unknown etiology: Ulcerative colitis (UC) and Crohn disease (CD). The natural history of IBD differs from patient to patient. Disease severity at its onset, disease extent, and patient age at the time of diagnosis, along with other variables, determine overall disease severity and the likelihood of subsequent morbidity and mortality. Once established, IBD patients suffer episodic acute attacks that become superimposed on chronic disease. As a result, the patient is likely to suffer from disabling disease for decades.
General Clinical and Epidemiologic Features of Inflammatory Bowel Disease
The annual incidence of IBD in the United States is approximately 6 cases per 100,000 persons (
1
). Both CD and UC are predominantly diseases of young adults, with a peak incidence occurring between 15 and 30 years of age. Age-specific incidence rates by sex are slightly greater for males with UC and for females with CD (
2
). At age 10, both diseases rapidly increase in incidence. Overall, both UC and CD show three peaks in incidence rates. The first and highest peak occurs between ages 20 and 24, the second at ages 40 to 44, and the third at ages 60 to 64 years. In females, the first peak appears at ages 15 to 19, 5 years younger than in males (
3
). By age 60, the incidence of UC exceeds that of CD.
Ethnicity
Epidemiologic studies show that the incidence and prevalence of IBD vary significantly depending on geographic location and patients' racial or ethnic backgrounds. IBD occurs worldwide and exhibits a relatively low incidence in Asian, Mediterranean, and Middle Eastern countries and a higher incidence in European countries, the United States, Canada, Australia, and New Zealand. This may reflect racial, ethnic, and genetic factors. Prevalence rates for IBD among non-Caucasians in the United States are lower than rates for Caucasians. In one study, the prevalence of Crohn disease was 43.6 per 100,000 population for Caucasians, 29.8 per 100,000 for African Americans, 5.6 per 100,000 for Asians, and 4.1 per 100,000 for Hispanics (
4
). A study of African-American children reported a Crohn disease incidence of 7 to 12 cases per 100,000 (
5
). However, recent data indicate that the incidence of IBD among African Americans and second-generation South Asians is increasing (
6
). Among ethnic groups, Jews in the United States have the greatest risk for developing IBD compared with non-Jewish Caucasians. The incidence rate is two to four times greater and the prevalence two to nine times greater in this group. Ashkenazi Jews exhibit a particularly high IBD risk, especially those originating in Middle Europe, Poland, or Russia.
Etiology
Chronic IBD is a common inflammatory disorder of unknown etiology. The intrinsic complexity of IBD and its variable manifestations hampers progress in understanding its pathogenesis. However, currently favored theories implicate genetically determined, immunologically mediated mechanisms of injury. The fundamental pathogenic question could be: Does the chronic recurring inflammatory activity in IBD reflect an appropriate response to a persistently abnormal stimulus (a structural alteration of the intestine or causative agent in the environment) or an abnormally prolonged response to a normal stimulus (aberrant regulation of immune responses) (
Fig. 11.1
)? It is conceivable that some factors initiate the disease, whereas others sustain the inflammatory process or possibly even reactivate it.
Genetic Factors
There is considerable evidence that the development of both CD and UC is determined, at least in part, by genetic factors. Overwhelming evidence exists that both ulcerative colitis and Crohn disease cluster within families. In population-based studies, 5% to 10% of individuals with IBD report having an affected family member (
7
). In fact, having a family member with IBD represents the greatest risk factor for developing the disease. Individuals with a first-degree relative with IBD have a 10- to 15-fold increased risk of also developing the disease compared with those without an affected family member (
8
). Approximately 75% of families
with multiple affected members show concordance for disease type (i.e., all affected family members have CD disease or all have UC). In the remaining 25%, some members have CD while others have UC (
9
). This finding suggests that UC and CD may have some common, as well as distinct, susceptibility genes. Twin studies show that monozygotic twin concordance for CD ranges from 42% to 58% (
10
). In contrast, concordance in dizygotic twins is only 4% (
11
). Monozygotic twin concordances are significantly lower for UC (
10
). These findings suggest that although there is a strong genetic component that determines susceptibility to inflammatory bowel disease, there are also environmental factors that play an important role in disease development.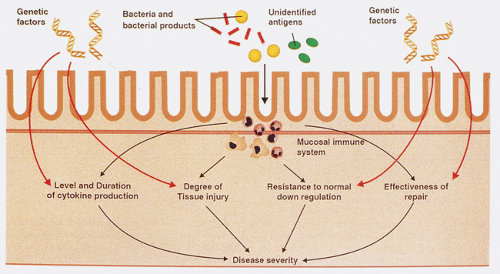 FIG. 11.1.
Inflammatory bowel disease (IBD) likely results from a combination of genetic predisposition, cellular alterations, and up-regulated immunity. The genetic influences affect both the predisposition to injury and the nature of the response to the injury.
Susceptibility Genes
Genetic linkage studies have identified a number of potential genetic susceptibility loci for inflammatory bowel disease. Some of these genes appear to confer a general risk for development of IBD, while others confer specific risk for either UC or CD. These are listed in
Table 11-1
.
IBD1
The IBD1 locus is located in the pericentromeric region of chromosome 16 and shows disease linkage only for CD, not for UC. This locus contains the gene NOD2/CARD15 that has now been definitively identified as the gene responsible for disease linkage to this chromosomal region. The family of Nod proteins includes NOD2/CARD15 as well as several additional regulatory proteins. The Nod proteins contain a central nucleotide-binding domain and an N-terminal caspase recruitment domain (
12
). In addition, they possess a C-terminal leucine-rich repeat (LRR) region that bears a high degree of homology with plant genes known to be involved in disease resistance. This finding suggests that Nod proteins may play a similar role in mammals (
12
).
NOD2 is expressed in monocytes, intestinal epithelial cells, and intestinal Paneth cells. This protein recognizes and binds muramyl dipeptide, the biologically active moiety of bacterial peptidoglycan, resulting in activation of the proinflammatory cytokine NF-κB (
13
). It is the leucine-rich repeat region of the protein that functions in peptidoglycan recognition. Human mutations in NOD2 occur in both the LLR and in the central nucleotide-binding domain. Three major mutations have been described in the LRR, all of which are associated with Crohn disease (
14
,
15
). Interestingly, these mutations occur predominantly in Caucasian populations and are extremely rare in Asian and African-American populations (
16
,
17
). Mutations in the nucleotide-binding domain result in Blau syndrome, a rare disease characterized by early-onset granulomatous arthritis, uveitis, and skin rash.
Patients who have one defective copy of NOD2 demonstrate a two- to fourfold increased risk for the development of Crohn disease, while homozygous mutants show a 20- to
40-fold increased risk (
15
,
18
). Approximately 8% to 17% of CD patients carry two mutant NOD2 alleles. NOD2 mutations are associated with disease onset at a young age, disease located in the small intestine, and stricturing and fistulizing forms of the disease (
14
,
15
,
19
,
20
). The Crohn disease–associated mutations in the LRR of NOD2 all result in inactivation of the protein with a resultant defect in the cellular response to peptidoglycan (
16
). This abnormality on monocytes could result in an inability of the innate immune system to recognize bacterial products and a subsequent overreaction to bacteria by the adaptive immune system. In addition, defective NOD2 function in intestinal epithelial and Paneth cells may result in an abnormal immunologic response to normal commensal bacteria within the gut (
21
).
TABLE 11.1
Major Susceptibility Loci for Inflammatory Bowel Disease (IBD)




Locus Designation


Chromosomal Location


IBD Type


Candidate Genes



IBD1


16q12


CD


NOD2



IBD2


12q13


UC


VDR, IFN-γ



IBD3


6p13


CD, UC


MHC I, MHC II, TNF-α



IBD4


14q11


CD


TCR α/δ complex



IBD5


5q31-33


CD


IL-3, IL-4, IL-5, IL-13, CSF-2



IBD6


19p13


CD, UC


ICAM-1, C3, TBXA2R, LTB4H



IBD7


1p36


CD, UC


TNF-R family, CASP9



IBD8


16p


CD


Unknown



IBD9


3p26


CD, UC


CCR5, CCR9, nMLH1



Other


7q


CD, UC


Multidrug resistance 1



Other


10q23


CD


Drosophila discs large homolog 5



Other


9q32-33


CD, UC


Toll-like receptor-4



Other


1q41-42


CD


Toll-like receptor-5



Other


7p14


CD, UC


NOD1/CARD4



CD, Crohn disease; IFN, interferon; IL, interleukin; MHC, major histocompatibility complex; UC, ulcerative colitis.
IBD2
The IBD2 gene locus lies on chromosome 12 and appears to be more closely linked to the development of UC than CD (
22
). A number of possible candidate genes are located in this region, but investigation of several of these has yielded negative results.
IBD3
Several studies have linked the IBD3 locus, located on chromosome 6, to both ulcerative colitis and Crohn disease (
22
,
23
). Recent data suggest that this region may be specific to men (
24
). This region contains the major histocompatability complex (MHC), as well as the tumor necrosis factor (TNF) gene. Several human leukocyte antigen (HLA) associations with IBD are well known. Among Caucasians, susceptibility to ulcerative colitis has been convincingly linked to the HLADRB1*0103 allele. In addition, this allele is associated with severe colitis and extraintestinal manifestations of UC. In Japanese and Jewish populations, susceptibility to UC has been linked to the HLADRB1*1052 allele. Polymorphisms in TNF-α and their relationship to Crohn disease risk are also under current investigation.
IBD5
The IBD5 locus resides on chromosome 5q31-q33. It was identified by a genomewide scan of Canadian families with early-onset CD. Heterozygous carriage of the risk alleles increased the risk for developing CD twofold, while homozygous carriage increases this risk by sixfold (
25
). IBD5 may also be associated with risk for development of UC (
25
). The specific causative gene has not yet been identified. Candidate genes include organic cation transporter genes 1 and 2, interferon regulatory factor isoform 1, PDZ and LIM domain protein (PDLIM4), and prolyl 4-hydroxylase (P4HA2).
Immunologic Factors
Both CD and UC represent, at least in part, disorders of both innate (macrophage, neutrophil) and acquired (T and B cell) immunity. It is currently believed that the main abnormality responsible for the development of inflammation in these disorders is a loss of tolerance to enteric commensal bacteria or other pathogens (
26
). In normal individuals, tolerance is mediated by regulatory T cells, B cells, natural killer T cells, and dendritic cells that produce transforming growth factor beta (TGF-β), interleukin (IL)-10, interferons, and prostaglandin J2. In IBD, lamina propria macrophages and dendritic cells are increased in number, demonstrate an activated phenotype, and express many proinflammatory cytokines and chemokines. In addition, expression of costimulatory molecules and adhesion molecules, vital to the extravasation of macrophages
and neutrophils from the vasculature, is also increased in both CD and UC (
27
).
TABLE 11.2
Cytokine Production in Inflammatory Bowel Disease




Cytokine


Crohn Disease


Ulcerative Colitis



Innate immune response



IL-1β


Increased


Increased



TNF


Markedly increased


Increased



IL-6


Increased


Increased



IL-8


Increased


Increased



IL-12


Increased


Normal



IL-18


Increased


Increased



IL-23


Increased


Normal



IL-27


Increased


Normal



Acquired (T cell) response



IFN-γ


Increased


Normal



IL-5


Normal


Increased



IL-13


Normal


Increased



IL-17


Increased


Normal



IL-21


Increased


Normal



IFN, interferon; IL, interleukin; TNF, tumor necrosis factor.
Crohn disease is associated predominantly with T
H
1 cytokine production (
28
). Ulcerative colitis, on the other hand, does not fit clearly into either the T
H
1 or T
H
2 category, although an atypical or modified T
H
2 response seems to occur in established UC (
26
). Although the types of cytokines produced in UC and CD differ somewhat (
Table 11.2
), both diseases are associated with abnormal immune responses to nonpathogenic commensal bacteria within the gut. Cross-reactivity of peripheral blood and colonic lamina propria CD4+ T cells with indigenous flora in patients with UC and CD suggests that abnormal T cell–specific immune responses to the normal flora of the host are important in the pathogenesis of both diseases (
29
).
In normal individuals, pathogens are recognized by germline encoded pattern recognition receptors on epithelial cells, neutrophils, macrophages, and dendritic cells. These pattern recognition receptors include lectins, mannose receptors, complement receptors, scavenger receptors, Nod proteins, and toll-like receptors (TLRs). At least ten different TLRs have been described, each of which recognizes a different bacterial factor. Activation of TLRs ultimately results in expression and activation of NF-κB (
30
). NF-κB is activated in the tissues of IBD patients, where it is thought to have proinflammatory activity. NF-κB stimulates expression of many molecules that likely play a role in IBD including IL-1β, TNF, IL-6, IL-8 and other chemokines, ICAM1 and other adhesion molecules, CD40, CD80, CD86, and the T-cell stimulator ICOS (
31
). NF-κB also stimulates expression of protective molecules including TNF-induced protein 3, CARD15, cyclo-oxygenase 2, β defensins, and peroxisome proliferator-activated receptor (PPAR)-γ(
31
).
Activated T lymphocytes are regulated by both effector and regulator T-cell subpopulations in healthy gut mucosa. Effector T cells are capable of inducing intestinal inflammation, while regulator T cells are able to control or prevent inflammation. The immunosuppressive function of the regulator cells is mediated through production of IL-10 and TGF-β. These regulator cells are thought to play pivotal roles in mediating tolerance toward luminal antigens. Genetically engineered IL-10–deficient mice develop severe transmural inflammation of the small and large intestine reminiscent of CD (
32
). In addition, studies suggest that defects in the IL-10 and TGF-β regulatory signaling pathway may exist in humans with UC (
33
).
Activation of effector cytotoxic T cells and cytokine release result in generation of activated matrix metalloproteinases, enzymes that are mediators of tissue destruction. In addition, cytokines act directly on the microvasculature, up-regulate adhesion molecules, and enhance recruitment of additional effector cells including neutrophils and macrophages, which amplify and perpetuate the inflammatory response and contribute to additional tissue injury.
As a result of these immunologic events, the mucosa becomes heavily infiltrated by inflammatory cells. Soluble inflammatory mediators produced by neutrophils, lymphocytes, monocytes, fibroblasts, mast cells, neuroendocrine cells, and nerves generate many of the functional and histologic changes that characterize the disease (
Fig. 11.2
). One sees a large number of activated T and B cells, increased immunoglobulin secretion, the presence of anticolon antibodies (
34
), and aberrant expression of class II HLA molecules (
35
).
T-cell profiles differ between patients with Crohn disease and those with ulcerative colitis. As previously mentioned, CD is characterized primarily by a T
H
1 response. T
H
1 responses are mediated by IFN-γ, the production of which is stimulated by IL-12. Patients with CD also exhibit a T
H
17 response, associated with IL-17 production. IL-17 expression is stimulated by IL-6, TGF-β, and IL-23. In patients with ulcerative colitis, the T-cell profile has been more difficult to characterize, but may represent an atypical T
H
2-type response. This atypical T
H
2 response may be mediated by natural killer T cells that secrete IL-13 (
36
).
Apoptosis
In normal mucosa, the inflammatory response is terminated by induction of apoptosis in activated T cells once the pathogen has been eliminated. However, in CD, mucosal T lymphocytes are resistant to apoptosis, leading to their accumulation and persistence of the inflammatory response (
19
,
47
). In UC patients, T cells are more susceptible to Fas-mediated apoptosis. In addition, Fas ligand is strongly expressed by T cells in active UC, but not in CD, suggesting the Fas-Fas ligand-induced apoptosis contributes to mucosal damage in UC (
48
).
Exogenous Agents
Numerous data suggest that environmental factors play a role in the development and progression of both forms of IBD. Susceptibility genes for both UC and CD are known to demonstrate incomplete penetrance. As noted earlier, concordance rates for monozygotic twins are >50% for Crohn disease and <10% for UC. This finding suggests that factors other than genotype must be involved in the pathogenesis of IBD. In addition, the incidence of IBD has increased in the
developed parts of the world over the last 50 years, and is now becoming increasingly common in less developed countries as they become more industrialized and the standard of living improves. Environmental changes that might affect development of the mucosal immune system or the indigenous enteric flora include improved hygiene, consumption of sterile or at least noncontaminated foods, childhood vaccinations, and increased age at first exposure to a variety of intestinal pathogens.
Exogenous agents, including diet, infections, smoking, and other environmental factors, all may play an etiologic role in IBD. Environmental influences related to certain forms of industrial pollution may also account for the recent increase in CD incidence in certain countries.
Food Antigens
Numerous studies have demonstrated that exposure to food-associated antigens plays an important role in the gastrointestinal inflammation that occurs in patients with CD. In addition, patients treated with simplified or elemental diets containing proteins in the form of amino acids or small peptide fragments improve symptomatically and show decreased endoscopic or serologic evidence of inflammation (
49
). Rectal exposure of CD patients to a series of food antigens resulted in increased rectal blood flow and lymphocyte proliferation in comparison to non-CD control patients (
50
), a finding that suggests that patients with CD show gut-specific sensitization to food antigens. Reactions were seen with yeast and citrus antigens, although individual patients reacted also to other antigen groups. Although it is possible that this sensitivity to food antigens is merely a reflection of exposure to antigens through mucosal defects, the absence of similar sensitivities in patients with UC makes this possibility unlikely (
50
). It is not likely, however, that exposure to food-associated antigens represents the primary abnormality in patients with CD. Instead, exposure to food in the proximal gastrointestinal tract may lead to sensitization and stimulation of the immune system in genetically susceptible individuals.
Infectious Agents
For many years investigators have been suspicious that IBD may have an infectious etiology. These suspicions are based on several observations. First, CD patients have an increased incidence of childhood infections including pharyngitis, tonsillitis, and rhinitis (
51
). In addition, gastroenteritis in early infancy has been linked to later development of CD (
52
). Furthermore, studies have shown that patients with CD tend to have increased serum levels of antibodies directed against nonpathogenic as well as pathogenic enteric organisms (
53
). Many studies have attempted to link IBD to infections with
Mycobacteria
,
Yersinia
, and several viruses. However, no definitive link with any one infectious agent has ever been made.
Current evidence, instead, suggests that the resident bacterial flora of the gut may be a factor in initiating and propagating the inflammation in IBD. In CD patients, T lymphocytes are hyperreactive to bacterial antigens, a factor that suggests that local bacterial tolerance mechanisms may be abnormal in these individuals (
54
). Patients with both UC and CD show higher numbers of bacteria attached to their intestinal mucosa than do unaffected individuals (
55
). In addition, bacterial invasion of the mucosa has been reported in both UC and CD patients (
56
). IBD patients also have increased mucosal production of IgG antibodies directed against a wide range of commensal organisms (
57
). The clinical observation that, in some patients, disease flares may be ameliorated by antibiotic administration is supportive of a bacterial role. Finally, recent evidence suggests that the NOD2 CD susceptibility gene is involved in regulation of host responses to bacterial organisms (
12
). Overall, many view inflammatory bowel disease as a disease initiated by a general loss of tolerance for the commensal bacteria of the gut.
Tobacco Use and Exposure
The association between tobacco use and development of IBD is well established. Smoking decreases the risk for the development of UC, but exacerbates and aggravates Crohn disease (
58
,
59
). Former smokers have a lower risk of UC than do those who never smoked. In addition, exposure to passive smoke also appears to confer a lessened risk of developing UC relative to nonexposed nonsmokers (
60
). Overall, the effect of smoking appears to be dose dependent (
61
). Interestingly, nicotine has been shown to have an inhibitory effect on T
H
2 lymphocyte function, the type of cells most implicated in UC (
62
). Indeed, nicotine-based enemas have been demonstrated to be beneficial in patients with milder forms of distal colitis. Nicotine has no effect on T
H
1 cells characteristic of the Crohn inflammatory response. Tobacco use is also associated with protection against sclerosing cholangitis and pouchitis in UC patients (
61
,
63
).
Intestinal Permeability
Increased intestinal permeability may play a role in the pathogenesis of CD. Increased permeability not only occurs in the intestines of patients affected by the disease, but also in their unaffected first-degree relatives (
64
). It has been suggested that this increased permeability may represent a predisposing factor to the development of CD because a leaky intestinal barrier may intensify antigen absorption, leading to exaggerated systemic immune stimulation.
Appendectomy
Appendectomy early in life (before the age of 20) has been shown in several studies to decrease the risk of developing UC (
65
,
66
). Interestingly, the risk for UC is reduced only in patients who undergo appendectomy for acute appendicitis,
and not in those whose appendices are removed because of nonspecific abdominal pain or incidentally during surgery for other causes. This finding suggests that the appendicitis that results in appendectomy, rather than appendectomy itself, is protective. Alternatively, there may be other factors among patients destined to develop UC that prevent those individuals from developing appendicitis. A recent report suggests that the risk for Crohn disease may also be decreased in patients who have undergone appendectomy (
67
).
Other Environmental Factors
Epidemiologic data suggest that use of nonsteroidal anti-inflammatory drugs (NSAIDs) can exacerbate existing UC, and may even induce it de novo (
68
). This effect was initially attributed to the cyclooxygenase (COX)-1 inhibitory effect of the drugs, but recent reports suggest that even COX-2–specific inhibitors also demonstrate this effect (
69
). Possible mechanisms by which NSAIDs exert these effects include inhibition of protective mucosal prostaglandin production and increased leukocyte migration and adherence. It has been estimated that NSAID use increases the risk of IBD exacerbation by as much as 30%.
As many as 40% of UC patients report that psychological stress represents a trigger for their disease (
70
). There is evidence to link psychological stress with increased susceptibility to infection and illness through stress-related impairment of the immune system. Some animal models suggest that stress may play a role in the development of colitis. Cotton-top tamarinds, primates that spontaneously develop colitis and serve as a model for human IBD, develop colitis only in long-term captivity (
71
).
Occupation
Differences in IBD incidence exist among individuals with different occupations. Occupations involving work in the open air and physical exercise appear to protect against development of IBD, whereas exposure to air-conditioned, artificial working conditions or extended and irregular shifts can confer an increased IBD risk (
72
).
Ulcerative Colitis
Incidence
In recent decades, the incidence of UC in the United States and in Europe has risen, whereas in other countries the incidence has plateaued (
2
,
87
,
109
). It is likely that two factors have contributed to this increase: (a) improved survival of incident cases and (b) diagnosis of milder cases due to increased use of sigmoidoscopy and fecal occult blood testing in the community. UC mostly affects young white people, but there is an increasing recognition that the disease affects many ages and many ethnic groups (
2
). The incidence of UC inversely correlates with smoking and clinical relapses have been associated with smoking cessation (
110
).
Clinical Features
Diarrhea, hematochezia, urgency of defecation, attacks of crampy abdominal pain, and perianal soreness are common in early stages of the disease. Abdominal pain is usually less severe than in CD. Approximately 10% of patients initially present with severe colitis characterized by abdominal pain, more than 40 bloody stools per day, fever, tachycardia, weight loss, and hypoalbuminemia. When UC remains limited to the left colon, constipation rather than diarrhea may result because colonic spasm results in stool retention in the right colon where the normal absorptive capacity is unimpaired.
Full access? Get Clinical Tree