Fig. 43.1
Open lateral sphincterotomy.
a
Radial skin incision distal to the dentate line exposing the intersphincteric groove.
b
Elevation and division of the internal sphincter.
c
Primary wound closure. (With permission from [
67
] © Springer)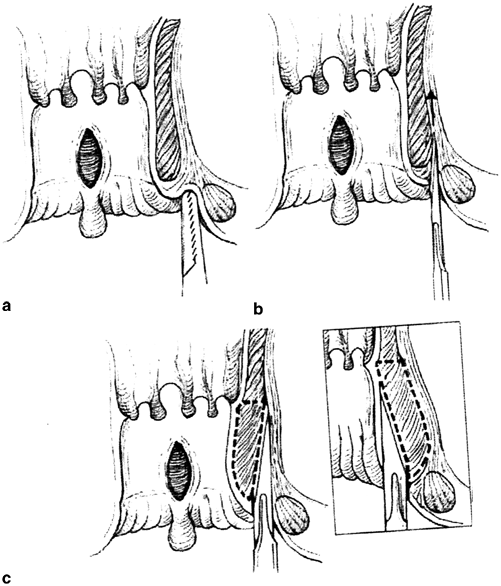 Fig. 43.2
Closed lateral internal sphincterotomy.
a
Location of the intersphincteric groove.
b
Insertion of the knife blade in the intersphincteric plane.
c
Lateral to medial division of the internal anal sphincter (inset: medial to lateral division of the muscle). (With permission from [
67
] © Springer)
Healing rates for CAF following LIS have been reported as high as 95 % [
28
–
30
]. Reported incontinence rates vary from 0 to 50 % [
27
,
30
–
34
]. This wide variance had been attributed to multiple factors including surgical technique (open versus closed), length of LIS, type of anesthesia (local versus general), previous anorectal surgery, obstetric history, and inadvertent injury to EAS (Table
43.1
) [
9
]. Perhaps the most important factor underlying the wide variation of reported incontinence rates following sphincterotomy is methodology of assessing the outcomes. Common methodological deficiencies include lack of clear definition of incontinence, failure to include the number of patients operated versus those surveyed, inadequate or poorly defined length of follow-up, use of nonstandardized or nonvalidated questionnaires, and failure to use nonbiased, objective examination of sphincter function. Of note, a recent Cochrane review (2011) evaluating the operative procedures for fissure-in-ano concluded that the combined analyses of open versus closed LIS show little difference between the two procedures in fissure persistence and risk of incontinence [
35
]. However, in regard to short- and long-term follow-up, Nyam et al. (1999) reported a 45 % incontinence in the short-term outcome, decreasing to < 11 % in long-term follow-up [
33
]. Lewis et al. (1988) reported a 17 % incontinence rate. This was only temporary in two-thirds of these patients [
25
]. The overall risk of incontinence in randomized surgical trials is reported to be about 10 % and is mostly incontinence to flatus [
36
].
Table 43.1
Factors responsible for wide variance noted in incontinence rates following LIS
Surgical technique (open versus closed)
Length of LIS
Type of anesthesia (local versus general)
Previous anorectal surgery
Obstetric history
Inadvertent injury to EAS
A 2012 meta-analysis identified subsets of individuals more prone to continence disturbances after sphincterotomy for fissure. These include age over 40, female gender, history of vaginal delivery, anterior fissure, addition of a synchronous anorectal procedure, and operative technique (Table
43.2
) [
15
]. Preoperative anal manometry and endoanal ultrasonography should be considered in those high-risk patients to help delineate and define any possible preexisting sphincter injury and associated sphincter weakness.
Age over 40
Female gender
History of vaginal delivery
Anterior fissure
Synchronous anorectal procedure
Operative technique
Murad-Regadas et al. (2013) conducted a prospective observational cohort study to determine the proportion of the IAS that may be divided during LIS in continent women without predisposing them to fecal incontinence [
37
]. 3D-endo anal ultrasound was used to evaluate the extent of the surgically divided portion of the IAS. Postoperative continence was objectively assessed via the Cleveland Clinic Florida score. They found that follow-up continence scores were significantly correlated with the extent of sphincter division. Continence was significantly better in those women whose sphincter division was less than 25 % versus those women with division of 25 % or more. Garcia-Aguilar et al. (1998) found that the IAS defects were wider in patients with incontinence than in those who were continent but this was not significant [
38
].
Fistulotomy
Both draining and cutting setons may be used for high or complex fistulas. After defining the fistula tract with a probe, the surgeon may elect to use a combination of a seton placed through the tract and a partial sphincterotomy. A draining seton is used to assure complete resolution of associated abscesses and to induce fibrosis along the tract. When the inflammatory process has resolved, the seton may either be removed in hope that the fistula will go on to heal without further division of muscle or it can be removed and additional fistulotomy performed. Sometimes the draining seton is converted to a cutting seton or in the absence of significant associated abscess and inflammation, a cutting seton may be used instead of a draining seton in the first procedure. The cutting seton is gradually tightened to slowly divide the remaining involved muscle in the fistula tract. This theoretically allows scar to form as the seton is slowly "walked through the sphincter," thus keeping the sphincter muscle intact and avoiding a wide gap as is noted when muscle is divided in one procedure.
Management
Evaluation
For those individuals with persisting incontinence of unclear etiology or who fail conservative management and are possible candidates for surgery, pelvic floor testing may be beneficial to evaluate pelvic floor function and anatomy. Anal manometry is used to objectively assess anal resting and squeeze pressures as well as rectal compliance. Endoanal ultrasound and MRI are useful to detect and quantify sphincter defects. Pudendal-nerve terminal motor latency (PNTML) testing allows one to quantify nerve function.
Treatment