Effects of Surgery and Therapeutic Procedures
Endoscopic Thermal Injury
Endoscopic resection of colorectal polyps is currently a standard practice. In general, the resection margin passes through the submucosa. Less than 1% of patients perforate following the procedure (
615
). Perforations could result from the surgical resection of the colonic wall or from thermal injury. The postendoscopic resection sites show a range of mucosal changes including ulceration. Submucosal changes include inflammation, granulation tissue, fibrosis, and vascular proliferations. If changes are present in the muscularis propria, they may have a "skip" appearance. These consist of patchy muscular depletion or necrosis in the inner muscular layer with or without accompanying fibrosis. Ink may also be seen (
615
).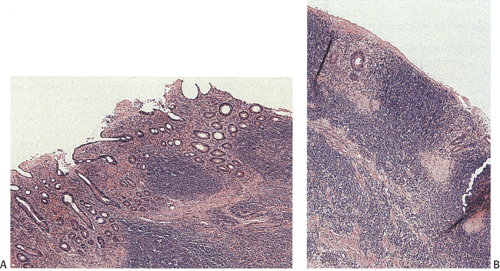 FIG. 13.177.
Diversion colitis. The specimen is from a patient who had a previous resection for Crohn disease. The specimen is from the diverted segment.
A:
Marked lymphonodular hyperplasia with variable ulceration of the surface.
B:
This specimen is from an area of marked glandular atrophy. The bases of the glands are widely separated from the muscularis mucosae. The lamina propria is intensely infiltrated by lymphocytes and plasma cells.