Fig. 21.1
Axial CT scan image demonstrating 2 cm right renal stone (
yellow arrow
) that was not previously visualized on KUB. Following surgery, the stone analysis revealed a uric acid stone
Ureteral Stones
Ultrasound imaging is helpful in finding renal stones, bladder stones and stones at the ureterovesical junction. In the remainder of the ureter, ultrasound is a poor imaging modality for stone localization. Without contrast, Spiral CT scan is the best imaging choice to visualize stones along the course of the ureter (Fig.
21.2
). With contrast, the use of intravenous contrast (IVP) or retrograde pyelogram (RUG) can help to identify ureteral stones, especially if the stones are radiolucent. In addition, lithotriptors using fluoroscopy as a sole imaging device cannot be used to localize radiolucent ureteral stones. IVP and RUG during ESWL can also provide useful information for stone localization.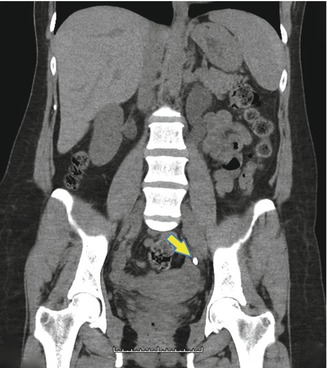 Fig. 21.2
Coronal CT scan image of a left ureteral stone (
yellow arrow
)
Difficult Stones to Fragment
Some renal calculi are refractory to ESWL therapy. The fragility of stones in descending order is: Cystine, brushite, calcium oxalate monohydrate (COM), hydroxyapatite, struvite, calcium oxalate dihydrate (COD), and uric acid. There is poor fragmentation of Cystine and brushite as these are the most ESWL resistant stones (Fig.
21.3
). As a general rule, ESWL resistant stones (i.e., brushite, cystine, COM) should only be treated with ESWL when they are small (<1.5 cm) and larger stones preferentially treated with PCNL or ureteroscopy with Holmium:YAG (Ho:YAG) laser lithotripsy.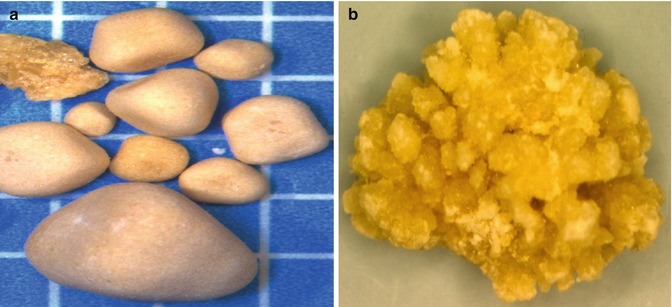 Fig. 21.3
Cystine (
a
) and brushite (
b
) stones (Courtesy of Louis C. Herring & Co., Orlando, FL)
In rare circumstances, the very soft matrix calculi are also ESWL resistant. These radiolucent stones, often associated with urea splitting bacteriuria, are composed of as much as 65 % organic matter (compared to 2–3 % organic matrix in most non-infected urinary calculi). ESWL is not effective in treating matrix stones which are ideally treated with PCNL.
Difficult Stones to Access
Premium Wordpress Themes by UFO Themes
WordPress theme by UFO themes