Winnie C.W. Chu, MBChB, FRCR
Stella S.Y. Ho, PhD, RDMS
Michael P. Federle, MD, FACR
DIFFERENTIAL DIAGNOSIS
Common





Renal Angiomyolipoma (AML)






Renal Cell Carcinoma (RCC)






Wilms Tumor
Less Common





Fat in Renal Scar






Milk of Calcium Cyst






Renal Junctional Line/Cortical Parenchymal Defect






Renal Calculi






Renal Papillary Necrosis






Abscess, Renal






Emphysematous Pyelonephritis






Renal Metastases
Rare but Important





Focal Bacterial Nephritis






Xanthogranulomatous Pyelonephritis






Tuberculosis, Urinary Tract






Renal Oncocytoma






Renal Trauma
ESSENTIAL INFORMATION
Key Differential Diagnosis Issues





The same lesions that cause fat density (intensity) lesions on CT and MR usually cause echogenic lesion on US









However, echogenicity alone is not a reliable indication of fat content






Other sources of renal echogenicity include calcification & gas






Lesions with calcification: Milk of calcium cyst, RCC, Wilms tumor






Lesions with gas: Renal abscess, emphysematous pyelonephritis
Helpful Clues for Common Diagnoses





Renal Angiomyolipoma (AML)









Well-defined hyperechoic mass, similar to renal sinus






Echogenicity created by high fat content and multiple vessel-tissue interfaces






May have posterior shadowing not typically seen with other masses






Small lesion: AML has much higher echogenicity than RCC






Larger tumors usually have prominent vascularity, evident on color Doppler






May have central necrosis simulating malignant lesion






US alone is not reliable in diagnosing AML; requires CT confirmation (perform NECT and CECT)






Renal Cell Carcinoma (RCC)









30% of small RCCs appear as hyperechoic masses, mimic AML









Presence of necrosis in mass or anechoic rim favors RCC but large overlap






Larger RCC may have foci of calcification (also echogenic), rarely fat






Mass with calcification & fat in adult = RCC, not AML












Highly variable morphology, including echogenic foci (fat &/or calcification)






Heterogeneous echotexture with areas of necrosis or hemorrhage






Consider Wilms for any renal mass in a child (most present before age 5)
Helpful Clues for Less Common Diagnoses











Example: Following partial nephrectomy









Fat may be placed into cortical defect












Echogenic lesion associated with characteristic comet-tail/ring-down artifact






Calcification may layer creating a fluid/debris level






Renal Junctional Line/Cortical Parenchymal Defect









Echogenic line at anterosuperior aspect, upper pole of right kidney, lower pole of left kidney









Infolding of renal capsule and fat creates hyperechoic line or "mass"






Also can see extension of renal sinus fat into same location






Less commonly appears as a triangular focus known as parenchymal defect












Usually hyperechoic with sharp shadowing






Calculi or milk of calcium may form within a calyceal diverticulum, mimic a hyperechoic mass






Most stones show color and power Doppler twinkling artifacts









Useful ancillary finding in equivocal cases






Renal Papillary Necrosis










Early stage: Echogenic "ring" in medulla = necrotic papillae, surrounded by rim of fluid






Late stage: Multiple cystic cavities in medullary pyramids ± nonshadowing echogenic sloughed papillae






Calcified sloughed papilla with strong acoustic shadowing simulates stone, may cause obstructive hydronephrosis












Gas-forming abscess will be echogenic






Emphysematous Pyelonephritis









Gas within infarcted, infected parenchyma is echogenic









Non-dependent linear echogenic lines with strong distal posterior acoustic shadowing






Clinically extremely ill patient with fever, flank pain and electrolyte imbalance






Different from emphysematous pyelitis where gas is limited to renal pelvis and calyces (less serious diagnosis)












Variable echogenicity, typically hypoperfused masses






Look for metastases in other organs






Most common primary tumors include lung carcinoma, breast carcinoma, contralateral RCC
Helpful Clues for Rare Diagnoses





Focal Bacterial Nephritis









Increased echogenicity is related to hemorrhage






Usually wedge-shaped, poorly defined margin,

I

focal vascularity on power Doppler






Can be hypoechoic, related to liquefaction and abscess formation






Can be multiple lesions with patchy heterogeneous renal parenchyma






Other associated features of renal inflammation: Renal enlargement, urothelial thickening of renal pelvis






Xanthogranulomatous Pyelonephritis









Highly reflective central echo complex with strong shadowing corresponding to large staghorn stone






Echogenicity depends on amount of debris and necrosis within the masses






Tuberculosis, Urinary Tract









Active stage: Papillary destruction with echogenic masses near calyces






Late stage: Calcified granuloma or dense dystrophic calcification associated with shrunken kidneys












Cannot be differentiated from RCC on imaging






Variable in echogenicity, may contain central scar, central necrosis or calcification












Hematoma can be hyperechoic or heterogeneous during acute phase






Regional distortion of corticomedullary differentiation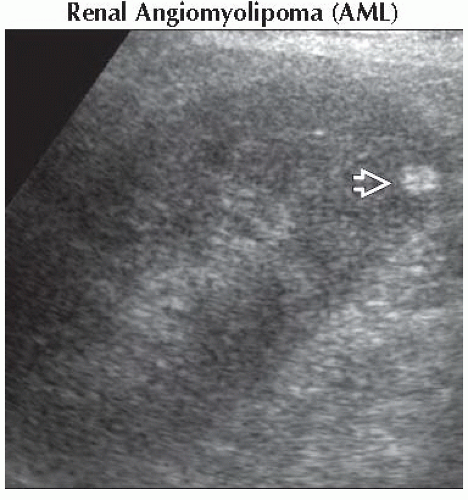 Oblique transabdominal ultrasound shows a typical small, homogeneous, echogenic lesion

at the lower pole of the kidney without alternation of renal contour. A small RCC would not typically be this hyperechoic.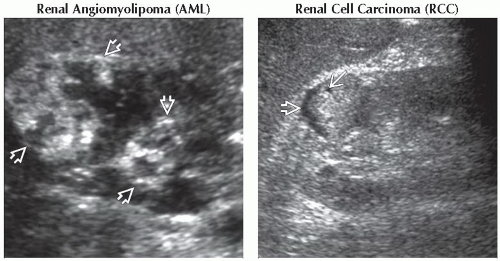 (Left)
Longitudinal ultrasound shows two irregular large echogenic AML lesions

in a patient with tuberous sclerosis. These lesions are heterogeneous in appearance and may mimic malignant lesions.
(Right)
Longitudinal ultrasound shows a mildly echogenic lesion

in the upper pole of the right kidney. It is not as echogenic as most small AMLs. A tiny intralesional cystic component

is present.
Premium Wordpress Themes by UFO Themes
WordPress theme by UFO themes