Filling Defect in Urinary Bladder
Michael P. Federle, MD, FACR
DIFFERENTIAL DIAGNOSIS
Common





Bladder Carcinoma






Bladder Calculi






Ureterocele






Blood Clot






Benign Prostatic Hypertrophy






Diverticulitis






Bladder Fistulas






Foreign Body, Bladder






Extravesical Pelvic Mass









Prostate Carcinoma






Rectal Carcinoma






Cervical Carcinoma






Endometrioma






Less Common





Urachal Carcinoma






Inverted Papilloma, Bladder






Inflammatory Pseudotumor or Sarcoma






Mesenchymal Tumors, Bladder






Pheochromocytoma
ESSENTIAL INFORMATION
Key Differential Diagnosis Issues





Mobility, location, and shape of lesion suggest the diagnosis or limit the differential









Enhancement of lesion = neoplastic or inflammatory, excludes calculi, blood clot, debris






Cystoscopy and biopsy often necessary






Chronic inflammation of bladder leads to clinical and imaging features that are difficult to distinguish from neoplastic disease without cystoscopy & biopsy
Helpful Clues for Common Diagnoses











Sessile or pedunculated soft tissue mass projecting into the lumen






Similar density to bladder wall on CECT






Can never exclude cancer by imaging









Patient with unexplained hematuria requires cystoscopy












Smooth round or ovoid; can be spiculated ("jack stone"), laminated or faceted






US: Mobile, echogenic, shadowing foci






Most are radiopaque on plain films; all on CT












Orthotopic: "Cobra-head" or "spring onion" deformity of distal ureter with surrounding radiolucent halo






Ectopic: Smooth, radiolucent intravesicular mass near bladder base












US: Mobile mass, does not cast an acoustic shadow






Attenuation value in the range of 50-60 HU, no enhancement on CECT






Benign Prostatic Hypertrophy









Displaces the floor of the bladder cephalad






Classic finding on urography is upward deviation of distal ureters







Often accompanied by clinical symptoms of dysuria and hematuria, raising concern for bladder cancer









Trabeculation of bladder wall from chronic outlet obstruction may also simulate signs of bladder cancer






Cystoscopy usually necessary for definitive diagnosis












Commonly causes inflammatory thickening of adjacent wall of bladder






Abscess arising from sigmoid diverticulitis especially prone to involve bladder






May give rise to colovesical fistula (most common cause in industrialized countries)












Enterovesical: Gas in bladder; bladder ± adjacent bowel wall thickening









Diverticulitis most common cause






Other causes include Crohn disease, radiation (cystitis &/or enteritis), carcinomas of bladder, bowel or other pelvic viscera, especially after radiation therapy






Vesicovaginal: Contrast-opacified urine opacifies vagina












Bladder catheter ("Foley") is extremely common in hospitalized patients






Next most common cause is introduction during autoeroticism or child abuse









Pieces of catheters, hairs, sutures, and other causes are recognized







Can become a nidus for calcification












Any neoplastic (or inflammatory) process arising in pelvis can indent or invade the bladder









Neoplastic examples: Carcinoma of prostate, rectum, cervix






Inflammatory: Endometriosis, pelvic abscess












Mass effect of tumor may indent bladder floor similar to BPH






Tumor may invade bladder, causing intramural or even intraluminal mass












Many causes









Infectious: Bacterial, viral, fungal, parasites (Schistosoma hematobium)






Medication induced: Chemotherapy, especially with cyclophosphamide (Cytoxan); antibiotics






Interstitial (idiopathic); urine is sterile






Eosinophilic: May cause "pseudotumoral cystitis", especially in children






Radiation therapy












Most commonly seen in patients with long standing & poorly controlled diabetes mellitus






Caused by bacterial fermentation of glucose in urine or uroepithelium









Can release gas (carbon dioxide) within bladder lumen and/or wall






Gas limited to lumen is difficult to recognize on radiography, & cause is more often iatrogenic (catheterization)
Helpful Clues for Less Common Diagnoses











Mass ± calcification extending up from dome of bladder toward umbilicus






Infected urachal cyst may have similar appearance






Inverted Papilloma, Bladder









May arise in bladder (or ureter or renal pelvis)






Usually small sessile or pedunculated mass






Inflammatory Pseudotumor or Sarcoma









Pseudotumor is also known as myofibroblastic tumor






Sarcoma has worse prognosis, but difficult to distinguish between these lesions on imaging or pathology (gross or microscopic)






Usual appearance is vascular, bulky mass in patient with gross hematuria












May arise in pelvis, even within wall of bladder






May be accompanied by symptoms of headache & palpitations on urination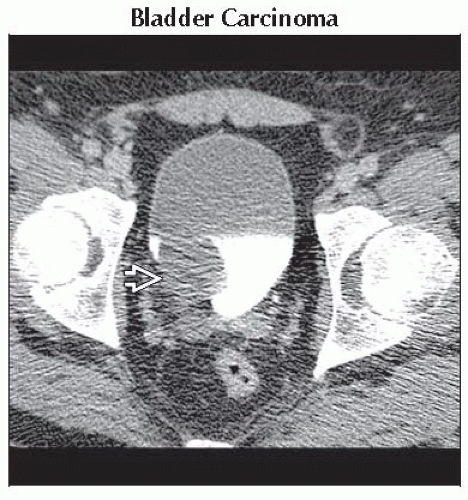 Axial CECT shows a large mass

in the bladder near the trigone that was causing hematuria and ureteral obstruction in this 69 year old man.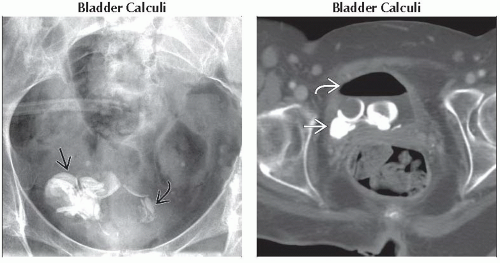 (Left)
Frontal radiograph shows multiple calcified bladder stones, some rounded

and others irregular in shape

. This young woman had paraplegia and repeated, chronic bladder infections.
(Right)
Axial CECT shows multiple calcified stones

and gas

within the urinary bladder of the same patient. Repeated urinary infections are a predisposing cause for calculi.
Premium Wordpress Themes by UFO Themes
WordPress theme by UFO themes