Michael P. Federle, MD, FACR
DIFFERENTIAL DIAGNOSIS
Common











Ureteral Stone






Transitional Cell Carcinoma






Periureteral Metastases o Retroperitoneal Fibrosis






Primary Pelvic Malignancy









Prostate Carcinoma






Rectal Carcinoma






Cervical & Endometrial Carcinoma






Ureterectasis of Pregnancy






Ureteral Duplication






Distended Urinary Bladder






Overhydration, Diuresis






Vesicoureteral Reflux






Prominent Extrarenal Pelvis (Mimic)






Renal Sinus (Peripelvic) Cysts (Mimic)






Renal Sinus Blood Vessels (Mimic)






Ureteropelvic Junction Obstruction






Pyonephrosis
Less Common





Renal Papillary Necrosis






Renal Tuberculosis






Pyelonephritis, Xanthogranulomatous






Megacalices, Megaureter






Caliceal Diverticulum






Renal Cysts (Mimic)






AD Polycystic Disease, Kidney






Renal Metastases and Lymphoma






Blood-Filled Renal Pelvis
ESSENTIAL INFORMATION
Key Differential Diagnosis Issues





Determine if all calices are dilated & in communication with a dilated renal pelvis & ureter






CT & MR are complementary to US









Include pyelographic (delayed) phase enhanced images
Helpful Clues for Common Diagnoses











Most common cause with several specific etiologies (calculi, tumor, etc.)






CT and MR better than US at showing the etiology of the ureteral obstruction












Dilated ureter ends at high density intraluminal focus






Transitional Cell Carcinoma









Small soft tissue density mass within the lumen or wall of the ureter






May see "goblet sign"; dilation of the ureteral lumen proximal and distal to obstructing tumor












Encases and obstructs ureters through lumbar region






Mantle of soft tissue surrounds aorta and IVC






Retroperitoneal nodal metastases may have a similar appearance and may rarely cause ureteral obstruction






Primary Pelvic Malignancy









Dilated ureter ends in a soft tissue density mass or retroperitoneal nodes that encase the ureter






Ureterectasis of Pregnancy









Due to hormonal influence plus mass effect of gravid uterus






Affects right kidney more than left






May persist after pregnancy






Rarely associated with rupture of the collecting system (usually with an underlying renal disease, such as infection)












Upper pole ureter is more often ectopic in insertion and dilated






Look for 2 ureters on one side; upper pole ureter will have delayed concentration & excretion of contrast medium if it is obstructed






Either ureter can be obstructed by calculi and other etiologies






Distended Urinary Bladder









May cause back pressure and dilation of ureters and calices






Re-image after emptying bladder









Should return to normal caliber












Acute or chronic dilation of ureter and calices; scarred parenchyma






Prominent Extrarenal Pelvis (Mimic)









Calices and ureter not dilated






Common and asymptomatic






Renal Sinus (Peripelvic) Cysts (Mimic)









Delayed imaging on CECT often necessary to distinguish renal sinus cysts from hydronephrosis









Contrast-opacified urine distinguished from the water density peripelvic cysts






Coronal reformations are also helpful






Renal Sinus Blood Vessels (Mimic)









Sonolucent, but show flow on Doppler






May also be a mimic of hydronephrosis on "black blood" MR image sequences









Usually not a problem on CT






Even on NECT, blood vessels are different attenuation than calices






Ureteropelvic Junction Obstruction









Relatively common congenital narrowing at the UPJ that often results in striking dilation of the pelvis & calices, especially with a fluid or diuretic challenge






May be due to a crossing vessel that compresses the UPJ












Hydronephrosis plus infected urine = urgent need for drainage






Fluid may be higher than water density on CT; diffusely mildly echogenic






Consider pelvic inflammatory conditions that may involve the ureter (e.g., diverticulitis, Crohn disease, gynecologic infections)
Helpful Clues for Less Common Diagnoses











Calices may appear blunted and dilated due to sloughed papillae












May cause stricture of infundibula and focal hydronephrosis






Caseous infection of parenchyma may mimic caliectasis






Pyelonephritis, Xanthogranulomatous









Underlying calculi may cause hydro- or pyonephrosis






Xanthomatous replacement of parenchyma may be low density, mimicking caliectasis












Rare congenital anomalies






Renal function may remain normal












Outpouching from a calyx may simulate focal caliectasis












Multiple simple cysts or polycystic disease






If numerous, may simulate dilated calices






Usually spherical






Renal Metastases and Lymphoma









TCC, metastases, lymphoma may infiltrate pelvis; cause or simulate hydronephrosis






Lymphoma is especially likely to be homogeneous and hypodense (CT), and sonolucent (US)






Blood-Filled Renal Pelvis









Trauma or coagulopathic hemorrhage may distend renal pelvis and calices with blood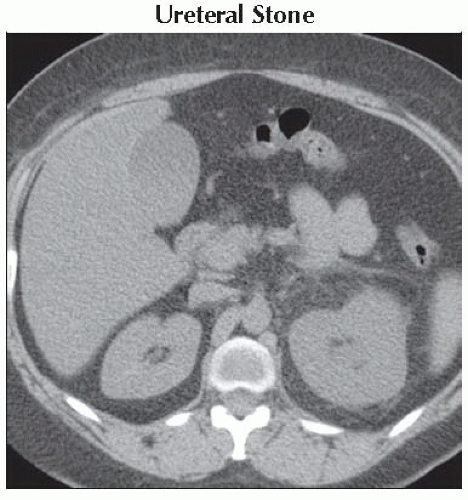 Axial CECT shows left-sided hydronephrosis, renal enlargement, and perinephric stranding, due to a distal ureteral stone.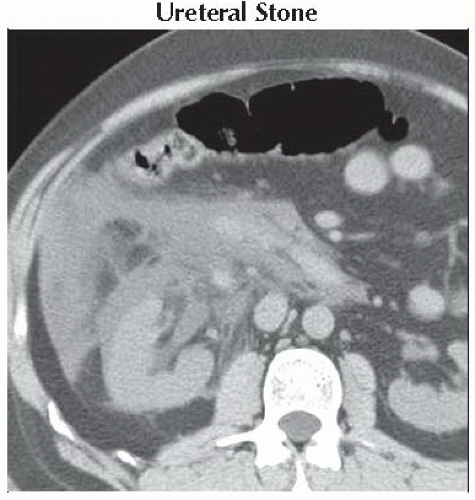 Axial NECT shows right-sided hydronephrosis and extensive infiltration of the perirenal space, due to forniceal rupture, caused by a small stone at the ureterovesical junction.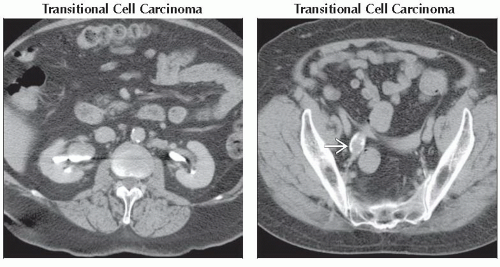 (Left)
Axial CECT shows dilated renal pelvis & calices in the right kidney, due to a transitional cell carcinoma of the distal ureter.
(Right)
Axial CECT shows a soft tissue mass

in the distal right ureter, a primary transitional cell carcinoma.
Premium Wordpress Themes by UFO Themes
WordPress theme by UFO themes